Gruff Architects-designed Pitched Black house in south London features black timber cladding, blue stilts and an innovative angled window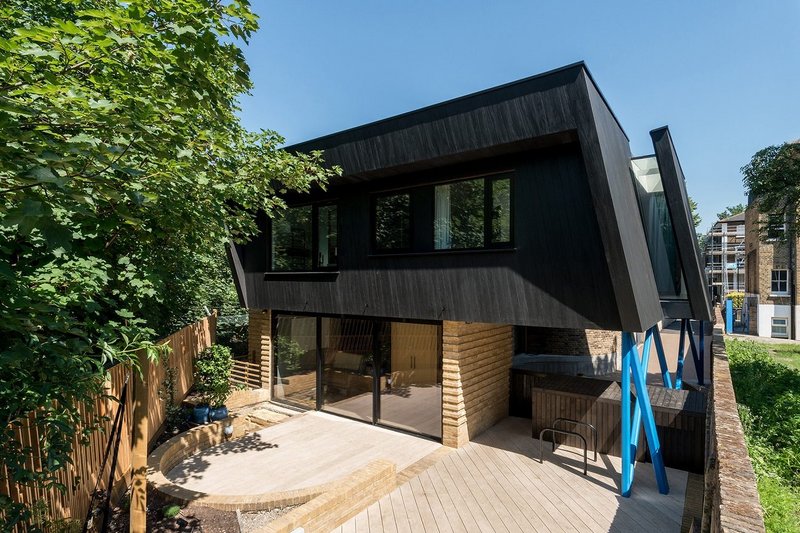 Pitched Black house in Lewisham. The glazing is to the side and rear elevations with no windows on the front.
Designed and orchestrated by Gruff Architects as a modern and creative build, Pitched Black is a four-bedroom family home located in a conservation area in south London.
Previously, a rear conservatory had been tacked on to the closet wing by previous owners and it emphasised the lack of connection between inside and out.
With no windows on the front elevation, the architect considered the possibility of using a fixed rooflight to allow a natural flow of light through the home and contacted Glazing Vision.
The firm's Fixed Eaves Flushglaze Rooflight was specified. It comprises two or more glazed sections - installed in both vertical and horizontal planes and joined together with a structural silicone seal.
Internally, the eaves Flushglaze unit provides the same frameless views as Glazing Vision's flat roof mounted unit, resulting in a seamless transition between inside and out - the desired design for the project.
The Eaves Rooflight helps frame the view of green space towards the rear of the site, while allowing light into the room throughout the day.
The entire project took roughly five years to complete and Pitched Black is now a well known name in the construction industry.
Find more on this case study at glazingvision.co.uk/pitched-black