A fully accessible property in Cambridgeshire is small enough for its retired owners to manage and big enough to accommodate their visitors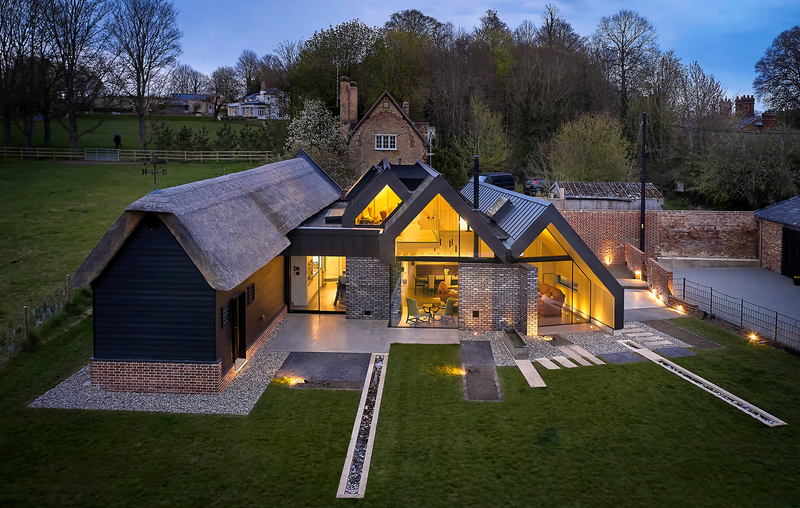 Gables House in Bartlow, Cambridgeshire by CDC Studio. Low lying folding glazed volumes provide a 200 metre square footprint of space.

Credit: Hufton + Crow
Gables House in Bartlow, Cambridgeshire is accessible, sustainable and highly contemporary. It was designed by Chadwick Dryer Clarke (CDC) Studio.
The retired clients wanted it to be not too big for two, but large enough to accommodate family visits and village parties.
CDC Studio replicated a thatched barn and reflected the character of the village in new volumes using zinc to echo the agricultural origins of the land's use and local materials, including flint and red brick.
The kitchen, dining and living spaces are open plan to allow for social gatherings and provide a smooth flow through the home.
The kitchen sits under a column-free, steel rod hung mezzanine with acoustic damping engineered to avoid reverberating noise.
Two Glazing Vision electric Visionvents were included to provide continual airflow, a constant temperature and a source of natural daylight into the entertainment area of the home.
A mezzanine space creates a private second sitting area with access via a timber stair concealed between concrete walls. It is quiet yet connected to the main space.
Above, a Glazing Vision Sliding Over Roof rooflight has been installed. The entire section of glazing retracts out on to the roof space, creating open, unimpeded views of the sky. When closed, the window has an almost frameless appearance, maximising light levels.
The extended roofline and orientation of the property provide solar shading to the west. Here, further rooflights prevent overheating in summer.
Water runoff is directed to a salvaged water trough for the garden where water rills extend the linear design of the building out into the wider landscape.
Find more on this case study at glazingvision.co.uk/gables