Five Glazing Vision apex rooflights have been installed during the renovation and extension of Polgreen Manor in Mawgan Porth near Newquay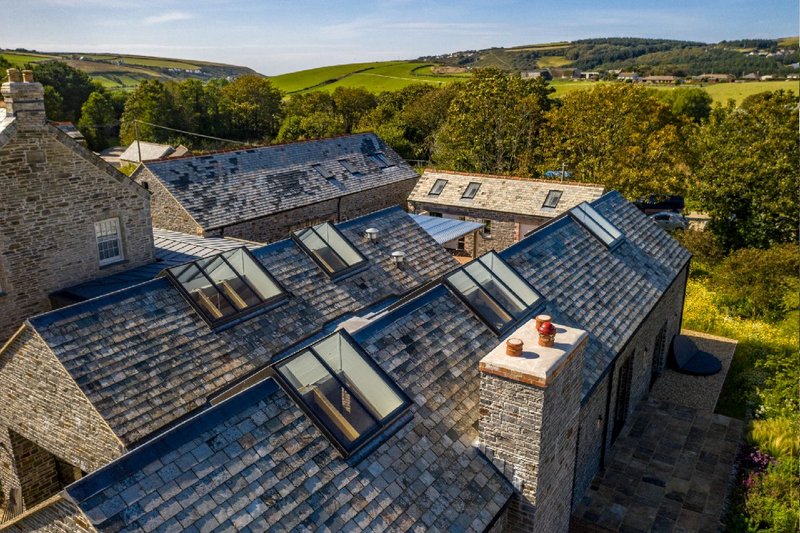 Glazing Vision Ridgeglaze rooflights at Polgreen Manor, north Cornwall. The rooflights are designed to be installed over the apex of pitched roofs allowing glazing on each side.
Five bespoke Glazing Vision Ridgeglaze rooflights have been specified for the renovation of a manor house in north Cornwall.
Polgreen Manor in Mawgan Porth near Newquay had lost much of its character because of previous poor quality extensions and renovations. The owners wanted to update their home with guest accommodation, entertaining spaces, interlinked courtyards and gardens that reconnected with the rural location.
The project, a combination of refurbishment and new-build, was taken on by Truro-based CSA Architects and P Chapman Construction.
Multi-part Ridgeglaze rooflights funnel daylight into the accommodation, provide a contemporary addition to the apex roof lines and allow glazing on both returns. The specification is in keeping with the mix of rustic and contemporary that repeats throughout the property.
Double glazing with a low e-coating glass was specified for maximum thermal performance. The low e-coating allows most of the visible light to pass through, as well as the short-wave heat energy, but blocks long-wave heat energy. This ensures the heat from inside the building is reflected back into the room, significantly reducing heat loss.
Polgreen Manor was awarded a Cornish Building Group Commendation 2020 and LABC South West Highly Commended: Best Extension or Alteration to an Existing Dwelling 2020.
For more on this case study, visit glazingvision.co.uk/case-studies- mawgan-porth