A vaulted ceiling skylight and a reconfigured layout open up the views and unite kitchen/diner with garden in this impressive Cambridgeshire renovation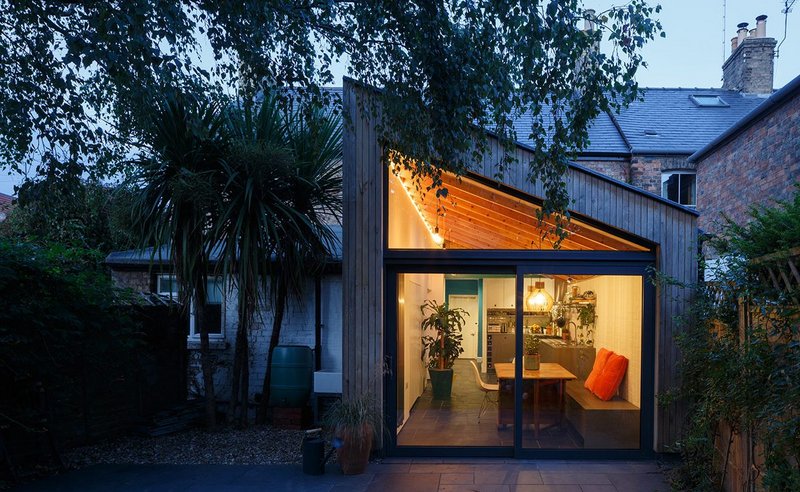 Cocoon Architects' refurbishment in Ely, Cambridgeshire features a Glazing Vision Pitchglaze fixed roof window.

Credit: Matthew Smith Architectural Photography
Glazing Vision and Cocoon Architects have been working together to bring a unique level of daylight to a property in the Ely conservation area of Cambridgeshire.
The house was constructed in the mid-Victorian era and had a layout that was no longer working for the owners and needed modernising. A bathroom separated the kitchen and dining area from the garden, leaving both spaces feeling cramped and dark.
Cocoon Architects suggested moving the bathroom to the centre of the building in order to create an airy and light-filled kitchen.
The kitchen renovation opens up the space and creates a relaxed atmosphere. The mono pitched extension has a vaulted, beamed ceiling, rustic tiled floor and a low profile so as not to impinge the neighbours.
Sliding glazed kitchen doors provide natural daylight, ventilation and access to the garden. Colour-changing LED lighting and a separate jacuzzi bath add a spa feel.
Despite the additional daylight provided by the new layout, the homeowner wanted more. The architects chose a three-metre squared Glazing Vision Pitchglaze roof window for the pitched slate roof. It sits underneath the rafters - and in line with the slate - eliminating the need for an external upstand.
The double-glazed roof window has a laminated inner pane and provides excellent thermal performance and a sky view that takes in the garden's mature trees. As the master bedroom on the first floor looks down onto the pitched roof, a smooth external look was important.
'The detail at the perimeter allowed us to install the roof window with a "frameless" view internally,' explains Cocoon Architects director Matt Plummer. 'Externally it looks fantastic against the slate roof.
'The product performs brilliantly too and the technical team were excellent during our selection process. The whole supply process went as planned with no issues.'
For more information and technical support, visit glazingvision.co.uk

Contact:
01379 658300
glazingvision.co.uk/contact/
---