Innovative Hawa Junior 100 door gear can provide seamless, flush fitting and easy-to-operate access for all while screening off designated zones in broken-plan spaces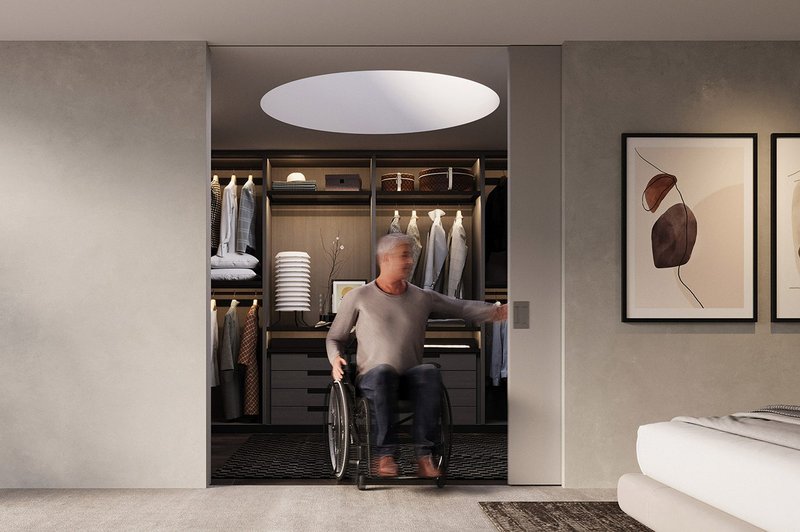 Sliding doors can play a key role in achieving spaces that improve the day-to-day lives of users.
Recent research by door fittings, accessories, hardware and ironmongery manufacturer Häfele revealed that two-fifths of respondents would like to be able to shut away different parts of their current space, but one third didn't know which fixtures and fittings to use to create zoned areas.
Häfele has extended its sliding door gear range to include the new Hawa Junior 100 with this in mind.
Hawa Junior 100 is designed with inclusivity and flexible functionality at its heart. It can be used to create spaces that maximise the usability, versatility and value of a space, while balancing it with personal style and design trends.
It is useful for closing off kitchen and utility areas, en-suite bathrooms, broken-plan living spaces and walk-in wardrobes.
Hawa Junior 100 features an innovative, integrated magnetic self- and soft-closing system, which is invisibly integrated into the running track, with high quality ball bearings and runners for seamless sliding.
The system can be ceiling or wall mounted, is compatible with pocket solutions and can support doors weighing up to 100kg.
Hawa Junior 100 requires a minimal force of just 22 N to close heavyweight doors so can be operated by older people and those using wheelchairs.
Maintenance free for its lifetime, the system comes with a 15-year performance guarantee for private use and seven years for commercial use.
For more information and technical support, visit hafele.co.uk/hawa
Contact:
0800 171 2907
---