Darren Lloyd, Vice President of the Steel Window Association and Managing Director of Govette Windows, takes a walk in Hampstead Garden Suburb and explains how steel windows can meet conservation needs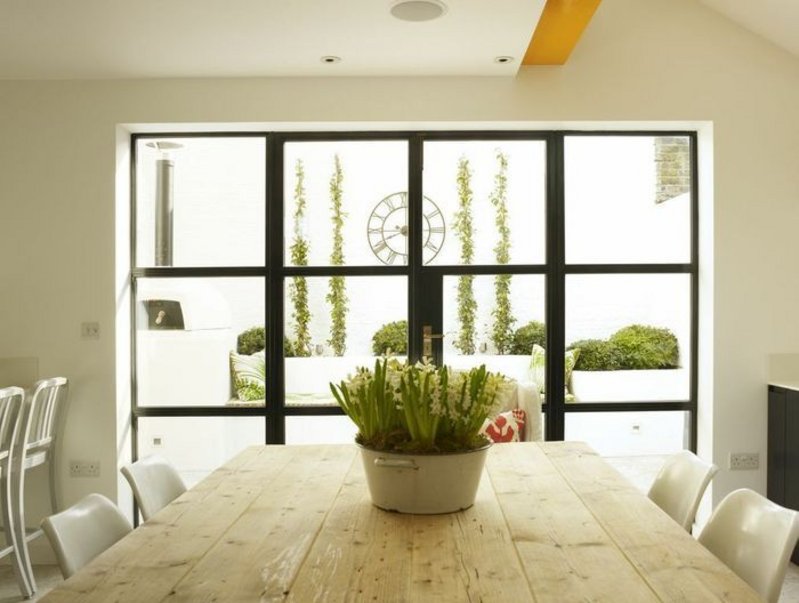 There is a timelessness about the leafy roads of Hampstead Garden Suburb in North London. But for the cars, little has changed, least of all the windows of the mellow, red- hued, brick houses.
Steel windows are in abundance, providing rhythm and proportion to the facades. The slender glazing bars that only steel can offer, are eminently suitable, containing the leaded lights found in many of the houses and cottage-style terraces, not to mention the large areas of glazing in the Art Deco homes, some with their curved 'suntrap' bays.
Internationally recognised as one of the finest examples of early twentieth century domestic architecture and town planning, the 'Suburb' has generally been spared random and ill-thought through window replacement. This does not mean that there are no conservation challenges: inevitably, with any period building, windows sometimes need to be replaced or upgraded and extensions requiring new windows may be added.
With a heritage that dates back to the 1920s, the steel window industry is well used to offering solutions that meet a variety of conservation and performance requirements. It frequently works on private houses, mansion-block apartments, riverside dock apartments, heritage buildings and offices and schools. The benefit of steel windows made today is that their durability is enhanced as they will be hot-dip galvanized and delivered with a high quality factory applied polyester powder coat finish in any RAL colour.
Where like for like replacement is required, a window aesthetic close to the original can often be achieved using SMW (standard modular window) sections. SMW sections have been employed since the late 1930s and early 40s by many of the companies mass producing windows. This means that many original windows can be closely replicated to meet conservation and historic building requirements. Even where windows may have been manufactured by a small cottage industry steel worker using their own unique sections, it is still often possible to achieve a close match.
Understandably, many clients now require replacement windows that provide additional thermal performance. Much will depend on the local conservation officer but many steel window companies can offer double-glazed replica windows, made using SMW sections, that employ a very slim double-glazed unit. The downside of this is that it may still not provide the thermal performance required under the current Part L of the Building Regulations.
Where compliance with Building Regulations is essential, the steel window industry can still provide solutions that closely match the appearance and character of earlier products. W30 steel windows are the slimmest steel window range currently on the market complying to all current Part L building regulations. For domestic applications, the W30 is C-rated by the BFRC with a U-value of 2.0 W/m2K to meet Part L but can achieve a B- rating where required. Meanwhile, the thermal efficiency of the W40 system means it may be employed for new build and refurbishment in residential units, offices, hotels, hospitals and schools.
When contemplating the options for window replacement, it is worth remembering that no other material can provide the aesthetic qualities and solidity of steel. At Hampstead Garden Suburb a notable feature is the huge contribution steel windows make to the modernised and minimalist light filled interiors of many of the homes.
For further information on the Steel Window Association, please visit www.steel-window-association.co.uk
---