The UK's largest Passivhaus school placed high demands on its doors and windows, to bring as much natural light as possible into the building without compromising insulation levels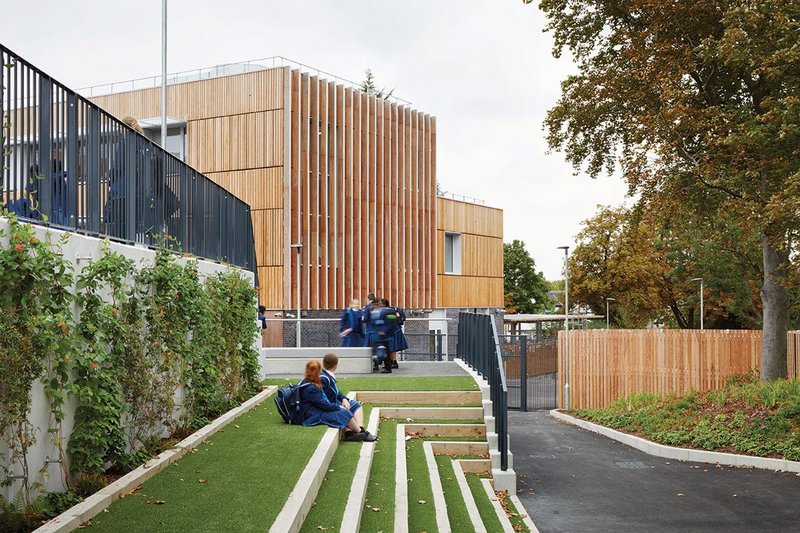 Sutton Harris Academy looking west. The UK's largest Passivhaus secondary school nestles comfortably into its low-density suburban landscape.

Credit: Jack Hobhouse/Architype
Architype's new Harris Academy in Sutton, Surrey, is part of the proposed £2 billion regeneration of the 20ha former Royal Marsden Hospital site. Once restored, the derelict 19th century hospital will form the nucleus of the London Cancer Hub, a joint Royal Marsden/UCL initiative to attract top cancer researchers to London. At the site's north west edge, the new school expects its science specialisation to gain from its proximity to the centre.
The first Passivhaus secondary school and largest Passivhaus school in the UK, the academy will form one small component of one of the world's centres of cancer learning. As if in anticipation, Ab Rogers has just completed his Maggie's Centre south of the £38 million, 1200-pupil school.
And given the school's science bias, the design's Passivhaus principles seemed to resonate with this educational objective. As Architype project architect Christian Dimbleby explains, 'Passivhaus isn't just an energy but a comfort standard and you're using environmental conditions and building physics to create a place that performs well in an empirical, provable way. It was felt those scientific methods complemented Harris' aspirations.'
Architype was already on Sutton's framework to help develop a more sustainable school-building programme for the One Planet Living council and, when appointed in 2014, was already busy with the borough's Hackbridge Primary – a Passivhaus Plus school with net zero carbon emissions. While Sutton is less onerous performance-wise, it is also on a greater order of scale, so Architype partnered with Willmott Dixon, which had cut its Passivhaus teeth on Leicester University's George Davies Medical centre, and educational consultant Lloyd Wilson to develop the school's specific brief. Architype worked up the design to take on board the concerns of local planners and immediate residents as well as its place in the borough's broader masterplan.
The result is a timber-clad building that hunkers into the sloping site, hiding the copper-clad main hall and gymnasium in the hill to the south and stepping down on the north, residential, side to mitigate the impact of the classroom blocks. On the main west entrance side, a public promenade accesses the main site to the south. Dimbleby says the school's form went through a few iterations: 'A building has a context so you need to accept that the final form will not always be ideal,' he adds.
The north/ south facing aspects of the design are fine, but we had to concede that its east/ west classroom arrangements were not optimal for Passivhaus.' But it was accepted that design solutions creating 'overshadowing' of the east and west courtyards and external spaces, even if performing better technically, were not tenable.
The final form sees classrooms either side of a corridor arranged in three spurs spinning off a core reception and library area. This is the school's central focus, overlooked by the radiating circulatory corridors themselves.
With its sustainability credentials, Archi­type opted for a CLT main structure with acoustically insulated concrete slab floors, clad in Wienerberger's Forum Charcoal brick, Douglas fir and copper cladding. Internally, value engineering contributed to pared-down but satisfactory exposed concrete soffits with acoustic rafts, and less satisfactory grey carpet throughout. These are offset by exposed CLT corridors attenuated by attractive larch ceiling soffit strips, but the real punch is delivered by cut outs in the corridor slabs, which allow daylight to stream from Lamilux rooflights into the depths of the section, producing subtle, rhythmic pools of light. Installed with actuators, the specialist triple-glazed panels are designed to open automatically when internal temperatures rise.
Window design was important to ensure they performed as part of a Passivhaus strategy to reduce artificial lighting – and context was key. And it wasn't just about optimising the g-value of the triple glazed panels to ensure equivalent heat gains and losses; Dimbleby says ground floor classroom ceiling heights were increased by 300mm to 2.9m, to compensate for shading from surrounding trees. All the Lang Fenster aluminium composite windows tilt, or hinge open if behind louvred external vents. Dimbleby says their sheer height involved efforts to meet their specification. 'Most UK manufacturers follow the general guidance that places the handle midway up the tilt frame, which put them out of reach in this scenario,' he explains. 'Placed off-centre, as they are here, it needed a stronger piece of ironmongery, and one that Lang Fenster was prepared to install and warranty.' He confirms that with dedicated MVHR manual operation should be rare; but a handy, simple red and green light signal by each teacher's desk notifies users if the temperature rises enough to merit opening them.
Optimising levels of daylight in teaching spaces affected the specification of the 350mm deep window reveals too. The specific light grey shade of their polyester powder-coated aluminium was critical in ensuring the requisite level of reflected daylight into classrooms. To mitigate the effect of longer, lower light on the east and west facing classrooms, Architype extended vertical aluminium fins in the window reveals too, coloured to match. But the strategy worked. 'Even on a horrible, rainy day, you rarely need the lights putting on,' says Dimbleby, adding that sensors are in place to trip them off when light levels become adequate again.
With this ironmongery, and with the more robust stainless-steel doors – used for the main entrances, exits and refectory and main hall courtyard – as well as the 1.5m deep brises soleil on the south elevation, keeping a keen eye on the RAL numbers was critical. 'Different manufacturers have different versions of the same RAL colour,' Dimbleby cautions.
The architect won the battle to install triple-glazed rooflights in the ceiling of the gym, introducing a generous wash of light down its long CLT walls. Treated with an obscure film 'it brings lightness to a roof that would otherwise have felt quite heavy'. The assembly hall was easier; part of the copper-clad west courtyard public face, its rooflights give what Dimbleby terms 'art gallery standard of lighting'.
MVHR associated with maintaining the variable volume control of this sealed building resulted in a lot of ductwork, and it's most evident in the classrooms where bulkheads abound. Their size is dictated by the need to maintain high volumes of air exchange with minimal noise – Passivhaus is a holistic comfort standard after all.
Dimbleby opines that Sutton is not Passivhaus Plus; while low energy, gas heating still gives it a carbon footprint. But Part L prevented a move to electricity to meet its heating demand. And he adds that reducing energy savings from 80% to 100% has its costs – ground source heat pumps at the firm's smaller Hackbridge primary school cost £500,000 to install and scaling up here with the required PV, he says, could have added £5 million to the final value-engineered figure of £38 million.
But he's still happy with the result – and so, it seems, are parents. At the last open day 4000 of them turned up to enquire about the 200 places on offer hoping to benefit from reduced CO2 and better daylight levels, aiding concentration. 'Kids today are really switched on; they know how this building works and how to make it work at peak level too,' Dimbleby concludes. 'They're at the vanguard of a new way of building. It's what the RIBA Manifesto for Change wants by 2030. But if we can do it now, why wait?'
Credits
Client Sutton Council
Architect & Passivhaus designer Architype
Services engineer BDP
Structural engineer Price & Myers
CLT structural engineer KLH UK/Ramboll
Landscape architect Churchman Thornhill Finch
Quantity surveyor Synergy Construction
Planning consultant Nathaniel Lichfield & Partners
Education consultants Lloyd Wilson Partnership
Contractor Willmott Dixon
Suppliers
FF&E Chalk Creative
Concrete and groundworks JP Dunn Construction
Timber cladding and doors NH Etheridge
Partitions/ceilings DMC Ash (interior)
Windows Lang Fenster
Roof lights Lamilux
Roof Soprema UK
Cubicles Petal Postforming
Sliding partitions Style Partitions
Acoustic ceiling and wall systems Rockfon U