It is sustainable and speeds up the construction process, but questions about the fire performance of cross laminated timber have hindered its wider uptake in the UK. That may be about to change.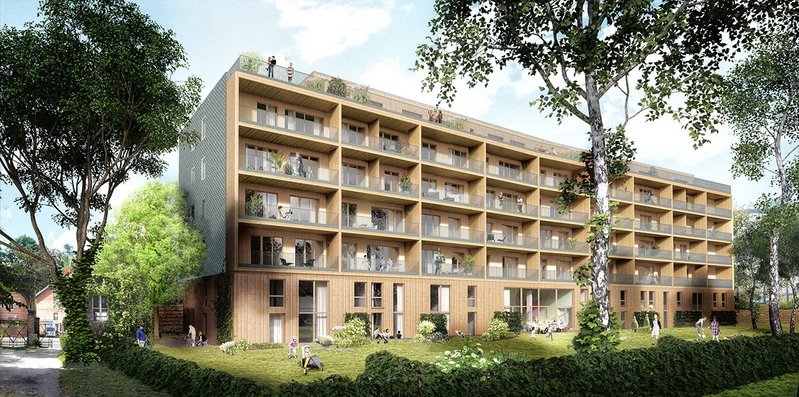 The Walden 48 co-housing scheme in Berlin uses CLT to help achieve energy efficiency.
While UK architects were busily crafting projects in steel, concrete and masonry through the 1990s, a researcher at a university in Graz, in Austria, was charting a very different and more sustainable course for construction.
Gerhard Schickhofer's work on the innovation and application of cross-laminated timber (CLT) would ultimately lead to him receiving international recognition with the Marcus Wallenberg prize for scientific achievement in 2019. And it has paved the way for CLT to become a sustainable alternative to concrete and steel, which is now increasing its global market in the commercial and residential sectors and demonstrating its potential in a variety of structures, particularly taller buildings.
Around 80 per cent of CLT production still takes place in Austria and Germany, which has remained its heartland in use. CLT's track record and performance have been established in a string of projects in this part of Europe, ranging from RLP Rudiger Lainer + Partner's 24-storey office building HoHo Vienna to the Walden 48 co-housing scheme in central Berlin, a five-storey block of 40 high quality, low carbon apartments.
Such schemes use CLT because of its low environmental impact and thermal performance. Walden 48, for example, is targeting Germany's KfW energy efficiency standard. But it has also become known for helping to deliver quality and speed of construction, factors that derive from its advanced offsite manufacturing method.
In the UK architects have been exploring CLT's potential, but it has remained a relatively niche product, its market progress currently being hampered by post-Grenfell concerns about fire safety in taller buildings. However, the material's relatively thick cross section can give it good fire resistance, says Alastair Brockett, fire engineer with Hilti. 'There is a view that timber burns, but it is predictable so you can compensate,' he says.
Government and industry have not yet fully developed their essential new and improved processes for designing and building for fire safety in the wake of Grenfell. 'We still have a way to go in tightening things up in fire legislation and ensuring things are more easily understood,' says Brockett. The latter includes improving knowledge of how firestopping products work, as the fact that they don't have a Class A fire rating often prompts specifiers to conclude, erroneously, that they present a risk. 'Many people don't understand that firestopping cannot have a fire rating of Class A because its surface has to burn so that it intumesces and closes the gap,' he explains. 'That is how it does its job.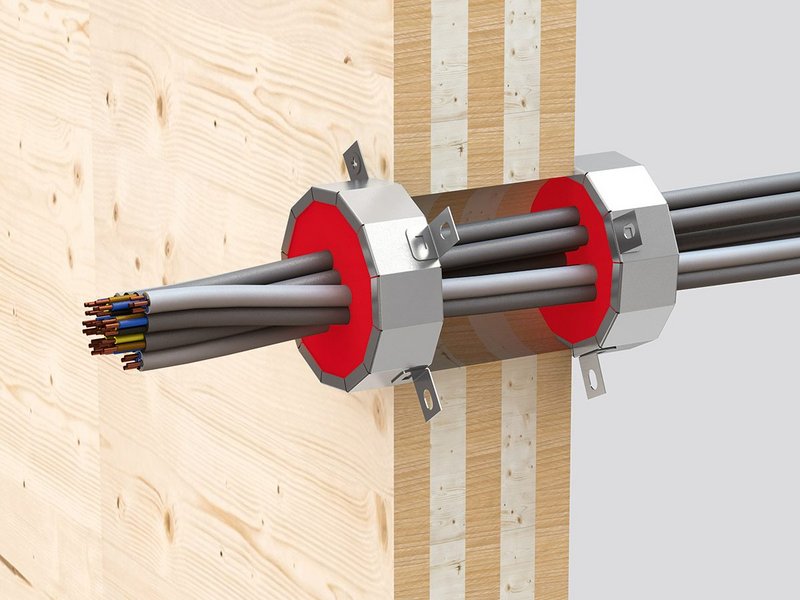 Cable penetrations through CLT are firestopped with Hilti's tested and approved CF CC cable collar, a dry fit solution.
There has also been some interest in CLT hybrids, which marry timber with steel and even concrete. Hotel operator Marriott International has used a hybrid, working with timber and concrete specialist Woodbeton, to build a number of hotels in Europe for its budget design brand Moxy.
Hilti has had expert input on both Walden 48 and the Moxy hotels. Both have demanded high fire standards, with every pipe and cable penetration in the fire-rated walls of Walden 48 needing to be sealed with firestop products with a rating of 90 minutes. Hilti engineers worked with the building's designers in the project's earliest stages to establish suitable firestop for waste and heating pipes as well as cables. The company's CFS-BL P was ultimately chosen to seal the large openings, being a preformed product that is easily and rapidly installed as it requires no allowance for curing.
Through its producers and projects, Germany has built a wealth of expertise in the use of mass timber. 'German companies have become very good at timber construction - and there is also a right-first-time approach,' says Brockett, pointing out that the country is also quick to seize innovation. 'We find a lot of the market in Germany and central Europe is very open to new methods. Our own new products tend to be picked up and gain success in German-speaking nations first.'
That comes not from an appetite for innovation for its own sake, but from a different approach to specification, he points out. 'Questions from clients don't start with "How much does it cost?". Instead they will say, "We like it so how much time will it save and how will it make the job easier?".'
The UK's slower progress in embracing innovation is entirely understandable, given past experiences, says Brockett, but he sees signs of change in the residential sector. 'We have been having conversations with major residential developers, who are looking to take more of the housebuilding process into the factory. A number are looking to employ car manufacturing style processes. We are working with several design groups developing concepts, which could include preformed firestopping solutions - either from our existing portfolio or developed specifically for their application.'
CLT has a part to play in the UK, he believes. 'CLT still ticks boxes on sustainability, as it uses offcut strips rather than whole trees, and for its thermal properties. There may still be some reluctance in the market, but it is making progress.'
---