From touchless taps to ultra-thin basins, choose a bathroom collection with multiple product choices and customisation options when designing a bespoke commercial washroom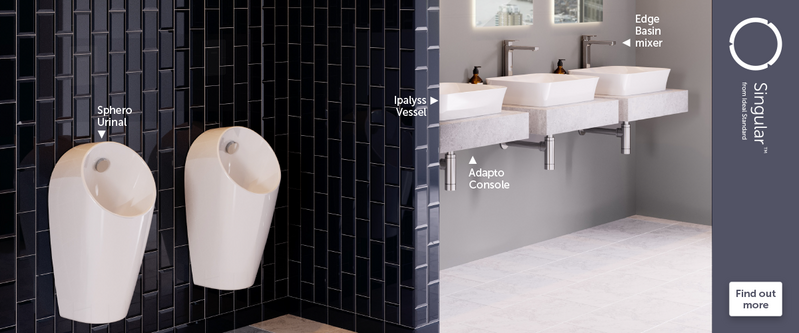 Endless choices, one journey: Singular from Ideal Standard and Armitage Shanks offers multi-range products and options for versatile washroom design.
Washrooms are one of the most frequented spaces for visitors so they can play an important role in defining a guest's overall impression of a hotel.
A striking basin mixer and basin combination can be an easy way to make a strong impression and bring a unique splash of colour to a space.
Ideal Standard's Singular collection makes it easier to mix taps and basins, as well as bring in any other products, for near-endless customisation.
Sensorflow E is a touchless tap that, as well as chrome, is now available in a striking Onyx Black PVD finish that is resistant to scratches and abrasion to at least 45,000 use cycles. It's beautifully suited to high-traffic environments.
A design-led mixer tap needs a stunning basin to match. The Ipalyss basin, from Ideal Standard's Atelier Collections, comes in four shapes and sizes and 12 distinct colours, allowing for a wide range of customisation.
Ipalyss basins are manufactured using Ideal Standard's Diametic technology - a combination of alumina and chamotte that reduces the risk of cracking. It ensures the basin's elegant, ultra-thin edges can stand the test of a busy washroom for years to come.
Sensorflow E and Ipalyss are the ideal duo for a high-end hotel washroom that gives a lasting impression.