Heavy duty sustainable product for high traffic sites offers specifiers a bamboo-like finish without the drawbacks of the real thing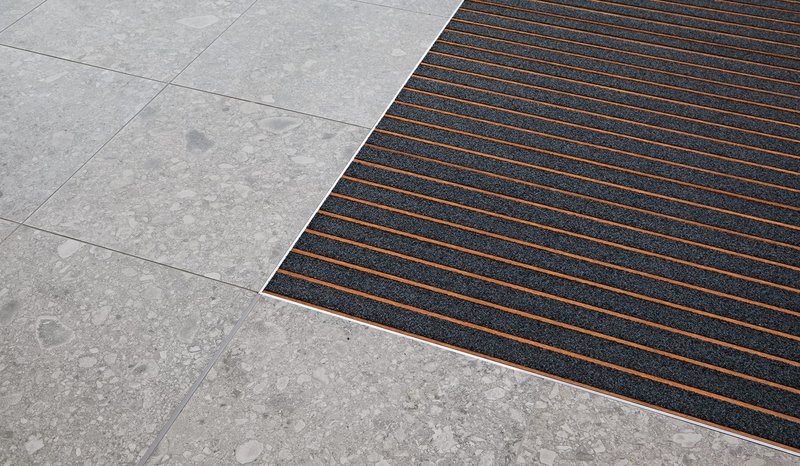 Intrasystems' Intraform DM 12mm low profile entrance matting with wood effect profiles and recycled nylon inserts. For surface mounted or shallow recessed applications.
British entrance matting specialist Intrasystems has expanded its range of commercial entrance matting solutions.
Its new Intraform DM low profile wood effect product offers specifiers the performance of sustainable, recycled aluminium in a contemporary bamboo-like look.
Unlike real bamboo, the matting is highly resilient, won't warp, bend or expand and is resistant to mould, making it more sustainable and easier to maintain.
Intraform DM is designed for high-traffic commercial environments and is available with a choice of 21 fibre inserts in a range of colours and textures, making bespoke patterns and designs highly achievable.
Each fibre offers excellent moisture-wicking capabilities, helping to prevent slips on rainy days and minimise moisture transference from outdoors.
The product is available with an Environmental Product Declaration (EPD) certificate as all fibres are woven from Econyl, an infinitely recyclable nylon yarn that is Cradle-to-Cradle certified.
This makes it automatically eligible for LEED V4 points as part of the LEED green building rating system.
Intraform DM low profile's solid interlocking tongue-and-groove system makes it straightforward to install on site.
Its resistance to moisture and humidity means there is no need for regular repair and maintenance, making it a cost-effective and sustainable solution that requires little upkeep.
Intraform DM low profile in wood effect is more attractive to specify than bamboo, which is prone to expand, discolour and sag, leading to an unsightly appearance over time and health and safety failings that no commercial environment can afford.
'Bamboo is a lovely material, great for many purposes, but not best suited to entrance matting,' explains Intrasystems director James Farrant.
'With this new product, we wanted to introduce an alternative to real wood that offered the look of bamboo without its performance and maintenance issues.
'Recycled aluminium was the natural choice. It's hardwearing, easy to recycle and perfect for high-traffic environments. We also wanted to make sure our wood effect aluminium has as minimal an impact on the planet as possible, something we're very proud to prove with our product-specific EPDs.'
Intrasystems' Intraform DM low profile entrance matting: the product spec
Finish Wood effect
Fibre inserts 21
Strength rating High - suitable for areas with heavy foot and wheeled traffic
Construction 100 per cent recycled aluminium closed construction interlocking plank system
Typical application High traffic locations such as commercial offices, retail stores and shopping centres
Weight 10.5kg/m2
Matwell framing INT014
Warranty 10 years
Sustainability 100 per cent recycled aluminium. All inserts (Elite, Ultimate, Select) composed of 100 per cent Econyl (recycled nylon)
For more information and to order a sample, visit intrasystems.co.uk
Contact:
01425 472000
---