How do architects achieve the requirements of the 2030 challenge and the 2050 net zero targets when their industry contributes so significantly to the problem? This seminar looks at the people and practices doing their bit despite the challenges
'With the government committed to stimulating the economy,' warned PiP editor Jan Carlos Kucharek, as he opened RIBAJ's Design for Sustainability webinar back in October, 'they'll be doing so by relaxing legislation, perhaps removing green levies, scaling back on green infrastructure and instead committing to fracking'. Prescient words indeed considering that, soon afterwards, Liz Truss' chaotically over-stimulated administration collapsed, with the fracking debate, ironically, contributing to the demolition.
Nevertheless, these concerns remain urgent and relevant even under a new regime; outside Westminster's disintegrating corridors the climate emergency rages on.
Working in an industry that contributes so significantly to the problem, how are architects to achieve the requirements of the 2030 challenge, or the government's own 2050 net zero targets, when potentially faced with self-sabotaging government policies as well?
This seminar brings together thinking and projects that are doing their bit to address the climate emergency in spite of such challenges.
Authors Dr Judit Kimpian, architect and environmental policy expert, and Hattie Hartman, AJ sustainability editor, begin by discussing 'Energy/People/Buildings - Making Sustainable Architecture Work'. Their book tackles the complexities of building performance, making it relevant to day-to-day practice.
Developing a participatory, feedback-driven 'UX Design' approach entails capturing project aims, tracking these during design, following through on procurement, checking that the building meets specifications and is living up to expectations in use, and then sharing this information to iteratively improve the process each time. 'Knowing that the outcomes will be studied leads to greater accountability for architectural quality and performance,' Kimpian argues. And documenting building performance equips architects with valuable evidence of the long-term impacts of design decisions.
'When we are able to work with participatory processes, we are able to design for the needs of the building users, their actual life pressures, their sensory preferences, their family structures, their work patterns... that means we don't just build buildings that meet regulations, but rather ones that are inherently more resilient for changes in use, occupancy patterns, climate and weather,' says Kimpian.
We don't just build buildings that meet regulations, but rather ones that are inherently more resilient for changes in use, occupancy patterns, climate and weather
Hartman elaborates further with case studies such as JTP's offices in Wapping, Haworth Tomkins' Everyman Theatre (2014) and Architype's Enterprise Centre at the University of East Anglia (2015), one of the greenest buildings in Europe. 'This building was completed seven years ago,' concludes Hartman, 'which means it was conceived and designed a decade ago. Why don't we have more ambitious buildings like this? They are few and far between.'
Mark Hill, of sponsors Rockwool, next discusses the extensive use of the rock-based insulation product in the retrofit of Wilmcote House, an 11-storey 1960s local authority building in Portsmouth, spread across three linked volumes. Rockwool is a carbon negative company with a demonstrably strong commitment to ESG concerns [environmental, social, and governance practices]. 'The building insulation that was sold in 2021 will save 100 times the carbon emitted in its production,' he claims.
The Wilmcote House retrofit by ECD Architects was, at the time, the largest EnerPHIT project in the world to be undertaken with the residents of its 100 flats still in situ. The team were challenged to achieve a 90 per cent reduction in heating demand, to address damp and to add a minimum 30-year extension to the lifetime of the estate. Rockwool was inserted into stainless-steel frames that wrapped around the whole building, improving airtightness, thermal performance and acoustic comfort; it was also used on the roof and on facades in the form of the Rockpanel system. Following the project's completion Rockwool, in conjunction with LSE and the University of Southampton, has been conducting post-occupancy evaluations to monitor effects on wellbeing.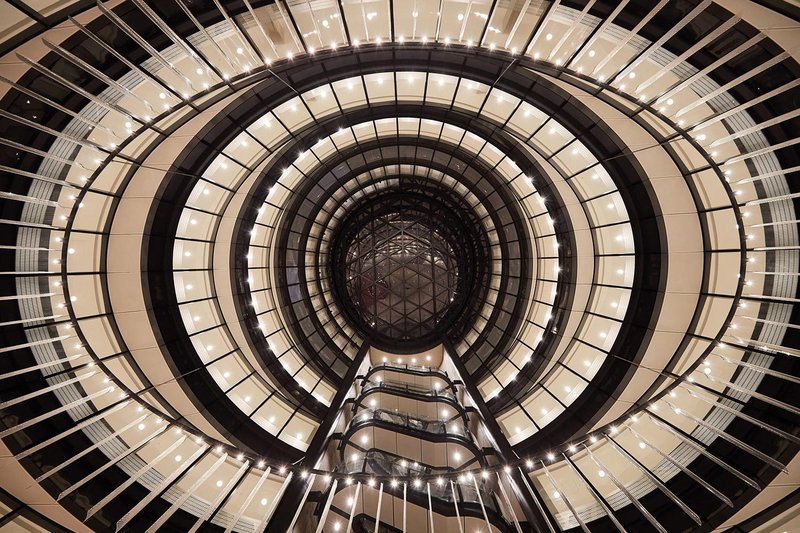 Looking up into the new, circular atrium space at Hopkins Architects' 100 Liverpool Street.

Credit: Janie Airey
Next, Ian Bramwell, director at Mole Architects, introduces Wuduhus (Anglo Saxon for wooden house) a low-energy Fenland home. The client was seeking a futureproofed and energy-efficient home, adamant not to fritter away her pension on fuel.
Advantageously, the client had already engaged timber frame contractors Beattie Passive, Mole's previous collaborators, enabling the designs to be tailored to construction requirements. The architects used PHPP software, but did not attempt full Passivhaus accreditation due to budget; for the client, accreditation was secondary to actual performance. Passivhaus accredited materials also carry a cost premium - Passivhaus certified windows, for instance, despite having similar performance to the ones utilised here, were £6,000 more expensive.
In terms of design, the house is two-storey (for a lower heat loss form factor), with a butterfly roof and a wood-clad facade inspired by local agricultural bushels. The plot's orientation proved challenging due to the presence of nearby bungalows, limiting the size and positioning of windows on the south side and hampering the maximisation of solar gain. However, it does have the benefit of preventing overheating and the roof's overhang provides necessary shading. This successful project has helped the architects develop a simple method of explaining PassivHaus principles in visual form to bring future clients on board and for the client - especially at times such as these - the reduced energy bills (also thanks to PVs on the roof) have been significant.
From the Fens to Finsbury Circus: Chris Bannister, principal of Hopkins Architects, shares lessons learned from the refurbishment of 100 Liverpool Street. The former UBS office (immediately recognisable for its ugliness) has been transformed into a high performing building for similarly high performing City workers. The building achieved BREEAM Outstanding and, in terms of embodied carbon, its 389kg CO2e/m2 performs well against the RIBA 2030 challenge target of 500kg CO2e/m2.
The new building, softened by its sinuous curves against the angularity of the City, contains provision for 650 bicycles, meets 40 per cent of its water demand from greywater and rainwater harvesting and 100 per cent of its electricity provision from renewable sources.
If there is anything optimistic to take from it you have to imagine that at times, when everything seems out of control, the exercise of personal responsibility remains your only - but powerful - recourse
Architectural challenges included St Pauls height restrictions, direct proximity to the entrance to Liverpool Street station and a row of retail at ground level belonging to Network Rail. Due to the excellent records kept by the original 1980s construction team, the argument for retaining the structure and refurbishing was deemed feasible: engineers were able to add a further three levels and increase the area from 33,000 to 48,000 square metres without removing any foundations, instead reinforcing them where needed.
The 1980s building was notable for its heavy facade and its mannered round corners with bronzed glass. It had deep-plan dealer floors, the cores were impeding circulation and the atria were pushed close to the facade making the centre dark and disconnected to the outside. In the new iteration, the atrium is put back into the middle and a new curved facade wraps around the building, stepping back at the upper levels to respond to the views. On each floor is a landscaped terrace garden.
While, as one viewer commented, it seems somewhat contradictory to the sustainability agenda to view a 30-year old building as 'tired', the project's context is part of a wider £1.5 billion redevelopment of the whole estate by British Land. 100 Liverpool Street is a new gateway to Broadgate, which responds to increased demand for retail and entertainment offerings in the area.
These presentations indicate what can be done when client and architect are ethically aligned on sustainability, even when budget constraints or commercial agendas threaten to eclipse these goals. So, 'if there is anything optimistic to take from it,' our webinar host reassures us, 'you have to imagine that, at times when everything seems out of control, the exercise of personal responsibility remains your only - but powerful - recourse'.
This webinar was produced in association with Rockwool

Jan-Carlos Kucharek
Deputy editor RIBAJ and editor of PiP
Kucharek is an architectural journalist and registered architect. He studied his part 1 at Canterbury College of Art and his architecture diploma at The Bartlett (UCL) and worked for five years at Foster + Partners. He took a part time role at the RIBAJ in 2004 and continued working freelance at Marks Barfield, Hudson Featherstone, David Morley and Fourthspace architects. He became editor of Products in Practice (PiP) in 2013 and deputy editor of RIBAJ in 2021.

Chris Bannister
Director
Hopkins Architects
Bannister joined Hopkins Architects in 1992, becoming project director in 1999 and a director in 2002. He is the director responsible for the coordination of environmental design within the office and is a registered BREEAM Assessor. He has taught at Oxford Brookes University, lectured widely and had just finished working on a new landmark mixed-use building for British Land at 100 Liverpool Street in the City of London, which retained a significant amount of the structure from the previous building in order to minimise its impact on the environment. Bannister is currently working on the redevelopment of Twickenham Riverside.

Ian Bramwell
Director
Mole Architects
Bramwell is responsible for the effective running of the business, working closely with principal Meredith Bowles to ensure efficiency on all jobs. As well as being an experienced project architect with proven technical abilities, he is a talented strategic designer with excellent analytical design skills and heads up the practice's housing development projects. Bramwell has overseen the Living Architecture collaborations and is currently working on houses in Devon, Dorset, Cambridgeshire and Suffolk. He has been an RIBA representative on the Cambridge City Council's Design and Conservation panel and on the RIBA validation panel for Cambridge University and he is also currently a professional studies adviser for Cambridge University. At weekends Bramwell can be found messing about on the water, running or cycling around Cambridge.

Hattie Hartman
Journalist
Architects' Journal
Hartman, a journalist and author, is sustainability editor at the Architects' Journal and hosts the AJ's Climate Champions podcast. She is a co-author of Energy|People|Buildings (2021) as well as the lead essay for NewLondonArchitecture (NLA)'s Resilient London report (2021). Her book Materials: An Environmental Primer (RIBA Publishing, 2023), co-edited by Joe Jack Williams, is forthcoming. Hartman was recently appointed as an honorary professor of architecture at the University of Nottingham. A longstanding champion of sustainable design, she participates widely in industry juries, chairs events and lectures on design for climate emergency.

Dr Judit Kimpian
Architect
Architects' Council of Europe (ACE)
Architect, author and environmental policy and design expert, Kimpian is co-author of the book Energy|People|Buildings - Making Sustainable Architecture Work (RIBA Publishing 2021). She chairs the Sustainable Architecture Group at the Architects' Council of Europe (ACE), where she works with the representatives of ACE's 46 member organisations to transform EU policies, directives and standards relating to the built environment to enable high quality architecture that meets the climate challenge. She has had formative input into the legislation governing sustainable architecture and, as a member of the WGBC Leader's Forum, the development of the EU Whole Life Carbon Roadmap. With over 20 years in architectural practice and research delivering ground-breaking projects in the UK and overseas, Kimpian's work focuses on innovative design, technology and policy measures that achieve tangible improvements in the quality and performance of the built environment. She teaches net zero architecture, policy and planning at UCL, focusing on accelerating the transition to a net zero circular economy. She is a frequent speaker at national and international conferences.