Meeting performance can be achieved without compromising the other attributes of a project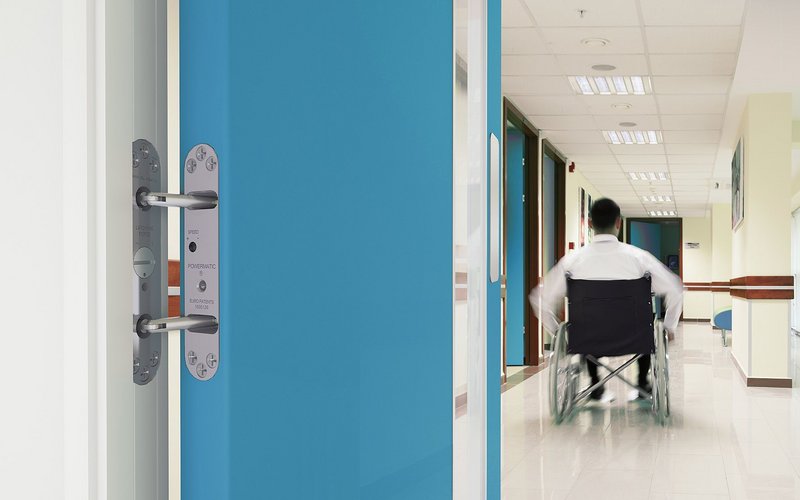 Famed for its high quality solid brass bathroom fittings and architectural ironmongery, Birmingham-based Samuel Heath has, for many years, also been at the forefront of concealed door closer technology.
In the early days, this took the form of its renowned Perko and Perkomatic door closers, which remain popular parts of the company's product portfolio, but more recently the company turned its design and engineering prowess to the development of the controlled, concealed door closer, Powermatic.
Designed and manufactured in the United Kingdom, the Powermatic range comprises standard and free swing models which meet all relevant fire and accessibility performance standards, with both carrying the CE Mark.
Whilst assuring reliable, long-lasting, maintenance-free performance has been at the heart of Powermatic's development, the door closers' value to architects and designers becomes more evident when the specifier looks beyond performance and considers other highly desirable attributes of a project, such as aesthetics, safety, comfort and well-being.
Hidden benefits
Being jamb-mounted, Powermatic door closers fit neatly between the door and frame. Clever design and precision engineering mean that all of the door closers' controls are completely hidden from view when the door is closed, and barely noticeable when the door is opened.
This total concealment, gives Powermatic many advantages over other door closers, particularly surface-mounted door closers with their unsightly, and potentially vulnerable, mechanical arms and control boxes.
Great looks
The obvious benefit of concealment for the architect and designer is that of enhanced aesthetics. Powermatic door closers will not interfere with the appearance of either the door itself or the overall decorative theme, allowing the finishes to remain true to the designer's vision.
The benefit is realised in all sorts of projects from hotels and apartments to health and care establishments where a homely, less institutionalised environment needs to be created.
Practicalities
Concealed door closers also offer practical benefits for a wide variety of projects:
Concealment means that the door closer is less tempting to the would-be vandal or prankster. Out of sight, out of mind, Powermatic door closers present little, if any, opportunity for abuse. This not only assures the continued safety of the building by ensuring that the fire door continues to function properly, but also minimises the likelihood of expensive repairs and on-going maintenance.
Powermatic's concealed nature, together with its ability to be mounted at a low point in the door, also make it ideal for use in anti-ligature and anti-barricade situations.
The door closers' mounting position in the jamb of the door also makes them suitable for projects where raised floors, or conservation requirements, prevent the use of floor mounted devices, or where shaped door heads are present.
One large architectural practice also discovered that Powermatic door closers made a contribution towards retaining the sound insulation properties of guest room doors in a high profile hotel project.
Beyond performance
Hotels, education, health, care, heritage, commercial and many other projects can take advantage of the many benefits that can be derived from the use of concealed door closers. It is all too easy to select door closers based purely on hard and fast performance. Looking beyond performance can give a building so much more, enriching the lives and experience of its occupants and users for many years.