Civil engineers at a development in Selby, North Yorkshire are using Marmox Thermoblocks to build the oversites for 100 craned-in, factory-fabricated modules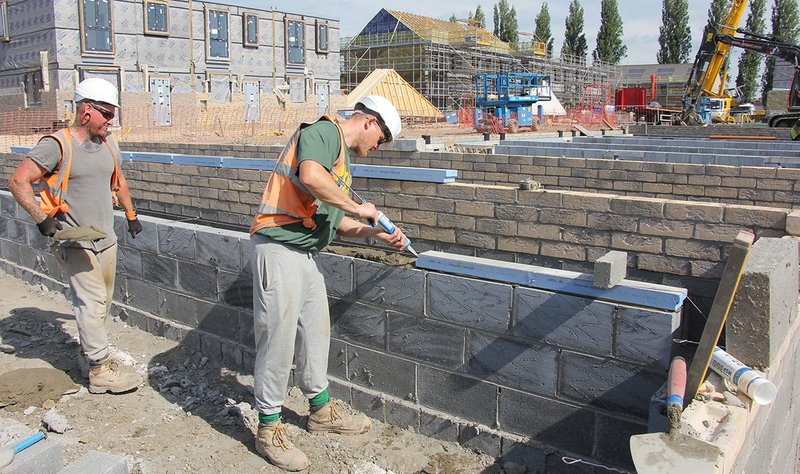 Alfa Site Services install Marmox Thermoblock breaks in Selby, North Yorkshire: 'A significant project that could represent the way ahead for construction.'
Groundworks and civil engineering specialist Alfa Site Services is making innovative use of Marmox Thermoblocks at a development of over 100 affordable homes in Selby, North Yorkshire.
The blocks are being used to construct the oversites for homes that will be craned into position as factory-fabricated modules.
Alfa Site Services has purchased 720 of the 600x100x65mm Thermoblocks from Encon Insulation of Leeds, with the merchant also supplying 50 cartons of Marmox's 360 adhesive, used to bed the blocks and bond their overlapping joints.
This proven installation method helps achieve the accurate alignment and stability necessary for the modules to be craned into position.
'The site was originally a railway siding,' explains Rick Harrison, Alfa's senior manager site services, 'with the made-up ground requiring 2.5m-deep foundations and then levels built up by a metre to deal with flood risk. It required three courses of blocks.
'Installing the Thermoblocks using the 360 adhesive is quite time consuming, but it is a good product and there have been no issues. Once the course of Thermoblocks is complete we hand over to the developer's site management team to install the modules.
'It is a significant project involving a number of technical aspects that were new to us, but this could represent the way ahead for construction and we have been proud to be involved as the principal contractor.'
Marmox Thermoblock is an insulation material designed to be placed at the base of a masonry or timber-frame wall to address the thermal bridge. It can be used under most load-bearing walls and, because it is impermeable to water, can be used in damp conditions without losing its insulating properties.
Available in widths of 100, 140 or 215mm, Marmox Thermoblocks are formed from sections of extruded polystyrene (XPS) and consist of two rows of high strength, epoxy concrete mini-columns.
These are attached at either end to the top and bottom layers of glass-fibre reinforced polymer concrete to ensure a good bond with the rest of the structure.
As well as combatting cold bridging where the inner leaf of masonry walls abuts the floor zone, Thermoblocks are also often used to support timber-frame construction or at vulnerable upper floor junctions, including beneath parapet walls.
For more information and technical support, visit marmox.co.uk
Contact:
01634 835290
---