Specify solar-control glass doors for brighter, cooler interiors. They will help cut down your clients' energy bills too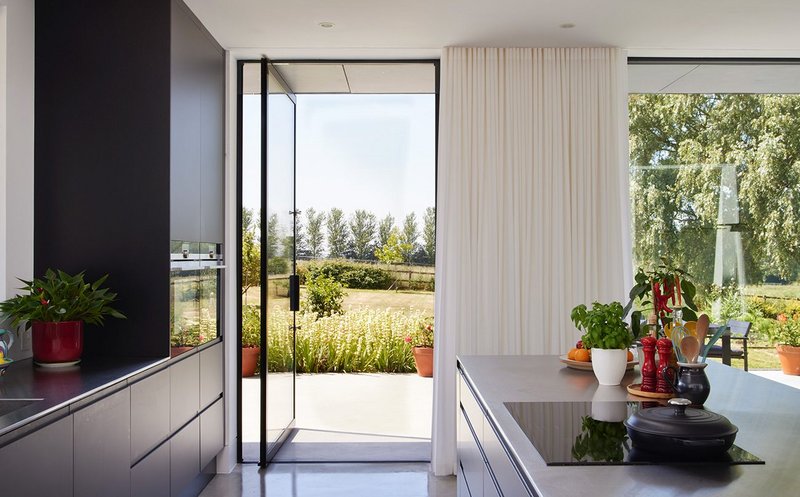 Maxlight pivot door with solar-control glass, which keeps interiors cooler than standard glass, without compromising on light.
Every Maxlight piece is designed to create maximum light, opening up even small areas to create space and let the outside in.
Maxlight glass doors are easy to maintain and, with an elegant, slim profile, they can be adapted to match any room design, from modern to classic, in renovations and new-builds.
Because whatever look you are going for, natural light always makes it better.
Why choose Maxlight?
Innovative, made-to-measure and individually built by a team of talented draftsmen and women, every glass door is made to Maxlight's high standard of design.
The standard double-glazed units are toughened, hermetically sealed and filled with argon gas under a layer of soft coat glass. The result is a door that greatly increases thermal insulation, providing a U-value of 1.1Wm2K.
Other glazing options are available, including a new triple-glazed option for hinged and pivot door systems. Or upgrade to solar-control glass.
Why specify solar-control glass?
For clients concerned about the effects of overheating and solar gain from direct sunlight, and particularly if their home is south or west-facing, solar control-glass can help to reduce these impacts.
Solar-control glass allows sunlight into a space while reflecting the solar energy that comes with it away.
The benefits of this are clear. Solar-control glass doors keep interiors cooler than standard glass, without compromising on light.
Spaces that utilise solar-control glass are often brighter. As a result, the rooms are more energy efficient because there is less need to use electric lighting and electronic cooling devices such as air conditioning.
By upgrading a Maxlight glass door to use solar-control glass, specifiers can help clients cut down on their energy bills while maximising their space.
Pick a colour, choose a finish
Maxlight's doors are available in an unrivalled choice of colours and coatings.
They can be powder coated to any standard RAL colour in a matt, satin or gloss finish. There are 188 colours to choose from - 22 more than the industry standard. Non-standard finishes are also available.
The Maxlight design team can also help architects identify and create bespoke colours and finishes for a unique look.
For more information and technical support, visit maxlight.co.uk

Contact:
0208 896 0700
sales@maxlight.co.uk
---