A controlled access solution at AHMM's state-of-the-art office development in Salford achieves a delicate balance of sleek aesthetics, choreographed traffic control and robust yet discreet security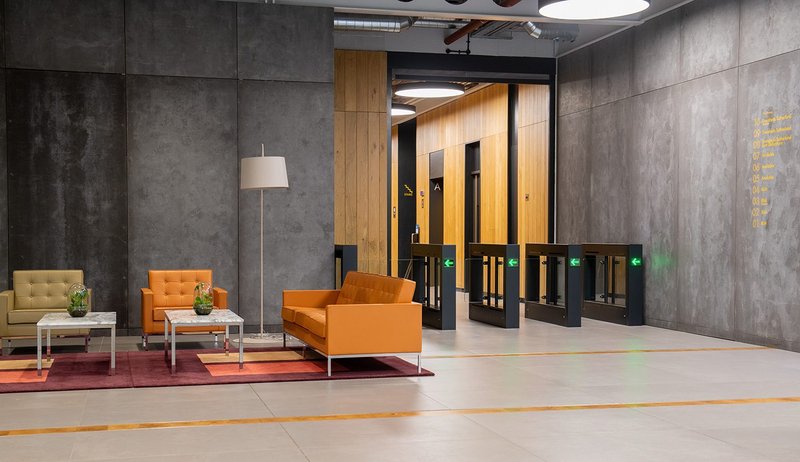 Leading the way: Meesons' EasyGate SPD Speed Gates at AHMM's Two New Bailey offices in Salford.
Two New Bailey Square is a 188,500 sq ft state-of-the-art office development occupying a prominent position in Salford's New Bailey scheme, a thriving business and leisure destination.
The development is part of a wider £1 billion, 50-acre Salford Central masterplan to transform the historic city. The project is being delivered by The English Cities Fund, a joint venture set up by partners Homes England, Legal & General and Muse Developments.
Designed by Allford Hall Monaghan Morris (AHMM), Two New Bailey Square is an innovative sustainable office building that provides flexible working environments.
As part of the minimalist, on-trend reception and lift lobby area, there was a requirement for a controlled access point to manage the secure flow of people through the building.
Main contractor Bowmer & Kirkland approached specialist Meesons to tender for the entrance control security contract. The firm's high specification product and competitive proposal won it the work.
Where aesthetic meets security
The client wanted a robust and stylish entrance control solution able to cope with a high flow of people. Meesons installed four lanes of EasyGate SPD Speed Gates: three standard width lanes and one wide access lane.
The EasyGate SPD's glass wing barriers have a quick opening and closing speed, allowing up to 40 people per minute through each lane - plus a holding force in excess of 650N to prevent unauthorised users opening the wings.
Smooth, safe, secure: managing movement
To securely control the flow of people and prevent any overcrowding in the lift lobby, each Speed Gate lane was integrated with lift call displays that tell the user which lift to take.
Lane guidance lights were provided in the front of each cabinet to notify users from a distance of the speed gate status. Both integrations were designed to ensure the smooth flow of users and prevent any unnecessary delays.
At the clients' request the Speed Gates were supplied in a black RAL colour to complement the lift lobby and reception. The Speed Gates had to be controllable from a central location so Meesons installed an EasyTouch Control panel for staff at the reception desk.
It was also important to the client that the fixtures in the building had a positive environmental impact. The EasyGate SPD was the perfect choice due to its low power consumption.
Two New Bailey Square, Salford achieved a BREEAM Excellent rating, was winner of the British Council for Offices Northern Region Commercial Workspace Award and shortlisted for the 2022 RIBA North West Regional Award.
Find more on this case study at meesons.com/case-studies/two-new-bailey-square

Contact:
For more information about Meesons entrance control products, fill in the enquiry form at meesons.com
---