Giuliana Barandiarán has specified the sintered stone across floors, walls, worktops, furniture and more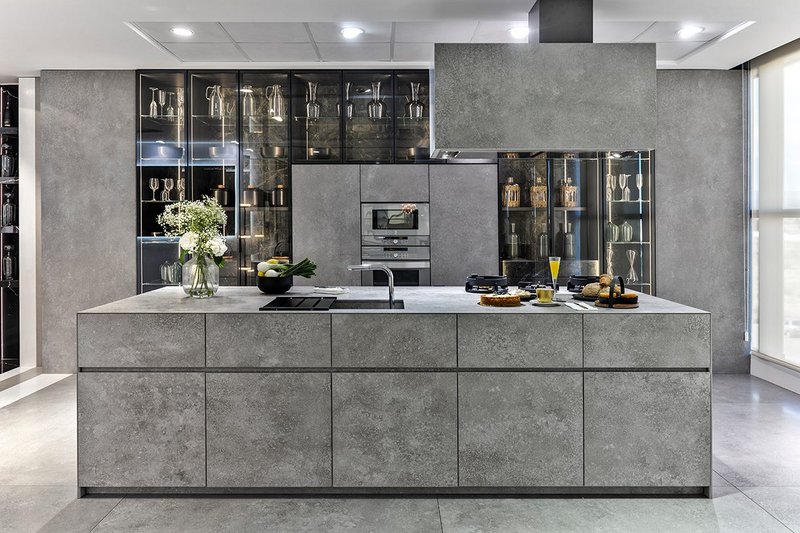 The Neolith Sintered Stone showroom in Castellón, Spain.
Neolith in-house architect Giuliana Barandiarán has designed an 'Urban Boutique' showroom at the company's Spanish headquarters to showcase the sintered stone brand's products.
In a series of room sets, Barandiarán has specified Neolith across every surface, from floors, walls and ceilings to kitchen islands, sculptural elements and vanity tops. It features alongside furniture, fixtures and fittings by interior brands including B&B Italia, DOCA, Jacuzzi, Flos, Louis Poulsen and PITT Cooking.
As visitors enter the showroom, they come to a bar area designed to evoke the atmosphere of a modern cocktail lounge. The main feature is a two-tone monolithic island in Neolith Nero Marquina and urban New York-New York.
In the adjacent demonstration kitchen New York-New York has been specified from hood to hotplate and one of Neolith's newest patterns, Amazonico, has been inlaid into black Nordic wood cabinetry by DOCA. The space is equipped with a fully integrated PITT Cooking range. The kitchen's modish, minimalist look does not detract or overshadow its practical function.
The bathroom demonstrates the versatility of sintered stone. The space is designed around a central vanity and is fully clad in Neolith Mar del Plata, including a Jacuzzi hydro massage bathtub. Gold fixtures and fittings, camouflaged cabinetry and retractable doors all help create the illusion of space.
The final area has a retail theme to showcase the use of Neolith in commercial spaces where it can lift and transform shopping experiences. Architect Barandiarán's concept is based on a high-end fashion boutique with walls and shelving clad in Neolith Retrostone and Mont Blanc and a central table wrapped in the former pattern. The pale colours, enhanced by strategically placed lighting, create a feeling of spaciousness.
Neolith is a natural, recyclable compact surface made of clays, feldspar, silica and natural mineral oxides with impressive resistance and durability properties. It has near-zero porosity, making it hygienic, easy to clean and impervious to chemicals.
For more on this case study, visit neolith.com/urban-boutique-castellon
For more information and technical support, visit neolith.com
Contact:
Neolith Urban Boutique, Business Design Centre, 52 Upper Street, London N1 0QH
020 7288 6212
---