Tuesday 12th September 2023, 9 am – 11:30 am
Join us for this RIBA Journal PiP Design for Sustainability Webinar on 12th September.
We will cover the latest products and materials and explore how collaboration between architects, consultants and manufacturers are helping create better designed, inspiring, sustainable and future-proof architecture that acknowledges the environment and works towards achieving a circular economy.
Featured speakers include:
Featuring our very own Jan Carlos Kucharek, editor, PiP and deputy editor, RIBA Journal as chair, this PiP Design for Sustainability Webinar includes:
RIBA author Mina Hasman, RIBA, ARB, LEED AP BD+C, WELL AP, BREEAM AP, sustainability director, SOM & Climate Framework Lead, who will share insights from her new book, RIBA Climate Guide, a holistic guide for you and your practice to deliver sustainable projects and meet the RIBA 2030 Climate Challenge.
James Lingard, owner and practice director, Nidus Architects, who will deliver a case study presentation on Pen Y Common, Hay-on-Wye - the project recognised with multiple awards including the RSAW Welsh Architecture Building of the Year 2023 and an RIBA National Award 2023 given to buildings in recognition of their significant contribution to Architecture.
Jolene Hor, director, Tate+Co, who will deliver a case study presentation on Creative Centre, York St John University, York, a sustainable building, both in operational and embodied carbon terms, Passivhaus principles employed to achieve a BREEAM Excellent rating and named Building of the Year at the RIBA Yorkshire Awards 2023.
Matthew Curtis, associate and project lead, Bennetts Associates, who will deliver a case study presentation on The Fireworks Factory at Woolwich Works, Woolwich, part of a new cultural destination in London located in the royal Arsenal – an important part of a wider regeneration story. The project has been winner of both the RIBA National Award 2023 and the RIBA London Conservation Award 2023.
Sponsored by: Wienerberger, Thrislington Cubicles, Oscar Acoustics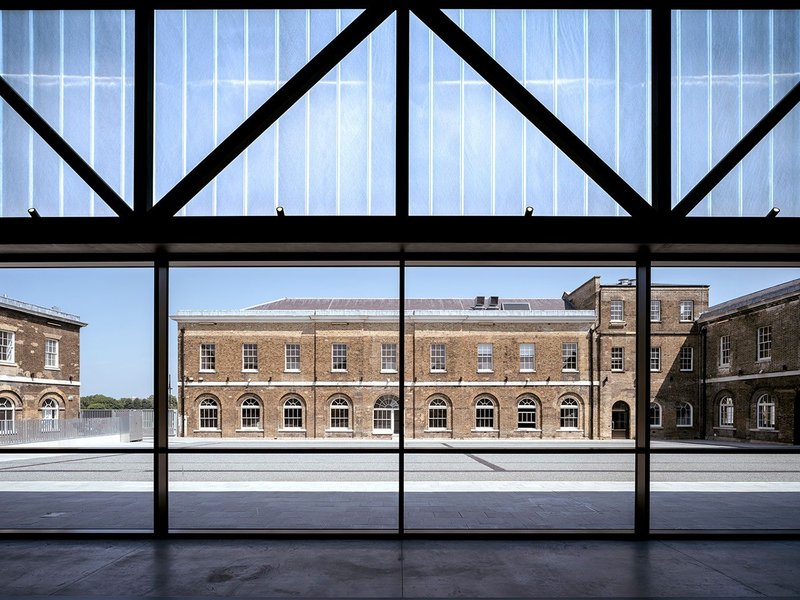 Fireworks Factory in Woolwich.

Credit: Timothy Soar

Gonzalo Bunse
Director of Category Marketing, Wienerberger
Gonzalo is responsible for Wienerberger's portfolio of building solutions that support the construction industry in delivering a healthier, sustainable built environment for the future. Gonzalo has an MBA from Manchester Business School, MSc Sales & Marketing Management and BSc Industrial Engineering, 20 years' experience with blue-chip companies within Construction, Chemical and Packaging industries in Latin America, Europe and the UK. Having worked for companies like DuPont, Sherwin-Williams and Hilti in the past, his areas of expertise are B2B marketing, product and category management, business development, strategy and leadership of cross-cultural and cross-functional teams.

Matthew Curtis
Associate and Project Lead, Bennetts Associates
Matthew is an Associate at Bennetts Associates and has been involved in the practices' notable cultural projects. He's played a key role in award-winning projects including Storyhouse and Woolwich Works, both recipients of RIBA National Awards. Matthew's earlier contributions include the Old Vic and Shaftesbury Theatre in London, alongside active participation in competitions. Since 2021, Matt has been working on a mixed-use masterplan near Blackfriars Station looking at the reuse and extension of large riverside buildings, demonstrating his commitment low carbon design and urban development.

Ben Hancock
Managing Director, Oscar Acoustics
With a design background, an eye for detail and extensive product knowledge, Ben has assisted architects and contractors in bringing concepts and designs to fruition whilst building lasting relationships. Past education projects include Blavatnik School of Government, University College London, University of East Anglia, Notting Hill Prep School, Hampton Court Palace and Tate Modern, Britain & St. Ives.

Mina Hasman
RIBA, ARB, LEED AP BD+C, WELL AP, BREEAM AP, sustainability director, SOM & Climate Framework Lead
Mina Hasman leads SOM's sustainability and wellbeing operations and long-term vision for achieving excellence in practice. She has experience in a wide variety of projects in Europe, UK, Middle East, and Asia, bringing a greater understanding of the implications for sustainable and equitable design in different climatic, social, and regulatory contexts.
As a recognised expert in her field, Mina has been elected to, and is actively involved in the UKGBC Board of Trustees, RIBA Council and the Practice & Policy Committee, CAA (as Chair of Practice and Council Member), LETI Steering Committee, UNEP/GlobalABC's COP Task Force, CIC Climate Change Committee, WorldGBC Advancing Net Zero Steering Committee and CIBSE Intelligent Buildings (as Vice Chair).
Mina regularly contributes to the wider climate change debate in her role as tutor at various academic institutions. She is also the author of a new book structured around the Climate Framework topics, the RIBA Climate Guide

Jolene Hor
Director, Tate+Co
Jolene Hor is an Architect at Tate+Co. She joined the company in 2019 and has worked on a variety of projects at different stages, primarily in the education and leisure sector. Notable projects include Creative Centre for York St. John University ¬- Winner of RIBA Yorkshire Awards 2023, Building of the Year & Regional Award, and the refurbishment of Birkbeck University of London Professional Services Workspace, playing a key role in the design and construction process. She has led the planning application process for Watergate Bay Hotel comprising a 6,850sqm masterplan which includes a new hotel and an apart hotel building with new facilities and a pavilion.

Jan-Carlos Kucharek
Deputy editor RIBAJ & editor PIP
Jan-Carlos is an architectural journalist and registered architect. He studied his part 1 at Canterbury College of Art and his architecture diploma at The Bartlett (UCL) and worked for five years at Foster + Partners. He took a parttime role at the RIBAJ in 2004 and continued working freelance at Marks Barfield, Hudson Featherstone, David Morley and Fourthspace architects. He became editor of Products in Practice (PiP) in 2013 and deputy editor of RIBAJ in 2021.