From conversations on embodied carbon, via historic building reappropriation in Belgravia, to one of the world's tallest timber towers, this webinar uncovers the secrets of award-winning projects paving the way on sustainable design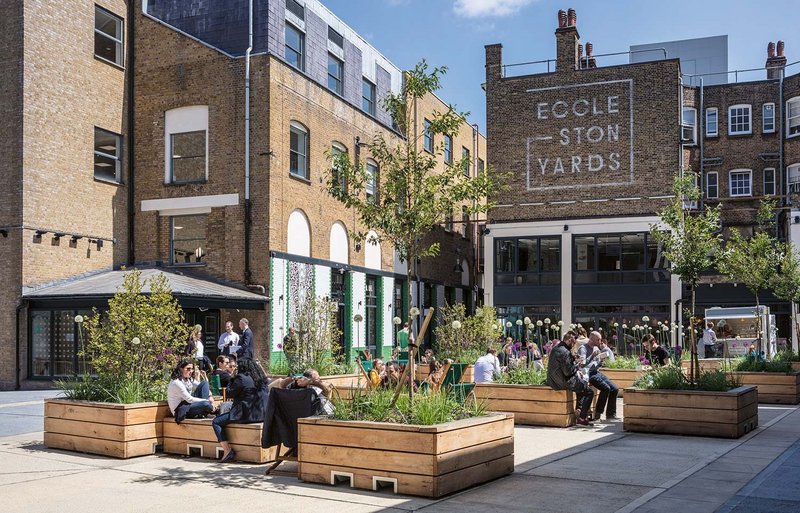 Eccleston Yards by Buckley Gray Yeoman was designed to retain much of the existing fabric as possible, cutting potential carbon emissions and re-establishing the area's character.

Credit: Matt Chisnall
At a time of soaring gas prices, renewed dependency on fossil fuels triggered by war in Ukraine and underwhelming commitments by global powers at COP 26, efforts by the UK construction sector to tackle the climate crisis might seem like fiddling at the edges while Rome burns.
'In the face of that helplessness, perhaps the best way forward is to take Mahatma Gandhi's advice and "be the change that you want to see",' says PiP editor Jan-Carlos Kucharek in his opening remarks to a seminar featuring the latest sustainable case studies, research and products aiming to inspire us 'in some way to do just that'.
First up, David Cheshire, director at Aecom and author of the Handbook to Building a Circular Economy, highlights the importance of whole life carbon and embodied carbon to circular thinking. Simply retaining the structure and substructure of a building can typically conserve 50% of embodied carbon emissions, he says, while replacing other elements, such as the fabric and services, can make it nearly as efficient in operation as a new build.
'Buildings that have survived the wrecking ball, such as Victorian warehouses and Georgian townhouses, are particularly suitable for adaptation, thanks to features such as rectilinear floor plates, generous floor to ceiling heights and great use of light and space,' says Cheshire.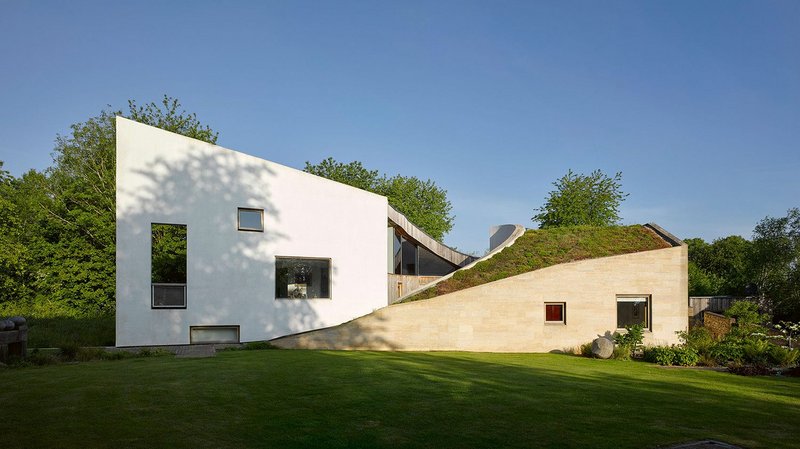 Stonecrop in Rutland by Featherstone Young has an energy efficiency strategy which uses a ground source heat pump and operates the guest wing only when it is in use.

Credit: James Brittain
Embodied carbon calculation is a requirement for practices aiming to hit net zero under the RIBA 2030 Climate Challenge. In the next presentation, sustainable insulation manufacturer Extratherm relates its experience of applying the methodology to calculate embodied carbon on four different domestic property types.
Sustainable project ambitions often chime with drivers for cost cutting, as is demonstrated by the first case study – Eccleston Yards, a mixed-use scheme comprising five refurbished buildings and a new public courtyard in central London's Belgravia district.
Rachael Owens, an RIBA Journal Rising Star and head of sustainability at architect Buckley Gray Yeoman, explains: 'We wanted to keep as much of the existing as we possibly could, driven by the relatively low budget for the project, which really helped minimise embodied carbon emissions.'
The retention of Victorian stonework, cast and wrought iron structural columns, beams, junction boxes and exposed brick also aligned with a brief to repair the urban fabric and re-establish the character of the area.
Switching settings from busy Belgravia to the calm countryside of Rutland in the East Midlands, Sarah Featherstone, architect and co-director at Featherstone Young, explains why its Stonecrop project embodies a more sustainable approach to housing development in village settings.
Formed from the subdivision of a very large garden, the project shows 'how we can create more space for housing in the middle of villages' and so avoid suburban sprawl, she says. A specific energy efficiency strategy saw the dwelling split into two halves – the larger wedge-shaped wing serves as a home for the two clients and is heated using a ground source heat pump augmented by wood burners with back boilers. The second wing remains separate and only kicks into operation when family comes to visit.
Embodied carbon calculation is a requirement for practices aiming to hit net zero under the RIBA 2030 Climate Challenge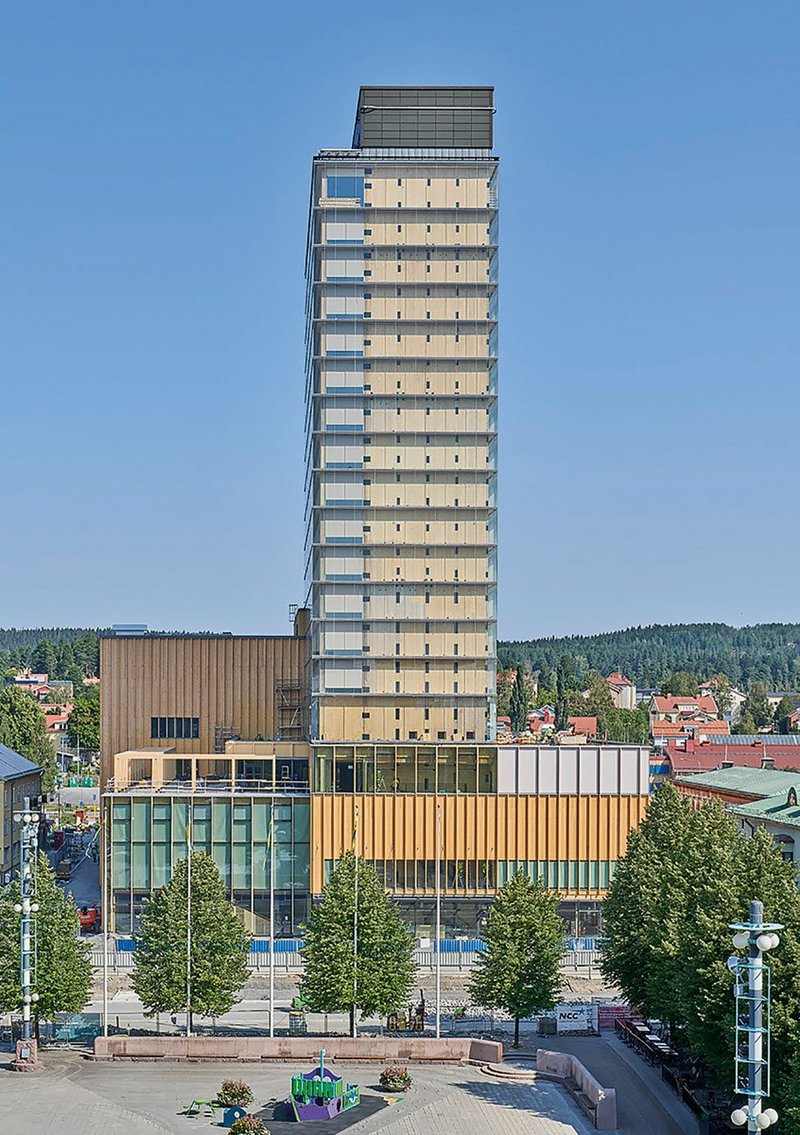 White Arkitekter's Sara Cultural Centre in Skellefteå, Sweden, is one of the tallest timber structures in the world.

Credit: Åke Eson Lindman
An outside courtyard between the two halves introduces a 'buffer wall with huge thermal mass', and its dual aspect encourages a 'natural flow of cross ventilation'.
Staying with flows, the water gets very choppy off the coast of Norway where the world's largest underwater restaurant – Under, designed by Snøhetta – boasts 3D-printed brass taps developed by this webinar's second sponsor Grohe using 55% less material than the conventional product.
Other forms of sustainable innovation are driving product development at luxury home appliance brand Fisher & Paykel, which, according to the next presentation, makes a refrigerator with the highest possible energy rating for its capacity and a dishwasher that can hold small loads in a separate drawer, saving both power and water.
Speaking of loads, and the ability of engineered timber to support big ones, Robert Schmitz, partner and director of competitions at White Arkitekter, brings the seminar to a close with a fascinating description of Sara Cultural Centre in Skellefteå, Sweden, one of the world's tallest timber towers at 20 storeys high.
Two different construction systems were developed for the carbon-negative building. A high-rise hotel element is made up of volumetric cross laminated timber modules stacked between two CLT elevator cores. The only concrete is in the foundation and basement level and at the top of the tower to prevent swaying. The connecting low-rise cultural centre is built with glulam timber and CLT cores and shear walls.
Somewhat reassuringly, the team 'worked hard to ensure the building is not going to burn down,' says Schmitz. Alongside a full sprinkler system and evacuation stairs, the timber was 'over-dimensioned to enable surfaces to char without damaging structural performance,' he adds.
The project not only creates a new sustainable landmark for the city, it also reinstates a historic connection with timber for the region, which until recent decades had been the dominant form of construction.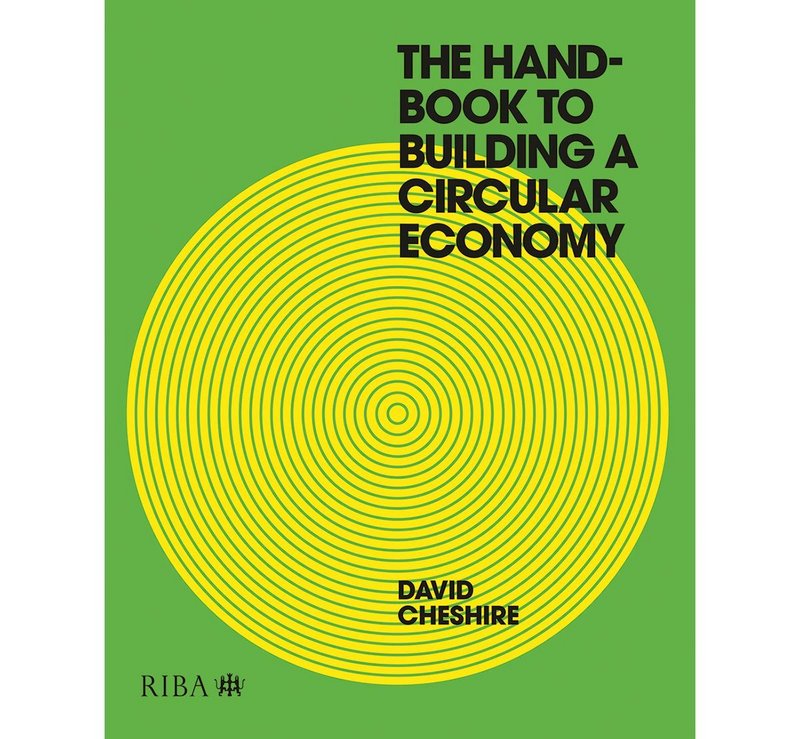 The Handbook to Building a Circular Economy by Aecom director David Cheshire.

Credit: RIBA Publishing