The debate about polymer - or uPVC - versus aluminium has been raging for years. For many architects the latter is superior, but do recent innovations mean a rethink is due?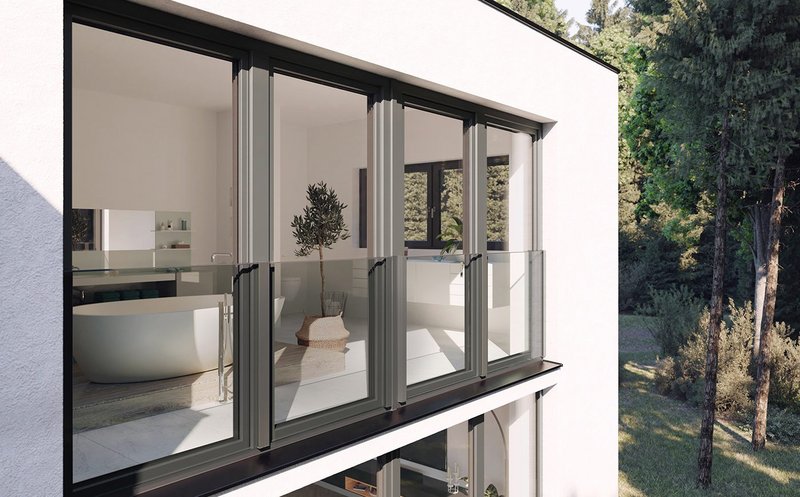 Polymer reborn: Rehau Skyforce Juliet balcony.
Aluminium windows have long been the preferred option for architects because of their modern aesthetics and bespoke design possibilities.
However, the design of polymer or uPVC windows has changed a lot over the past 30 years and some of the highest performing and aesthetically pleasing models on the market are polymer.
Misconceptions persist - and here are four:
Myth 1: You cannot reduce sightlines with polymer windows
Architects often want windows with minimal sightlines to reduce the break between the external building material and any expanse of glazing.
Polymer tends to be associated with white window frames that almost always contrast with the building fabric or the glass. However coloured versions are available that can be used to reduce the impact of sightlines.
Darker shades appear more subtle, reducing the impact of the window on the building's appearance.
In reality there is very little between the sightlines of aluminium windows and those of polymer windows. Designs are now available that mimic the aluminium aesthetic and, with aluminium solutions often costing up to three times more, many architects are opting for alternatives that keep costs down for their clients.
Myth 2: A polymer window is not as robust as an aluminium one
While many profile systems have reduced wall thickness to cut the cost of extrusion, Rehau's Total 70 range has retained a 3mm wall thickness for over 58 years.
This thicker wall profile improves the screw retention so hardware and steel reinforcing are less likely to become loose. This results in a very robust solution.
Long-standing commercial Rehau customers report that ten, 20 and 30-year-old windows are as good as the day they went in - a key attribute for any architect looking for a building design that will leave a legacy.
High thermal conductivity can leave aluminium windows susceptible to condensation, while polymer alternatives provide greater thermal efficiency.
This can be resolved by installing thermal breaks - which are often made from polymer - but further issues can arise if they are incorrectly installed.
Myth 3: Polymer is not a sustainable material
Contrary to popular belief, polymer windows can be among the most sustainable materials around.
UPVC can be recycled up to ten times before showing any signs of degradation, making it a viable material for developers looking to ensure sustainability runs throughout their building design.
Done correctly, polymer recycling is highly energy efficient, using a fraction of the energy used in its virgin production.
More polymer windows are recycled in the UK than aluminium and companies such as Rehau have their own high volume, in-house recycling plants.
Millions of new windows are installed in the UK each year, with millions of old windows going to scrap. To help reduce the many tonnes of polymer that ends up in landfill, Rehau is committed to the circular economy.
The firm has invested over £60 million in recycling infrastructure, including a polymer window recycling facility in Runcorn.
Rehau collects polymer window frames and doors, puts them through intensive separation processes and directs recycled materials into the manufacture of its new polymer windows. This reduces the amount of materials heading for landfill, enabling a self-sustaining business model.
Myth 4: Polymer is not futureproof
Membership of the Passivhaus Trust has doubled since August 2020 and soaring gas prices are making this energy-efficient way of building more popular than ever.
Polymer is Passivhaus-ready. Rehau has its own Geneo window system that is Passivhaus-certified. However, it is not always possible to get a building fully certified, particularly in the retrofit market.
With net zero targets driving revised building regulations, such as the overhaul of Part L and Part F in the Future Homes Standard, building designers can at least integrate Passivhaus principles to futureproof their projects.
Rehau has an expert team able to support architects with window specification across large multi-residential and commercial projects in the housebuilding, public sector, local authority and private commercial sectors.
For more information and technical support, visit rehau.com
Contact:
01989 762600
---