The aluminium wraparound glazing system has been used to create floor-to-ceiling windows and sliding doors on an Isle of Wight project where location truly leads building design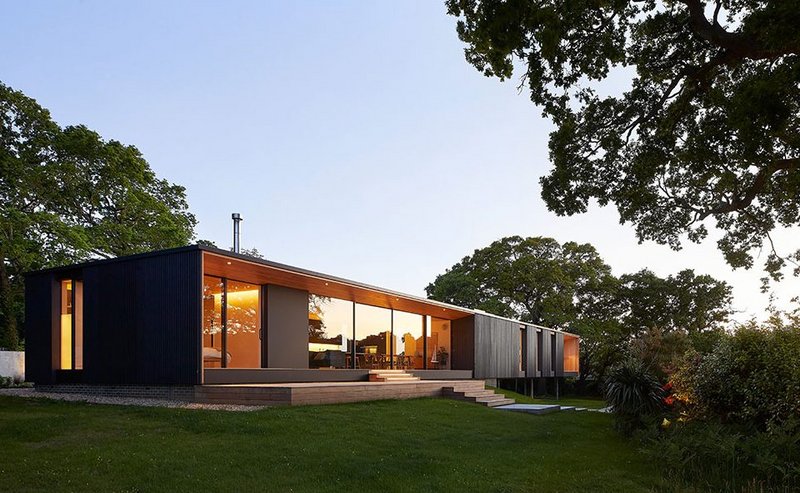 Reynaers Aluminium Hi-Finity glazing at Island Rest on the Isle of Wight.

Credit: Hufton + Crow
Hi-Finity glass panels by Reynaers Aluminium have been specified at an Isle of Wight holiday home with spectacular views across The Solent.
Island Rest was designed by Ström Architects to be a family escape inspired by its natural surroundings. The low-profile single-storey property is clad in larch wood. The location leads every aspect of the building design with lots of family-friendly communal areas that have easy access to the water.
The Hi-Finity system from Reynaers Aluminium creates infinite views, softening the boundaries between inside and out. With floor-to-ceiling windows and large sliding doors that open up living spaces on to a courtyard and landscaped gardens, natural light is maximised and sunshine brought deep into the plan.
Large expanses of glass create layers of transparency and reflection that minimise the visual impact on the surroundings, enabling the building to blend into the landscape.
Hi-Finity delivers scalability, slim lines, quality and functionality. It can be used to create large architectural glazing features without the need for obtrusive framing. Slender profiles maximise the expanse of glazing for an elegant appearance.
Glazing plays an instrumental role in modern homes, not only in terms of aesthetics and performance, but in the functionality it gives occupants. With Hi-Finity it is easy to move glass panels of up to 750kg.
Hi-Finity has the ability to wrap itself around any building, from a seaside structure to a high-rise hotel or urban home. It delivers ultimate design freedom without compromising performance.
For more information and technical support, visit reynaers.co.uk
Contact:
0121 421 1999
---