The specifiers' guide to acoustic, fire and thermal insulation relaunches as an interactive resource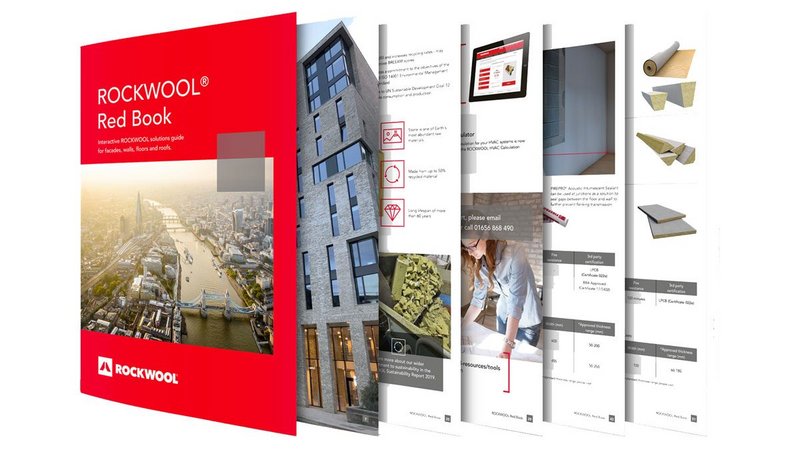 The Rockwool Red Book: Specification data for the company's acoustic, fire and thermal solutions in one single place.
Insulation products manufacturer Rockwool has launched its new Rockwool Red Book, a resource designed to help save specifiers' time and make it easier to identify the correct insulation solutions for facades, walls, floors and roofs.
The Rockwool Red Book has been out of print for several years and has been digitally revamped to meet the needs of building professionals.
The interactive guide provides digital access to technical data, product certification and specification support materials. It provides an essential and practical resource that brings all the relevant specification data for Rockwool acoustic, fire and thermal solutions into a single place.
The Rockwool Red Book provides guidance for designing Rockwool stone wool insulation into facade, wall, floor and roof build-ups. This includes NBS Clauses, BIM objects, BBA certification and technical datasheets.
Recognising the importance of being able to find a product's reaction to fire ratings, users can verify the Euroclass rating of a product as the Rockwool Red Book links directly to the Declaration of Performance database on the Rockwool website. This enables the specifier to quickly evidence the non-combustibility of their chosen Rockwool solution, while seeing other key performance characteristics that are declared as part of the product's CE marking.
In addition to technical documentation, application pages give specifiers access to online calculation tools for U-values and acoustics, making it easier to evaluate the potential performance of facade, wall, floor and roof build-ups.
'We've created a specification support tool that makes the relevant online and electronic resources directly accessible from within the Rockwool Red Book,' says Rockwool head of product management Paul Barrett. 'Our objective was to create a practical guide that is easy to use, helping to save time while maintaining the robustness of the specification process. We will be releasing new updates regularly to ensure the content remains relevant and accurate, as well as evolving it in line with market feedback.'
As a comprehensive specification support tool, the Rockwool Red Book extends beyond core product information to help customers develop further understanding of the latest building regulations. Featuring acoustic, thermal and fire standards for England and Wales, Scotland, Northern Ireland and the Republic of Ireland, it helps to navigate the differences between the devolved regulations.
The Rockwool Red Book features a series of calculation tools and guides to support wider project requirements, including the FirePro Solution Finder, which simplifies the identification of solutions for firestopping applications, and the Flat Roof Zoning Tool, which ensures the efficient use of insulation products across a flat roof.
Specifiers can develop further understanding of specifying stone wool insulation through Rockwool's essential CPD programme for construction professionals. The CPD schedule can be accessed through the Rockwool Red Book.
To download a copy of the Rockwool Red Book, visit rockwool.co.uk/redbook
Contact:
01656 868400
customersupportcentre@rockwool.co.uk
---