Steel standing seam systems can help architects and specifiers create a design that stands out, while meeting key sustainability and longevity criteria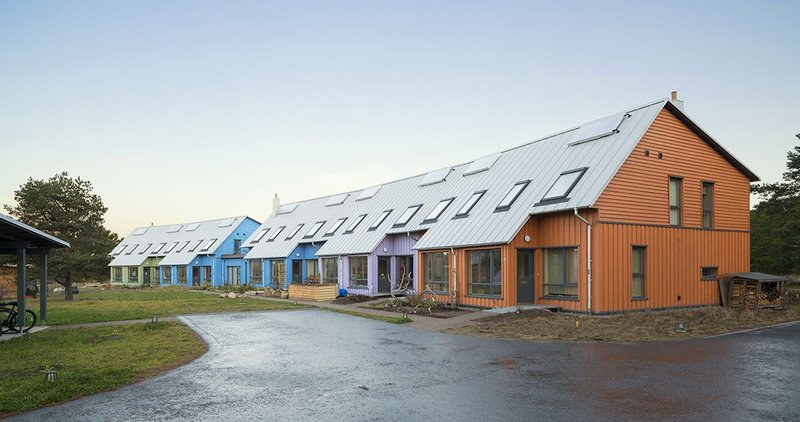 Colorcoat Urban is seven times lighter than standard roof tiles and a great choice for new-builds, refurbishments or extensions. All sorts of shapes can be achieved for stunning roofs and exteriors.
The versatility and design flexibility of standing seam metal roofing and cladding has resulted in a clear rise in its popularity for residential and commercial projects.
For designers looking to create something striking in the modern urban environment, the traditional palette of colours provided by conventional building and roofing materials can be limiting. Pre-finished steel systems such as Colorcoat Urban offer a range of colour choices that contrast with the typical tones of roofing materials and replicate the look of zinc, aluminium or even weathered copper systems. Steel roofing and cladding also integrate with and complement other materials, including brick, glass, stone, render and wood.
Standing seam roofing systems provide greater design freedom, allowing modern rooflines and designs to be created easily, including simple mono-pitch and saltbox style roofs alongside more complex shapes, such as clerestory, butterfly and double-pitched 'M' shaped roofs. Steel systems can also allow far shallower pitches to be created compared with traditional roof materials. Colorcoat Urban, for example, can be installed on roofs with a pitch as low as 5 degrees.
This helps overcome planning restrictions by allowing the overall building height to be reduced compared with a standard 40-degree pitch roof, without having to compromise on the design of the property. A low pitch roof can also help optimise the internal space as a 5 degree pitch can increase headroom by as much as 44 per cent compared with a traditional roof.
Steel standing seam roofing is a durable, low maintenance product that retains the quality of the finish for many years. For example, Colorcoat Urban is manufactured from Tata Steel's Colorcoat HPS200 Ultra pre-finished steel with a Galvalloy metallic coating that protects the roof and ensures its outstanding durability. It also benefits from a 25-year Confidex Home Guarantee for both inland and coastal locations. Confidex Home is offered free of charge directly to the homeowner to provide complete confidence in the quality of the roof material.
Colorcoat Urban is ideal for projects where the sustainability of the materials is a key focus. The product is 100 per cent recyclable at the end of its life and is manufactured in line with BES 6001 Responsible Sourcing standards and the ISO 14001 standard for environmental management. This maximises the potential for securing credits under the Responsible Sourcing of Materials sections of BREEAM, the Code for Sustainable Homes and CEEQUAL.
Colorcoat Urban offers a simpler installation compared with tiled roofs and other metal systems. It is seven times lighter than traditional roof tiles and has a quick-fit system that makes the work faster and safer. In contrast to zinc standing seam, which requires a specialist roofing contractor to fabricate and fit the system, steel roofing can be installed by general roofing or building contractors with only basic product training required.
Colorcoat Urban standing seam roofing and cladding is the ideal solution for a range of applications and provides architects with greater choice and design freedom, as well as excellent durability, sustainability and ease of installation.
For more information and technical support, visit: tatasteelconstruction.com/colorcoat-urban
Contact:
01244 892449
colorcoaturban@tatasteeleurope.com
---