A 19th century warehouse conversion in Bermondsey by McDaniel Woolf required thermally efficient glazing but in an authentic design to retain the building's character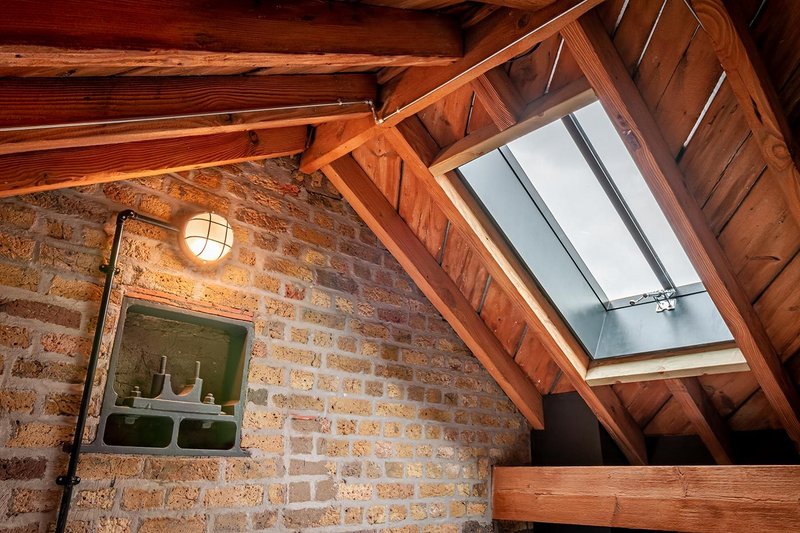 The Rooflight Company's Conservation design at Butler's & Colonial Wharf. It features slim clean lines, a low-profile to match the roofline and linking bars.
Architects McDaniel Woolf have carried out a full internal restructure of Butler's & Colonial Wharf in Bermondsey, south east London. It lies to the east of Tower Bridge on Shad Thames.
Built in the 19th century, the wharf was at the heart of the British Empire's spice trade for more than 150 years and served as the largest warehouse complex in the capital, storing goods unloaded from ships using the port of London.
After falling into disrepair, the building was converted into a residential estate in the 1980s. Due to the size and shape of the building, each flat suffered from low ceilings and crudely erected partition walls, reducing residents' access to natural light and ventilation.
An internal restructure was necessary to ensure the flats were fit for 21st century living.
The architects proposed a plan that would re-order the layout of the 1980s apartments within the Grade II listed Victorian shell. The design would create luxury apartments that prioritised light, ventilation and space.
The challenge was to balance the need for modern performance with preserving the industrial design and historic nature of the building.
Rooflights were an obvious solution to improving natural light levels in the top-floor apartments without altering the building's silhouette, but the building's listed status added to the complexity.
McDaniel Woolf came to the Rooflight Company with the specifications for a bespoke version of its Conservation rooflight. Both parties worked together to create non-standard sized rooflights that also incorporated self-cleaning glass and automatic openings.
This rooflight was chosen specifically because it is modelled on the original Victorian rooflight, with its clean design and optional glazing bar, but also because it benefits from a modern spec in terms of thermal performance.
The rooflight suited the building perfectly and allowed the conservation officer to approve the work with no concerns.
'At Butler's & Colonial Wharf, our requirement was for oversized replacement rooflights for a Grade II listed 19th century industrial building in London's Docklands,' says lead architect on the project Richard Woolf.
'This could only be undertaken by a manufacturer with the ability to work closely with ourselves and our mutual client and advise on the technical opportunities and limitations a bespoke project required.'
He believes the final installation has respected the significance of the historic site, while providing a high-quality solution.
For more information and technical support, visit therooflightcompany.co.uk
Contact:
01993 833155
enquiries@therooflightcompany.co.uk
---