Side return and rear extensions, an internal remodel and the inspired use of glazing transform a traditional Victorian property in south London into a forever home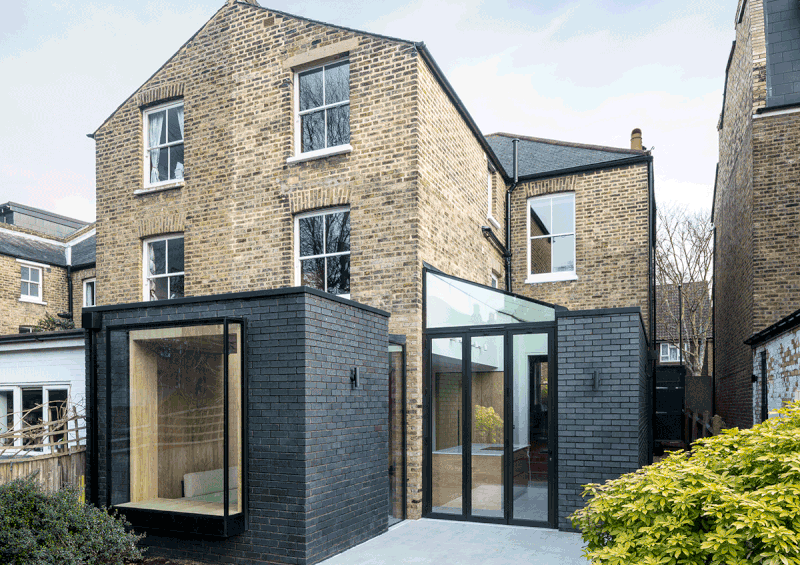 The new extensions are built in a dark charcoal brick, creating a new/old contrast with the London stock.

Credit: Ben Blossom
Homeowner John Gahan wanted to extend the ground floor of his semi-detached home in Herne Hill, south London to give him the option of living on one floor in the future if he needed to.
A significant part of the brief he handed to architect John Proctor of Proctor & Shaw was to add light and create a comfortable, welcoming space. The north-facing kitchen at the back of the house was so dark that the lights needed to be turned on in the daytime even during the summer.
Proctor extended into the side return to create an open-plan kitchen and dining room with a glazed roof and bi-fold doors with vertical glazing above, adding dramatic height and light.
An intimate timber-lined snug with a box window frames views into the garden and a glass wraparound connects the original house to the new extension.
Bi-fold doors open out on to a corner patio that catches the sun for most of the day during the summer. They are fitted flush to the floor, creating a flat transition from inside to out. Combined with the use of the same floor tile on the patio and in the kitchen, this creates a seamless merging of the indoor and outdoor spaces.
'The wraparound glazing was an inspired idea,' says Gahan. 'It brings in light and enables me to look straight up and see the stars at night. The large box window in the snug has made the nature in my garden suddenly accessible to me. I enjoy sitting on the window seat watching the birds. I wouldn't have known before that I had goldfinches in the garden. I wouldn't have seen them.'
Proctor recommended Schüco for the glazed units and ASS 70 folding doors. 'It's a tall space and the Schüco system was the only one that offered the height we needed,' he says. 'We wanted very tall thin doors without complicated glazing with fanlights above. With any other system we would have had to modify the design to get the full glazed height.'
Specialist contractor L2i designed, manufactured and installed the glazed units using Schüco products and profiles.
Gahan has achieved his goal to futureproof his property while creating a home that he never wants to leave. The project (Snug House) was longlisted for the Don't Move, Improve! 2020 award.
For more information and technical support, visit schueco.com/uk/life-without-limits
Contact:
01908 282111
---