Schüco lift-and-slide doors provide a wraparound cloak of invisibility at a bespoke home in the Surrey Hills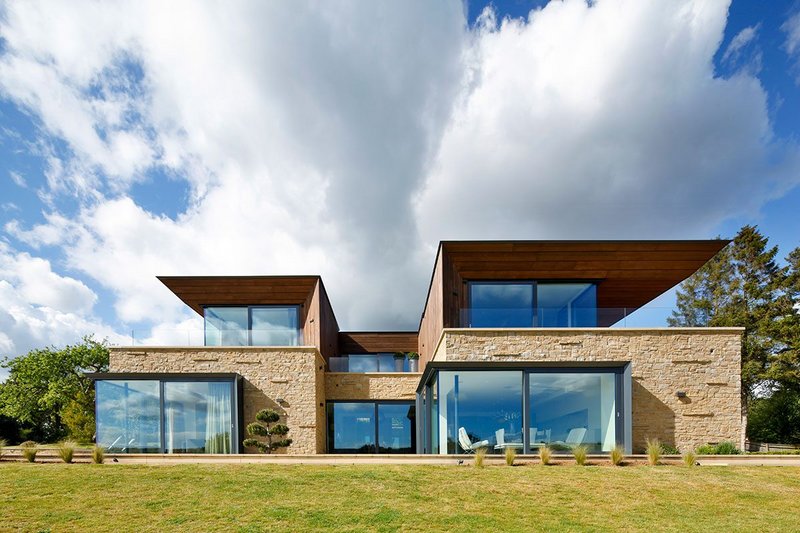 Expansive reflective glazing by Schüco fills the Surrey home with light while lessening the impact of the building in the landscape it occupies.

Credit: Lize Eve / Fotohaus
Schüco lift-and-slide doors have been specified for a bespoke new-build home in the Surrey Hills, an Area of Outstanding Natural Beauty.
Owner Jon Wood, director of specialist cladding company JPW Osprey, and his wife Louise worked with the local planning adviser for two years to design a home to complement the surroundings.
The couple commissioned Stephen Marshall Architects, who worked with local stone, cedar wood cladding and as much glass as possible to reflect the views of the sky and landscape. Schüco products were used throughout to make the house almost invisible from a distance.
'Using glazing to merge a building with its surroundings is an effective technique we use often and it has worked really well here,' says Marshall. 'The planners encouraged us to build something modern. They were keen to show what a modern house on an exposed site in an Area of Outstanding Natural Beauty could look like.
'We've demonstrated that a countryside setting can inspire something more progressive than a gingerbread cottage.'
The location was chosen for its stunning views, but the property was cleverly designed to shield those views on approach.
'Although the main idea behind the design is the view,' says Marshall, 'I was keen that people enter the house without having seen it at all. Then, as they walk through the ground floor, the breathtaking views are suddenly revealed. It works very effectively because the view really is spectacular.'
The large Schüco lift-and-slide doors ensure there are views from every room, including through the house to the outside in every direction. Although the glazed doors are very large they are easy to operate for the whole family.
The house's location on top of a hill is exposed to the elements and the windows and doors had to be able to withstand howling winds and, at times, horizontal rain.
'We needed a robust product that wouldn't let the wind whistle through,' says Wood, 'so we chose Schüco. I always recommend it to my clients so took my own advice. The house is always warm and weathertight.'
For more information and technical support, visit: schueco.co.uk
Contact:
01908 282111
---