Architect's thermally efficient addition reacquaints a former gamekeeper's lodge near High Wycombe with its surroundings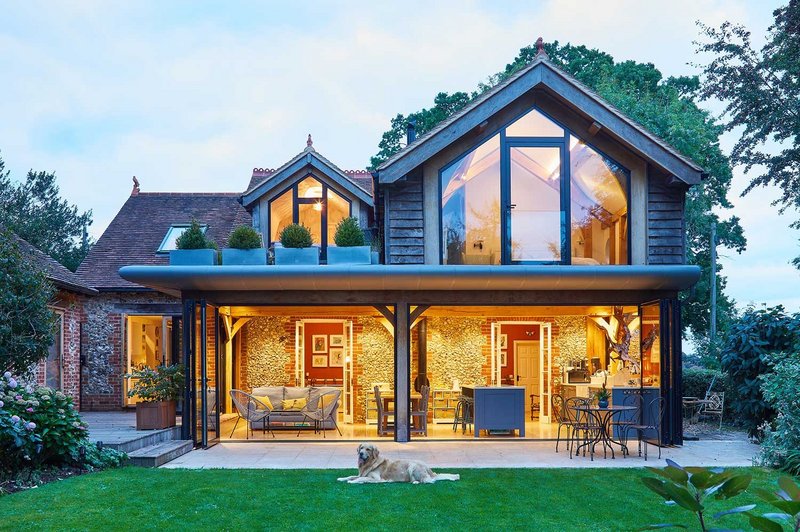 The extended Buckinghamshire property with thermally insulated, German-engineered, British-built Schüco doors and windows.

Credit: John Selby
Architect Kate Fischer of Chiltern Architecture Studio bought her 19th-century Buckinghamshire property for its position and surroundings. But while the former gamekeeper's lodge near High Wycombe occupies a spot at the top of an exposed ridge, the building didn't make the most of its location.
So Fischer designed a pegged green oak frame extension to improve visibility and create better connectivity with the garden and views.
She tested a number of door systems and chose Schüco for its high quality, thermal performance and easy operation. 'It was the most smooth running,' she says. 'I could move the standard sized Schüco doors with one finger.'
Fischer was also able to design the bi-fold door panels to be higher and wider than usual to make the most of the views.
During the day, the slim and unobtrusive black glazing profiles let the brick and flint walls and oak frame shine and allow the surrounding landscape to flow into the house with little visual obstruction. At night they 'dissolve' into nothingness.
The continuation of the stone flooring and a low threshold that sets the door sills below the external paving also help blur the boundary between inside and out.
One of the key challenges of the build was combining the oak frame, which moves over time, with a solid aluminium Schüco frame system.
'The Schüco systems are located on the outside of the oak with structural loads carried by the timber frame,' explains Fischer.
'Where deflection tolerances were tight, a small steel sub frame was fitted to allow for differential movement outside the oak. This forms a sandwich that allows the materials to behave independently. As a result, the external envelope is airtight and thermally efficient, leaving no gaps even as the oak shrinks.'
Improving the energy efficiency of the original building was important. The thermally broken Schüco aluminium frames and glazing are on the south-facing side of the house where they optimise solar gain and minimise heat loss.
In the summer, the extension is protected from overheating by a zinc roof overhang, bi-fold doors along two sides of the room that can be left open and smaller windows that provide cross ventilation. As a result, the extension feels like an outdoor space in the summer and cosy and warm in the winter.
'We replaced the oil boiler with an air source heat pump,' explains Fischer, 'and, although the house has doubled in size, the energy bills have almost halved.'
Find more about the Schüco offer to homeowners at schueco.com/uk/more-than-a-view
For more information and technical support, visit schueco.com/uk/specifiers
Contact:
01908 282111
---