A bespoke home on a sloping riverside plot in Bothwell, South Lanarkshire features cantilevered upper storeys and sliding and bi-fold doors by Schüco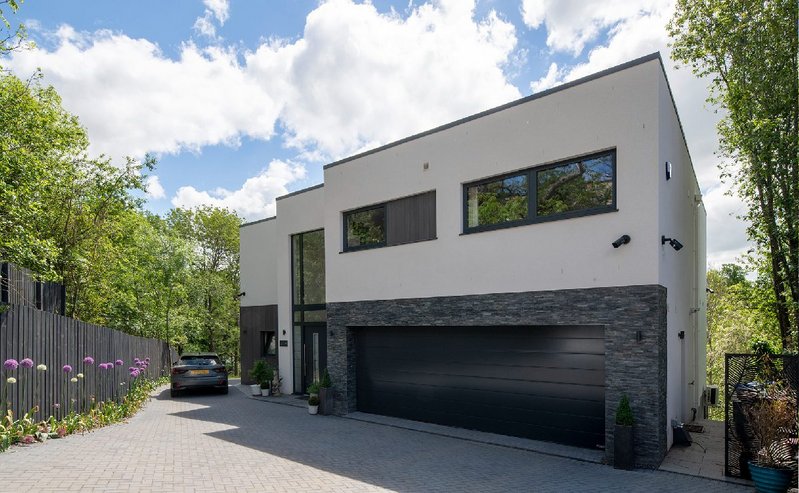 Unassuming on entry, the property opens up to reveal itself as you move further inside.

Credit: Paul Zanre
Glasgow-based DTA Chartered Architects has designed a dramatic, three-storey cantilevered home for a constrained and steeply sloping site in Scotland.
The plot is triangular in form, with the highest and narrowest point at the entrance and the broadest at the foot towards the River Clyde. Owners Lorna and Gavin Gall came across it while dog walking and fell in love with it.
Accommodation is arranged over three storeys, with the top two cantilevering over the lower ground floor. The rear opens out on to a balcony and covered terrace with sliding and bi-fold doors from Schüco acting as a picture frame for the river views.
The floorplan needed to be triangular in form to maximise the internal space and deal with site constraints. It was designed to step along the front elevation, giving the appearance of a much smaller house from the entrance.
Sustainability was a consideration for the architects and they incorporated door glazing to over 40 per cent of the rear south-facing side of the house, maximising daylight and allowing rooms to be naturally ventilated.
Solar gain was part of the plan, but is constrained with shading and a semi-reflective solar coating to prevent overheating in mid-summer.
The owners engaged Stewart Moore, director of Bankhead Developments, to manage the construction of the house. For the windows and doors, Moore recommended Schüco for its high quality and precision German engineering and fabricator Scottish Bifold Doors.
'Doors and windows are a big investment,' he says. 'It makes sense to choose products that are going to last a lifetime.'
The design of the house has proved life changing for the owners. 'Our favourite thing is having so much glass,' they say. 'Our son used to spend all his time in his room; now he brings his books into the kitchen and studies on the island in front of the doors instead.'
For more information and technical support, visit schueco.uk/view
Contact:
01908 282111
---