Expansive windows, doors and corner glazing bring light and life to a restored and extended Victorian villa in Leeds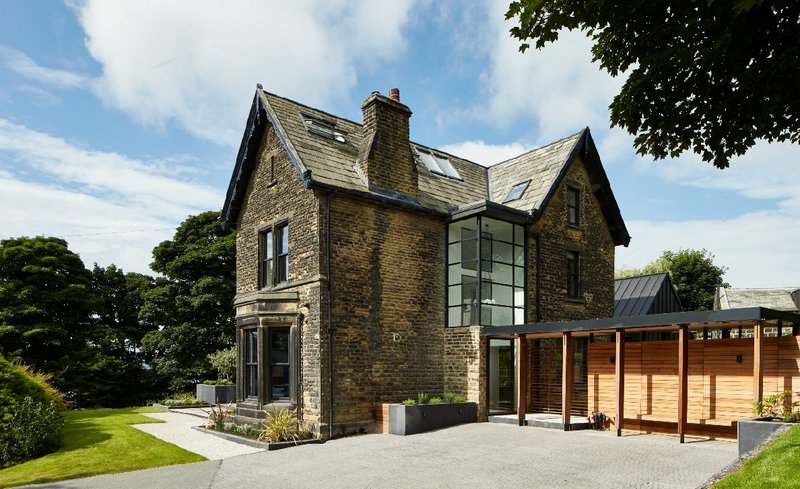 Schüco products specified at the restored villa in Leeds include a Jansen Janisol Arte 2.0 steel lantern to the stair and entrance and ASE 60 windows and doors to the rear extension.
An historic Victorian villa in Leeds has been transformed with expansive windows and doors to provide a family home fit for contemporary lifestyles.
Gagarin Studio was commissioned to provide the architectural, interior and landscape designs.
Its approach was to restore key original features while introducing contemporary elements that would complement the context and proportions of the building.
In a bold move, the architects reorientated around three features: a cobbled courtyard, a green-roofed loggia and a re-imagined entrance.
The entrance features high-level, glazed lanterns, while the remodelled stairwell has double-height spaces to provide an elegant route through the heart of the house.
There are long views and lots of visual connections, including from a bedroom suite that has a discreet bathroom terrace.
The architects specified Schüco products throughout and commissioned fabricator Gresson to bring the designs to life.
Schüco ASE 60 windows and sliding doors were installed in the kitchen/day room and in the new zinc-clad extension that connects the kitchen garden, sun terrace and play spaces.
This well proportioned addition mirrors the adjacent gabled roofs and dark gritstone of the original building.
The ASE 60 lift-and-slide system has impressive thermal insulation and slim face widths. It is modular and scalable and offers a comprehensive solution for discreet design.
Optional fittings components, such as the Schüco SmartStop and Schüco SmartClose, ensure increased security and maximum ease of use.
A slimline interlock section allows inside and outside to merge together, while the level threshold provides easy access for all.
The profile system retains its high quality design even when open.
'Schüco offers a broad range of systems that suit a huge variety of applications that we specify for,' explains Gagarin Studio director Gayle Appleyard. 'It is why we specify Schüco products so often.'
The size of the sliding doors at the Leeds villa meant that they were going to be heavy. 'There was no getting around it,' says Appleyard.
'However, the way the Schüco ASE 60 doors are engineered ensures they will be manageable for the client, providing good functionality as well as the desired look.'
An element of particular interest in this home is the corner glazing, which brings swathes of light into the neutral interior. Schüco was specified because it was able to accommodate this requirement for corner glazing.
'Schüco excels in producing products that enable large format glazing and reduced frame designs. This gives an extremely clean, minimal look,' says Appleyard.
The result is an imaginatively reoriented home, full of light-filled spaces to enjoy for years to come. The project was completed in 2021.
Find more about this case study at schueco.com/case-study/leeds-villa
For more information and technical support, visit schueco.uk/view
Contact:
01908 282111
---