... is stranger than fiction.
Or, if Pokémon Go is anything to go by, they can be the same thing; the augmented reality app, downloaded over 100 million times, sends people wandering unknown streets in search of little virtual critters. But alongside vaunted health benefits – kids getting out of the house and exercising – are tales of them wandering into roads or being mugged at PokéStops for their iPods.
Interestingly too, the Frank Gehry Maggie's Centre in Dundee, finding it was a local PokéStop, offered cookies to players along with information on the building and its work. It's the kind of free PR firms pay a fortune for. And like Gehry's Digital Project software, it's another virtual world open to real-time interrogation.
Some deplore the game's pointlessness; ostensibly offering a bigger stage on which to do increasingly little. But there's nothing new in that – take Guy Debord's Situationist dérive in the 1960s. In the allowing of random stimuli to generate a new experience of the city, you could say there's little difference between them. But of course there is; you might feel the same sense of being lost but in Pokémon someone, somewhere, knows exactly where you are. And while the virtual game starts with a thrown ball, the other ended in Paris with some very real cobbles being hurled.
---
Jan-Carlos Kucharek enjoys three of this issue's out-takes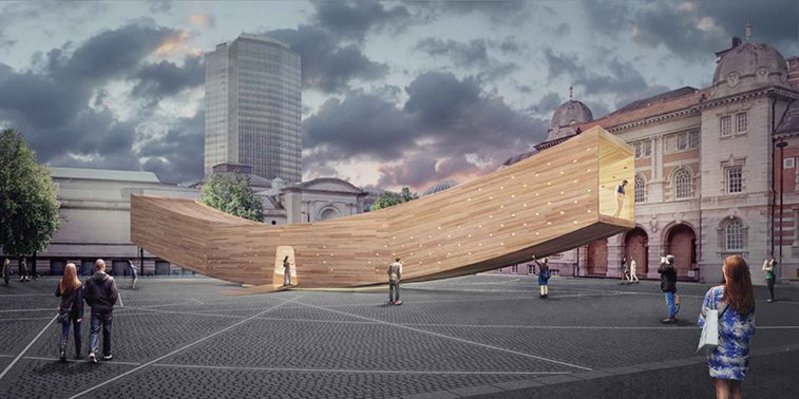 SMILEY'S PEOPLE
God knows we could all do with something to smile about nowadays, but Alison Brooks is forcing out a real grimace with her gargantuan 'Smile' installation for this year's London Design Festival. The 34m long, 3.5m high curved Tulipwood structure is more Cheshire Cat than Chelsea College of Art, beaming away in the school's Rootstein Hopkins Parade Ground. But since sponsor American Hardwood Export Council is touting it as one of the most important innovations in CLT panels in the last 10 years, involving not only Stirling Prize winner Alison Brooks Architects but world famous engineer Arup, it probably has good reason to look so damn smug.
METHOD IN MADNESS
Rural Energy's recently installed biomass boilers at Welbeck Abbey in Nottinghamshire are unlikely to run out of fuel any time soon, with the 18th century 4th Duke of Portland having planted hundreds of oaks because he thought the species was dying off. His son, the eccentric and reclusive 5th Duke, also used them to build a bonkers warren of tunnels under the family seat to ensure no-one ever saw him. His Grace sounds a total card; a mile of tunnels, underground ballroom for non-existent guests, huge braziers in his orchard to ripen fruit quicker and a roller-skating rink for his staff. It's just the kind of entrepreneurial spirit a post-Brexit UK could really do with.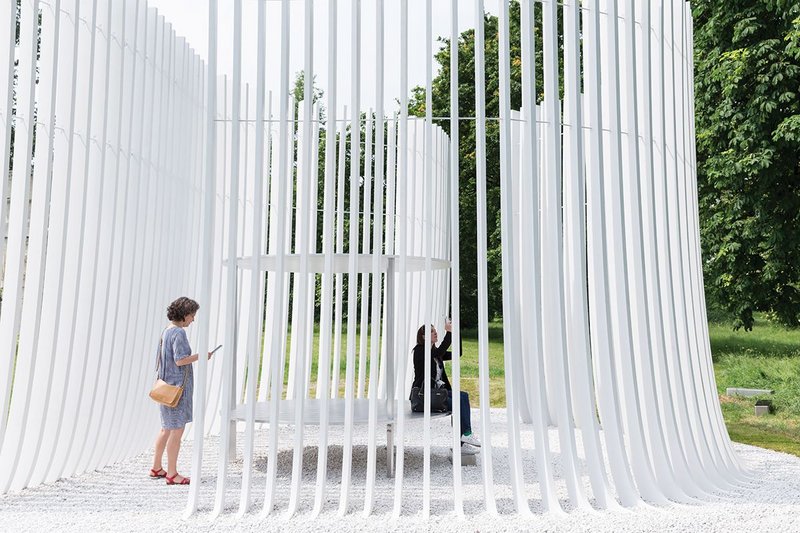 THE SPAR PAVILIONS
What price art? Anything, it seems. It's not so much that this year's four small Serpentine pavilions are up for sale – the traditional means of balancing the annual commission's books – it's where they're being advertised that's interesting. Cue the architect's favourite estate agent website The Modern House, a chance to click guilt-free through impressive 20th century property porn. But since most of the site's punters are looking for a roof over their head – albeit a predominantly flat one – how long it will be before these roofless £100K pavilions are 'under offer'? Will Julia Peyton Jones get gazumped? Will Hans Ulrich Obrist be available chain-free? Watch this space!
---