Product diversity and innovative installation were key to the success of a complex full building envelope solution at ICA's student accommodation and retail project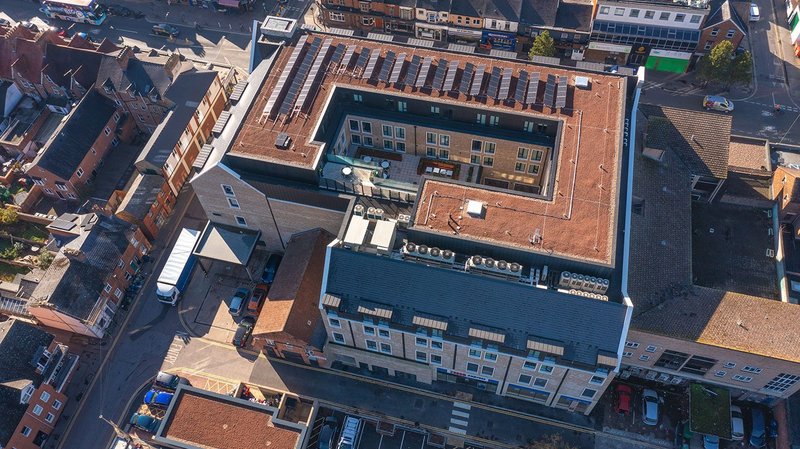 Soprema's full building envelope solution at The Spireworks student accommodation and retail space, Oxford.
The Spireworks is a new student accommodation and retail development located on Cowley Road in Oxford.
Architects ICA developed the design to complement the vibrant and eclectic city centre location - Lincoln College and the University of Oxford are a short walk away.
The £21 million project was completed by main contractor the RG Group for student accommodation provider Aparto.
The development has 137 student bedrooms, a gym, TV and games room, study spaces, laundry, communal kitchen and an outdoor amenity space integrated into the design.
High quality materials and innovative installation techniques were key to the success of the project.
Soprema product specification at The Spireworks
Two of the most significant elements of the project were the roofing and cladding, which were undertaken by contractors Roofworx (UK) in close collaboration with the architects.
The design was complicated with difficult interfaces and, for the roof section, a range of products from specialist waterproofing membrane manufacturer Soprema was specified.
A total of 1,200m2 of Soprema product was installed, including 450m2 of its Sopratorch bituminous membrane multi-layer system, with the Sopratherm tapered scheme used at levels one, two and four of the building.
The main roof consisted of 720m2 of Soprema's Duoflex hot-melt system with 200mm Sopra XPS insulation and 56mm cement board upstands, plus 50m2 of Soprema's Flagon single-ply solution to all canopies and lift-over runs with edge trims and drips.
'We knew the manufacturer would deliver product reliability backed by a strong and knowledgeable in-house technical team and good system warranties,' says Roofworx managing director Matthew Coupe.
Time-saving solutions for a challenging build
The new-build accommodation was built in two halves so an accurate sequence of work was crucial to the success of the project.
'Due to circumstances out of our control, we could only start work on site two months behind schedule,' says Coupe, who also had to contend with extremely wet, winter conditions.
To ensure no further delays, the team specified Soprema's SopraAdvance concrete compound blocking agent. 'It meant we could apply it to the concrete after just seven days, rather than the industry standard of a 28-day curing period,' explains Coupe. This reduced time on site, allowing the project to complete on time.
The works were undertaken during Covid-19 when there were restrictions and isolation requirements, which had a knock-on effect on available labour.
'We were well supported by Soprema,' says Coupe. 'They have their own in-house quality assurance procedure to ensure all aspects of the waterproofing were well documented.'
Soprema's technical team provided full system training, site inspections and support throughout the project.
For more information and technical support, visit soprema.co.uk

Contact:
0330 058 0668
techsupport@soprema.co.uk
---