The comprehensive testing programme behind Velfac windows and doors reassures clients on product performance while helping to keep projects on schedule and to budget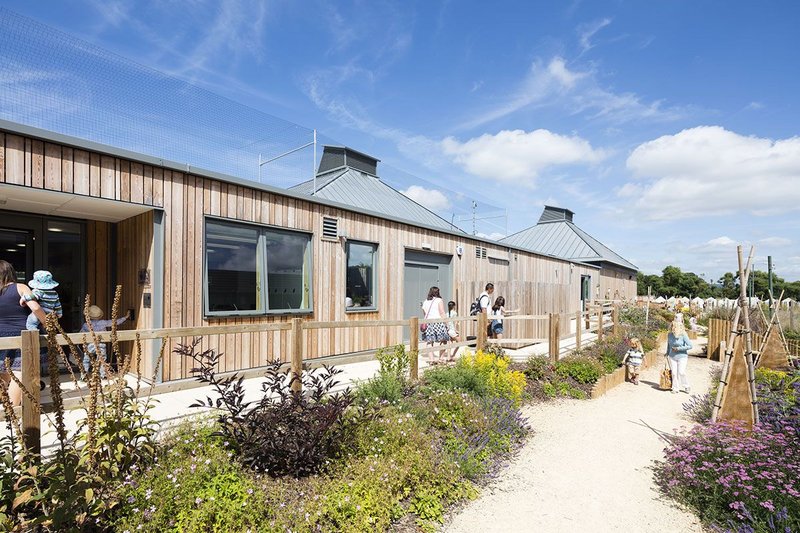 Velfac doors and windows at Seaton Jurassic visitor centre in Devon.
Proactive product testing requires significant investment, which is why some suppliers opt only to externally test their products on a project-by-project basis.
While this may prove more efficient for the manufacturer, it can have serious downsides for client confidence and project planning. Lead times and project costs may increase if test results have to be specially commissioned, specifications may have to change if a product proves unsuitable and return on investment may even be affected if project delivery is delayed.
Composite window manufacturer Velfac runs a comprehensive testing programme designed to make sure its aluminium/timber windows and doors continue to meet - and exceed - all necessary requirements and regulations. Its composite window system has been tested by Europe's most rigorous standards agencies and across a range of testing parameters, including water tightness, wind resistance, safety and acoustic control.
The Velfac system is Secured by Design and CWCT accredited and meets the demands of Part Q building regulations. In addition, its testing programme allows the company to offer a 12-year warranty and an expected lifetime of 40 to 60 years on all window units.
The Velfac testing regime is exhaustive:
Curtain walling solutions face extreme wind conditions simulated by aircraft engines.
Ironmongery is continuously exposed to salt-laden winds to ensure it can withstand the demands of coastal locations.
Part Q-approved casement doors are opened and closed 50,000 times to make sure the frame construction will have a long operational lifetime.
Brackets undergo cyclic corrosion testing to prove that corrosion protection treatments prevent any rust damage.
To see how the Velfac system performs in a range of demanding testing scenarios, including strong winds, heavy weights and driving rain, visit: velfac.co.uk/videos
Case study: Velfac at the Seaton Jurassic visitor centre, Devon
When it opened, Seaton Jurassic visitor centre provided a new landmark for the popular seaside town of Seaton, the gateway to the 96-mile long Jurassic Coast. The Velfac system was specified by architects the Form Design Group who had already used it in high rise schemes in Plymouth.
The architects knew the system could cope with a demanding coastal location and that Velfac 200 double-glazed units could deliver the weather performance required for a visitor centre sited only 500 yards from the sea. The excellent energy efficiency of the glazing helped the project achieve a BREEAM 'very good' rating.
For more on this case study, visit velfac.co.uk/case-studies
For more information and technical support, visit velfac.co.uk
Contact:
01223 897100
---