Specifying sustainable windows not only helps reduce omissions, but can also deliver lower costs and higher performance for building users too, as two case studies reveal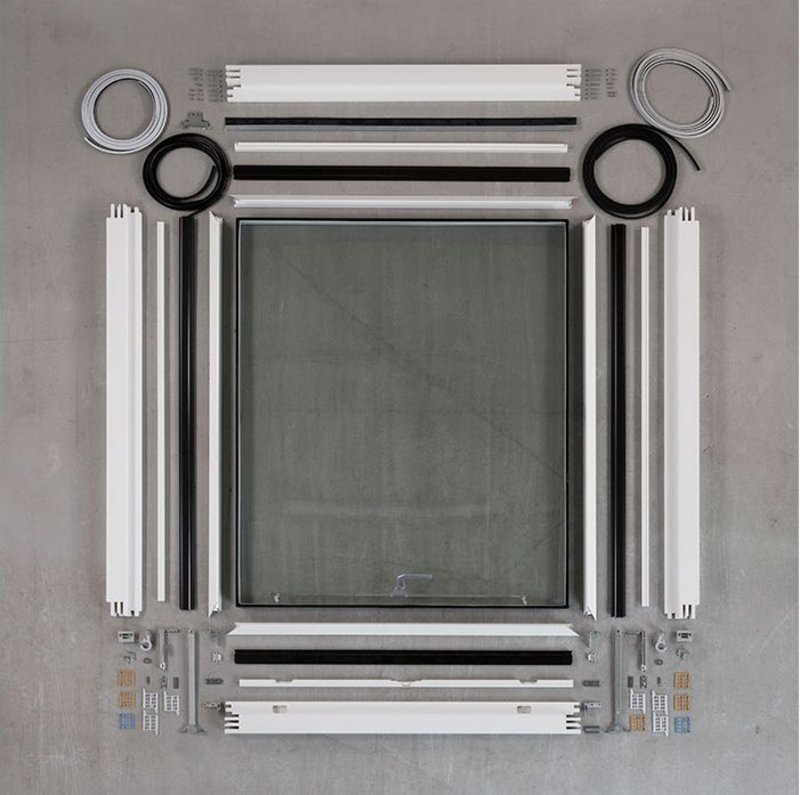 The Velfac 200 window system: 93 per cent of its components can be taken apart, sorted and reused.
Sustainable building products are now a priority for projects in every sector, not just to support the wider goals of reducing carbon emissions, but also to deliver more efficient – and lower cost – performance for building users.
When specifying glazing, manufacturers that take a sustainable approach to window and door design can help minimise environmental impact at every stage of a product's lifetime, from raw materials to final disposal. They should also have the evidence required to prove any claims, for example:
1. Opt for FSC®-certified timber and water-based treatments. FSC® certification shows compliance with the highest social, economic and environmental standards. For every tree used to manufacture its timber inner frames, for example, Velfac plants another 23 and all its wood treatments are water-based. The Velfac/Dovista FSC code is FSC® C101947.
2. Specify environmentally conscious aluminium. Aluminium can be recycled almost indefinitely and approximately 50 per cent of the aluminium in Velfac composite frames comes from recycled sources, with 85 per cent produced using hydroelectricity.
3. Look for suppliers with low-energy manufacturing. All Velfac plants are heated by burning the waste wood generated during frame manufacture.
4. Install low-energy glazing. Low U-values ensure good thermal efficiency, helping reduce energy usage and bills. Slim frame profiles can also increase daylighting contributions by up to 15 per cent. Velfac data sheets provide U-values for every Velfac unit supplied, together with area-weighted U-values for the project as a whole.
5. Look for products that are designed to last – and then to be recycled. Glazing should be low maintenance and with a long operational lifetime. Ask for a cradle-to-grave analysis of detailed environmental performance, including the recyclability of every unit within the glazing system. Ninety-three per cent of a Velfac 200 window can be recycled after use.
As experts in sustainable glazing, Velfac can supply the in-depth knowledge required to support the design and build of low-carbon projects and to achieve the significant environmental benefits that its composite system can deliver.
Case study: Dalston Works, London. Waugh Thistleton Architects for Regal Homes and London Borough of Hackney
The Velfac system is installed at Dalston Works, Dalston Lane in east London. It is the world's largest cross-laminated timber building and the Velfac system was specified for its high performance features and contemporary design.
Sustainability also drove product choice. 'Velfac's commitment to sustainability in design, manufacture and performance was important,' says David Lomax, senior sssociate at Waugh Thistleton Architects, 'and helped Dalston Works achieve Code for Sustainable Homes Level 4 and also a BREEAM Excellent rating.'
Case study: Cors Dyfi nature reserve, Powys. White Design architects for Montgomeryshire Wildlife Trust
Velfac windows are a major feature at the innovative Dyfi 360 Observatory at Cors Dyfi nature reserve in Wales, voted Best Environment Project in the 2015 National Lottery Awards. The multi-platform building uses large, slim framed Velfac windows to deliver a panoramic vista of the nature reserve.
Specified by architects White Design, the Velfac system delivers low-energy performance and sustainable design, ideal benefits for a building that needs to be highly sensitive to its local environment.
For more information and technical support, visit velfac.co.uk
Contact:
01223 897100
---