Waugh Thistleton report sees prospect of stronger systems, but fears timber structures could fall victim to a post-Grenfell ban on combustible materials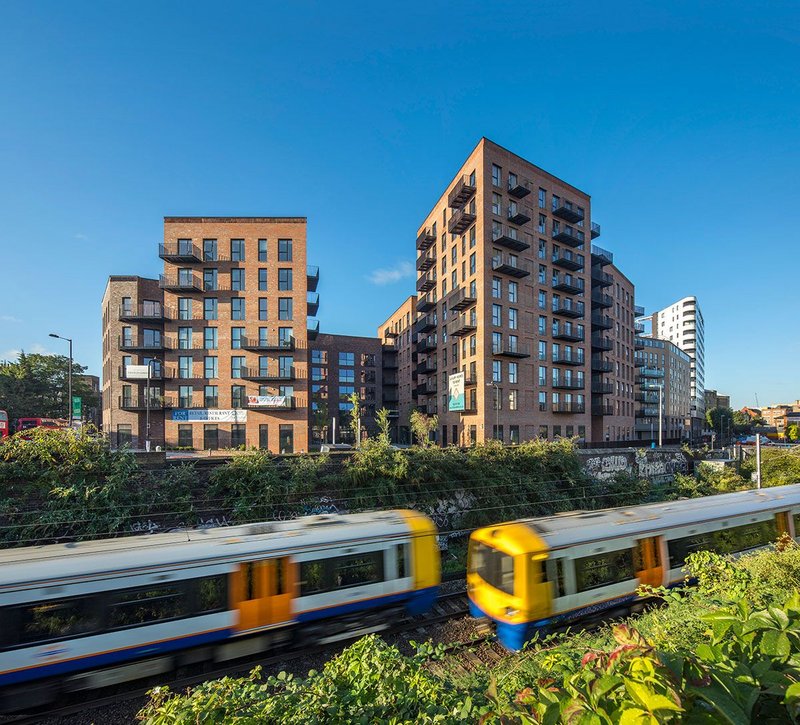 Dalston Works in east London by Waugh Thistleton – the world's largest CLT building by volume of wood.

Credit: Daniel Shearing
Britain is spearheading a revolution in cross-laminated timber buildings and the results are catalogued in a new book – but will a post-Grenfell ban on combustible materials in facades stymie innovation?
Cross laminated timber (CLT) construction has risen to giddy heights since it was introduced in the UK in 2003. Starting out as a niche material with strong environmental credentials, layered engineered timber has grown in profile to become recognised as a speedy and economic alternative to steel and concrete for a wide range of building types.
Architects and contractors are pushing creative and technical boundaries to expand the material's capabilities. A new book, '100 Projects UK CLT', compiled by Stirling Prize-shortlisted practice Waugh Thistleton Architects, catalogues the diversity of projects delivered in the UK over the last 15 years.
The world's largest CLT building, in terms of volume of wood, is Dalston Works in east London, by Waugh Thistleton. The 10-storey, 121-unit development comprises 100% CLT structure from the first floor upwards, including the core, floors and stairs. London has become a hotbed for projects and the book includes 48 case studies in the capital.
But CLT is winning over hearts and minds the world over. RIBAJ reported last month on the completion Australia's tallest timber building, a 45m high office in Brisbane built in just 15 months using an off-site manufactured structure of Glulam and CLT. The Dutch are planning to build a giant timber 'groundscraper', a 440m-long high tech Google-style complex with a CLT frame outside Eindhoven.
Innovations are driving the development of new CLT products and design methods. Andrew Waugh, founding director at Waugh Thistleton, told RIBAJ: 'Harvested beech trees, grown extensively for furniture production, are underutilised, with massive stockpiles across Europe. Using beech in an engineered panel is exciting because it is extremely strong, enabling spans comparable to steel. New parametric modelling systems are helping us to develop panels that are bespoke to specific purposes using different types and thicknesses of timber and different laminates.'
Low carbon alternatives to steel and concrete are in demand to help avert the most catastrophic effects of climate change. Cement in concrete is responsible for about 8% of the world's carbon dioxide emissions, according to think tank Chatham House, but that is only half the story.
'On top of that are emissions associated with rebar and concrete production, and the implications of mining all the river sand in the world. Sand mafias are working in different countries due to a global shortage,' says Waugh. 'It's time architects stood up and took these issues seriously; it is not developers and contractors that can solve this. Architects are supposed to be thought leaders in the industry, but most are still celebrating the concrete behemoths of the 20th century.'
There are many other drivers for specifying engineered timber on projects. The focus on pre-construction design and off-site fabrication can significantly shorten the construction programme and minimise waste. The methodology requires drastically fewer lorry deliveries and workers on site, and the structure is lightweight with the potential to reduce the size of foundations and site preparatory work.
Most CLT products used in the UK are trucked in from Austria, but investment in local production could result in a new home grown industry. In a UK first this year, the Construction Scotland Innovation Centre produced all the engineered timber for a pavilion in the V&A's new Sackler courtyard as part of the London Design Festival.
But grand aspirations for CLT could be stopped short as a result of government-backed legislation, announced earlier this month, that bans the use of all combustible materials in external walls in new residential buildings over 18m tall.
The law, created in response to the Hackitt review of building regulations and fire safety (set up to prevent a repeat of the Grenfell tragedy) will apply to all housing, student accommodation, registered care homes, hospitals and boarding school dormitories.
Waugh has fiercely opposed the decision to apply the ban to engineered timber buildings, calling it a knee-jerk reaction without basis in fact. 'We all know that Grenfell was a tragic event, but it took place in a concrete building, so why is the outcome a ban on CLT in an external wall? It is a ridiculous and uneducated knee-jerk reaction,' he says.
It's natural to think that a timber structure would be prone to fire, but one of the major advantages of CLT is its inherent fire resistance. It can be designed to achieve fire resistances of 30, 60 and 90 minutes, and unlike steel it remains structurally stable when subjected to high temperatures. But specialist fire engineering and early design input is necessary to minimise risk and achieve an appropriate fire strategy.
The new legislation is expected to result in changes to the way CLT structures are designed in future, but this may spur on innovation rather than hold it back. For example, the world's tallest mass timber tower, Brock Commons in Vancouver, is concealed behind a skin of drywall and concrete topping, mainly to comply with locally accepted fire-safety codes.
'It's a piece of legislation that, I imagine, will have a limited lifespan, but it won't stop anyone from building tall in timber again,' Waugh concludes.
---
100 Projects UK CLT was produced by Waugh Thistleton Architects on behalf of the Softwood Lumber Board & Forestry Innovation Investment.