New-build university accommodation Byrom Point stands on a key site that marks the revitalised northern approach to the city centre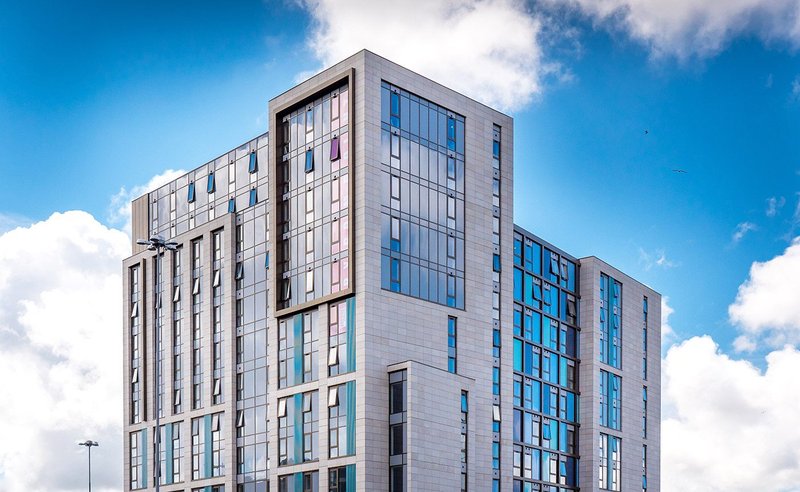 Byrom Point student accommodation in Liverpool. Taylor Maxwell supplied the Generix stone rainscreen system, which comprises 20 to 30mm natural stone cladding panels with a 90-degree horizontal kerf.
Architect Falconer Chester Hall (FCH) was commissioned by developer Watkin Jones to design a 398-bed student accommodation development with ground floor retail on Great Crosshall Street in the centre of Liverpool. It opened to students in September 2016.
Called Byrom Point, the development was conceived as a new visual and wayfinding landmark to the north of the city and, with the Walker Art Gallery and the World Museum as close neighbours, the careful specification of materials was crucial.
The architect wanted to design a facade that referenced those historic Victorian buildings by reflecting key features such as fenestration, colour and architectural detailing.
The resulting design is made up of two hi-rise blocks with a glazed volume between.
Specifying and supplying the stone cladding: Taylor Maxwell
The Generix stone cladding system was specified and supplied for the project by Taylor Maxwell and their team helped FCH to develop the facade design in a way that created minimal waste.
Generix rainscreen cladding is cost-effective and easier to install than traditional stone. Its thinner panels also make it a more environmentally friendly option.
On this project the Generix system worked particularly well with the other specified materials, including the aluminium panels in grey and the perforated aqua design.
'We are happy with the end product,' says FCH director Mike Gore. 'We pushed for high quality materials with some effective detailing from the outset and are pleased it's worked out with this system.'
Find more on this case study at taylormaxwell.co.uk/byrom-point
For more information and technical support, visit taylormaxwell.co.uk

Contact:
0203 794 9377
enquiries@taylor.maxwell.co.uk
---