This is an exquisite masterpiece of excellence and elegance, a seamless and ergonomic frontier between inside and out that frees up panoramas and design possibilities, helping you create infinite views, with infinite ease...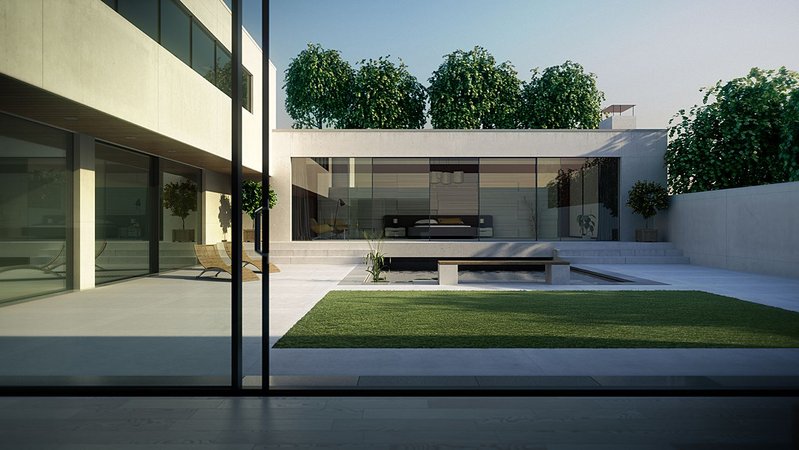 The infinite view - the challenge for designers
The boundaries between outside and inside are being gradually eroded as the demand for infinite views and natural light change the architectural landscape. But there remain challenges. The need for support and interlocking components introduce visible elements which can interrupt the view, while the dimensions of glass and frames also impact on design potential.
An elegant solution
At Reynaers at Home, we've been developing a solution to these challenges, enabling architects and householders to make the dream of floor-to-ceiling and wall-to-wall glass a reality. Our state-of-the-art solution means the outer frame can be built into the structure of the building. This fact, coupled with generous sizing and other unique features creates the potential for large glazed areas with minimal visible support. The result is a breathtakingly beautiful design, with breath-taking views and maximum light.
Combining contemporary design and ultimate performance, Hi-Finity sets the benchmark for performance. See how this prestigious, high quality product can create expansive glazed areas with no breaks. Explore its versatility and world-class engineering. Bring the outside world into your living space, and be inspired by infinite views...
Key features
A towering maximum door height of 3.5 metres opens up the possibilities of greater views – and of more expansive designs

Unique features – such as an 35mm interlock between door panels helps you create a huge glazed area with minimal sightlines
An ergonomically designed handle and a concealed locking system add style – and security
Available in in a range of double track and triple track designs, allowing maximum flexibility in specification
A range of innovative corner solutions allow the combination of elements to meet most design challenges
Excellent thermal properties with double and triple glazed options available
Options of a concealed electronic locking system with an integrated motor for smooth push button operation
Why Reynaers at Home?
Innovation and specialist expertise
From curtain walls and sliding doors to solar shadings and conservatories, Reynaers is a world-leading supplier of aluminium products for the building sector. We have over 50 years' specialist expertise, and an impressive and inspirational portfolio of projects across the globe – large and small, residential and commercial. We also invest heavily in R&D, resulting in both a track record of innovation and some highly imaginative patented solutions. We specialise in helping our clients build their dreams
Attention to engineering detail
Committed to manufacturing and design excellence as well as sustainable futures, our products are rigorously tested in the world's biggest independent testing facility. They meet and exceed a range of British and European standards. We're proud to hold a wide range of accreditations, including ISO 9001:2000, ISO 14001, ISO 16001 and ISO 50001.
Be inspired by our video
See how this prestigious, high quality product can bring the outside world into your living space and create expansive glazed areas with minimal frames, giving you maximum light, with minimal profile - wall to wall, floor to ceiling.
Explore its versatility and world-class engineering here.
---
Be informed with our brochure
You can find out more about the technical specifications of Hi-Finity in our informative brochure.
Look deeper, and discover how our aluminium expertise and collaborative approach can inspire your designs.
Explore the infinite possibilities on our website