PICHarchitects, 2BMFG and José María Sánchez García scoop top architecture and interior design accolades at the annual competition for the creative use of ceramics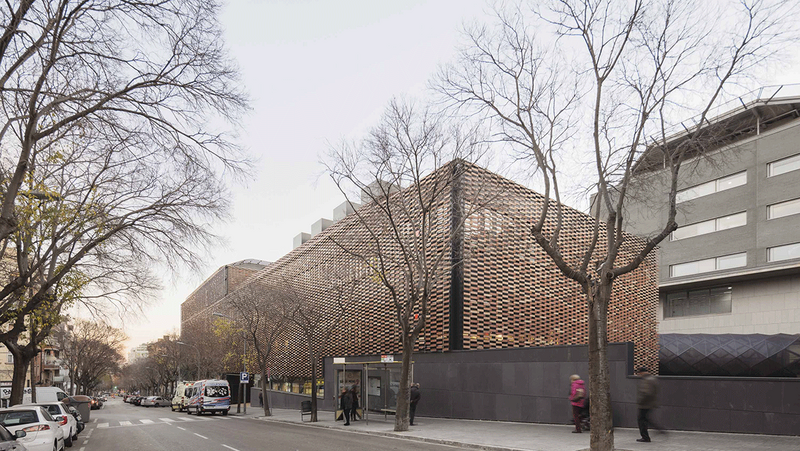 The Santa Creu and Sant Pau Hospital Research Centre in Barcelona by PICHarchitects and 2BMFG, winners of the Architecture category.

Credit: Aldo Amoretti
The Tile of Spain awards celebrate the imaginative use of Spanish ceramics in architecture and interior design. Now in its 18th year, the competition is organised by ASCER, the Spanish ceramic tile manufacturers' association.
The winners in the Architecture category, with a cash award of 17,000 Euros, were PICHarchitects and 2BMFG Arquitectes whose permeable ceramic envelope on the Santa Creu and Sant Pau Hospital Research Centre in Barcelona blends innovatively with its structure.
The jury highlighted the creative use of a ceramic material and the context in which it was used, establishing visual links between indoors and out and giving the building a chameleon-like outer appearance.
First prize in the Interior Design category, also attracting a cash prize of 17,000 Euros, went to a project for the waiting areas of a bus station in Badajoz by José María Sánchez García, where the ceramic tiles alone meet all the requirements and more of coverings in public spaces.
The judges applauded the elegance with which this project was brought to fruition through the design of the ceramic material. The key elements of this project are its geometrical shapes, attention to detail, construction and space, taking into account both the smallest of details and the overall user experience.
The award for the Final Degree Project, a category for architecture students with a prize of 5,000 Euros, was given to Óscar Cruz García from Madrid School of Architecture for 'Memento Mori. The Presence of an Absence'. The jury highlighted the maturity and sensitivity of a project that was thoroughly illustrated and deeply felt. Attention to detail is in the leitmotif of a sequence of spaces where nature, materials and atmospherics all combine.
Chaired by Jacob van Rijs (from MVRDV), the jury met at ASCER's headquarters in late November to make its deliberations and also included Inês Lobo (Inês Lobo Arquitectura), David Lorente Ibáñez (Harquitectes), Eugeni Bach (Anna & Eugeni Bach), Héctor Ruiz Velázquez (Ruiz Velázquez Architecture & Design Team), Tomoko Sakamoto (Spread Editores) and Ramón Monfort (CTAC).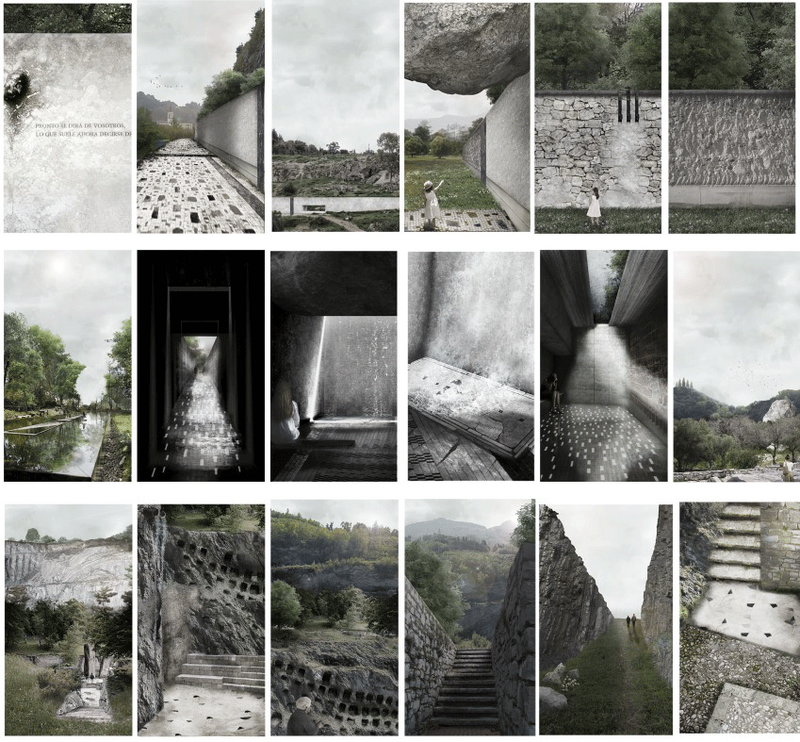 'Memento Mori. The Presence of an Absence' by Óscar Cruz García, winner of the Final Degree Project category.
The awards ceremony will be held on 4 February 2020 at Cevisama, the international trade fair for ceramic tiles, surface coatings and bathroom and kitchen design held in Valencia. Tile of Spain is the voice of the Spanish tile industry, representing more than 125 tile manufacturers.
For full details of this and previous years' awards, visit tileofspainawards.com
---