Architects Mesura and Arantxa Manrique scoop this year's top prizes for the innovative use of ceramics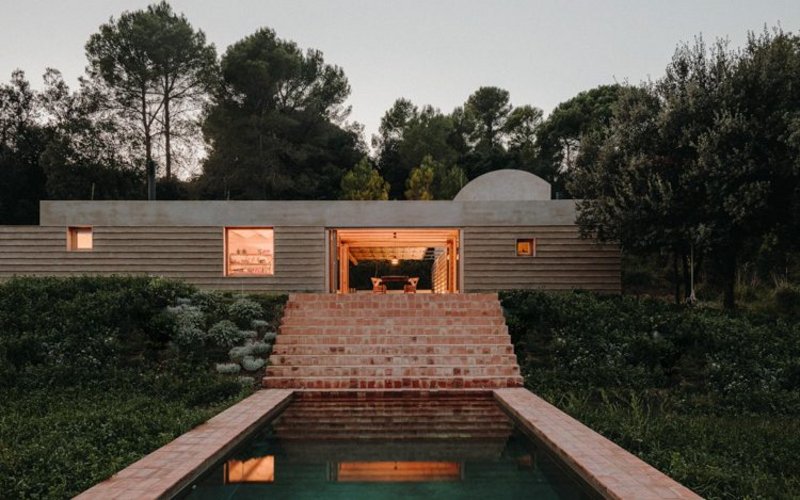 Casa Ter in La Bisbal d'Emporda by Mesura architects, winner of the Architecture category.

Credit: Mesura and Salva López
The Tile of Spain awards celebrate the creative use of Spanish ceramics in interior design and architecture. Now in its 19th year, the competition is organised by ASCER, the Spanish ceramic tile manufacturers' association.
The annual awards are regarded as a major global event in the industry, earning its winners a highly respected accolade.
First prize in the Architecture category, with a cash award of 17,000 Euros, went to Mesura architects for Casa Ter, a detached home in the La Bisbal d'Emporda area of Catalonia.
The jury highlighted the versatile use given to one single material in positions and functions of all kinds. They also praised the reinterpretation of a traditional material in a home that revitalised the landscape and its surroundings.
The winner of the Interior Design category, also receiving a cash prize of 17,000 Euros, was Arantxa Manrique Arquitectes for the Atlantis Gastrobar in Barcelona.
The judges applauded how the ceramic materials were used as a star feature of the whole project. They admired the refreshing, timeless appeal of the setting, which utilised tiles to give impact to a small space.
The award for the Final Degree Project, a category for architecture students with a prize of 5,000 Euros, was given to Andrea Puebla Yubero from CEU San Pablo University in Madrid. This proposal is for a centre for unaccompanied under-age immigrants. The jury was impressed by the invention of a new form of impluvium, going one step beyond traditional Mediterranean impluvium courtyard homes. They noted how ceramic materials are an intrinsic part of this project and a fundamental factor in its expressive capacity.
The jury met online to make its deliberations and included Javier Villar Ruiz (of KKAA), Daria de Seta (Garcés de Seta Bonet Arquitectes), Jordi Ayala-Bril (Arquitectura-G), Izaskun Chinchilla and Lázaro Rosa-Violán on its panel. In addition to the first prizes, the judges awarded two special mentions in each category. The awards were sponsored by ICEX, Endesa and the Port Authority of Valencia.
Tile of Spain is the voice of the Spanish tile industry, representing more than 125 tile manufacturers.
For full details of this and previous years' awards, visit tileofspainawards.com
---