Rusty gold-veined marble effects and pleasing hexagonal tesserae were among a raft of Spanish designs that stood out at the recent Cersaie trade fair in Bologna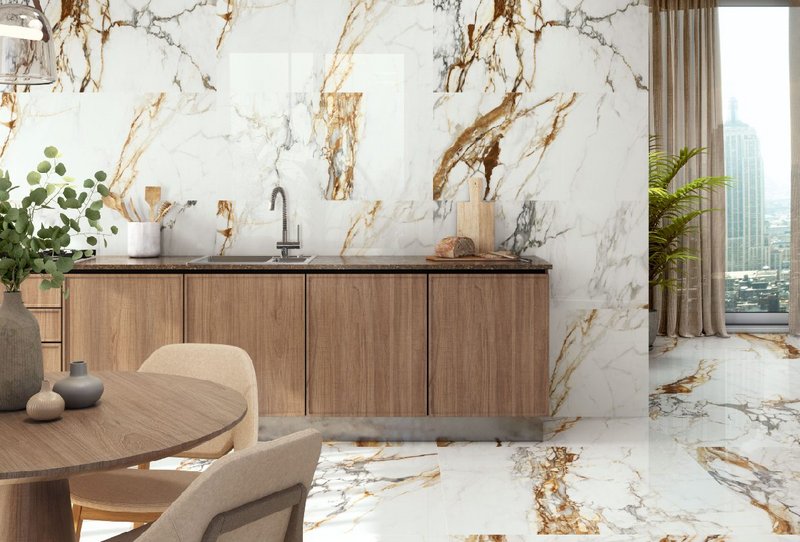 Uluru tiles by Etile: 'Unashamedly enhanced'.
Over 80 Spanish brands showed off their latest designs at Cersaie, the international exhibition of ceramic tile and bathroom furnishings that took place last month in Bolgogna, Italy.
Tile of Spain has identified six intriguing surfaces that will transform any space.
Tile 1: Golden wonder
For a luxurious look, marble-effect porcelains are a popular choice. They're dramatic and often demonstrate an advantage over the raw material with colours or striations that have been unashamedly enhanced.
This year's designs are as eye-catching as ever and have gone towards the warmer end of the spectrum.
Uluru by Etile (pictured top) is a marble-effect porcelain with a polished finish featuring rusty-gold and grey striations.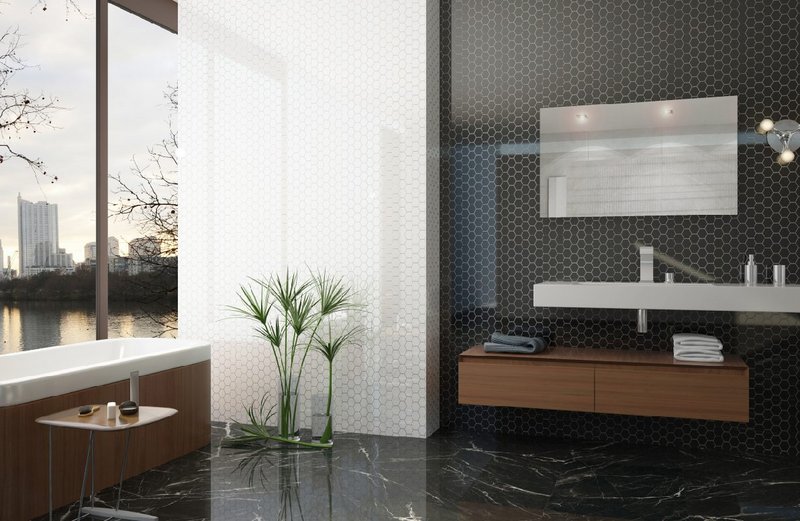 Sixties Diamond tile by Togama: 'an extra geometrical element'.
Tile 2: HEX-cstatic
Offering a contemporary vibe, the hexagon shape is holding onto its appeal. Spanish manufacturers have launched many variations for both wall, floor and exterior.
A hexagon is a pleasing shape, particularly as rooms tend to be square or rectangular, thus benefiting from an extra geometrical element.
This popular tile format is successful when laid out as a single colour, but lends itself to experimentation with an imaginative placement of tiles.
Sixties Diamond by Togama (above) is a 32.5x29.4cm format tile with hexagonal tesserae and an elegant pearly finish.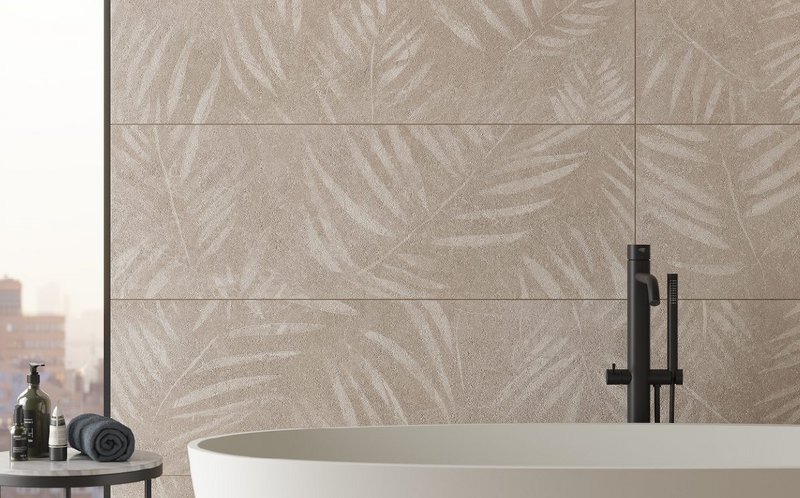 Bluemix Art tile by Keraben: 'the motif for post-pandemic interiors'.
Tile 3: Autumn leaves
Whether bold and sharply drawn or soft and impressionistic, leaf patterns are the motif for post-pandemic interiors.
As many of us have acquired a new appreciation for nature and its soothing qualities on our lockdown walks, it is no wonder that we're welcoming the outdoors in.
Bluemix Art by Keraben (above) is a 40x120cm format tile of softly printed leaves on a choice of three neutral backgrounds.
Piqué Cloth 3D tile by Harmony: 'an illusion of spaciousness'.
Tile 4: Shapely figures
One of the most innovative types of surface, 3D tiles can take a variety of forms.
The ceramic pieces can be used to aid ventilation, create an illusion of spaciousness, divide or delineate.
Architects and designers will be inspired by the contemporary colour palettes on offer, ideal for creating a secluded private space or marking out an area for a specific use.
Piqué Cloth by Harmony (above) is a range of full-body ceramic tiles, 20x20cm, that can be combined to create a partition.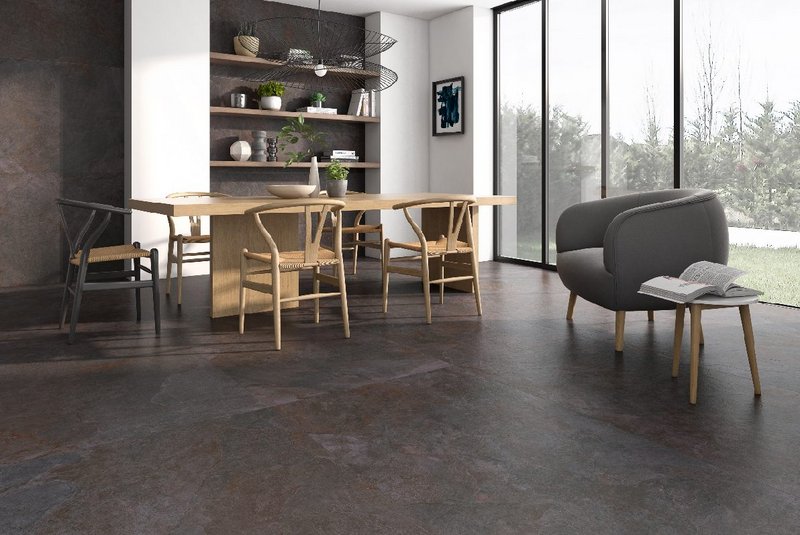 Ardesia tile by Pamesa: matt porcelain glamour.
Tile 5: Dark metal
Metals have taken on a more sophisticated style with finishes that are rich and dark or luminous and light.
Gone is the enthusiasm for distressed or industrial finishes as many of the newer ranges compete to be the most glamorous.
Surfaces that would suit a high-end bathroom refurb or a luxurious spa come in many sizes and are notable for their impressively realistic details.
Ardesia by Pamesa (above) is a matt porcelain tile in five formats and five colours, including Silver and Bronze (shown).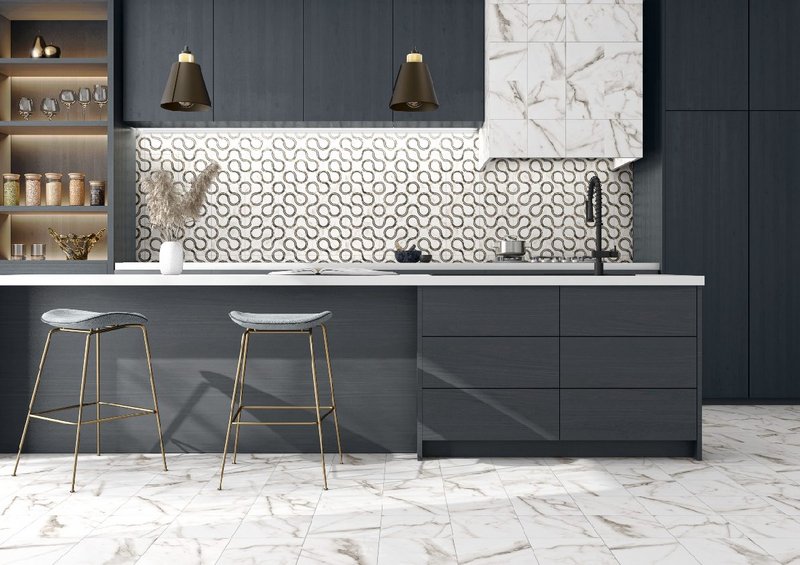 Deco Capri 2 tile by Ceracasa: a black and white geometric partner to marble.
Tile 6: Deco Revival
The simplicity and streamlined forms of Art Deco suit contemporary interiors, so the Spanish tile manufacturers regularly produce small formats that pay homage to this aesthetic movement.
Black and white geometric designs are perennially popular as they're easy to live with and less likely to need updating when fashions change.
They go well with co-ordinating marble effects that add to the luxurious feel the Deco era was known for.
Deco Capri 2 by Ceracasa (above) is a 22.3x22.3cm format porcelain tile that is available with a complementary marble-effect tile.
About Tile of Spain
Tile of Spain is the voice of the Spanish tile industry, encompassing more than 125 tile manufacturers.
For more information and technical support, visit tileofspain.com
Contact:
020 7776 7785
---