Innovation, strength and narrow profiles have kept steel windows as popular today as in their early days. And there are steel shower rooms too, says David Grew, President of the Steel Window Association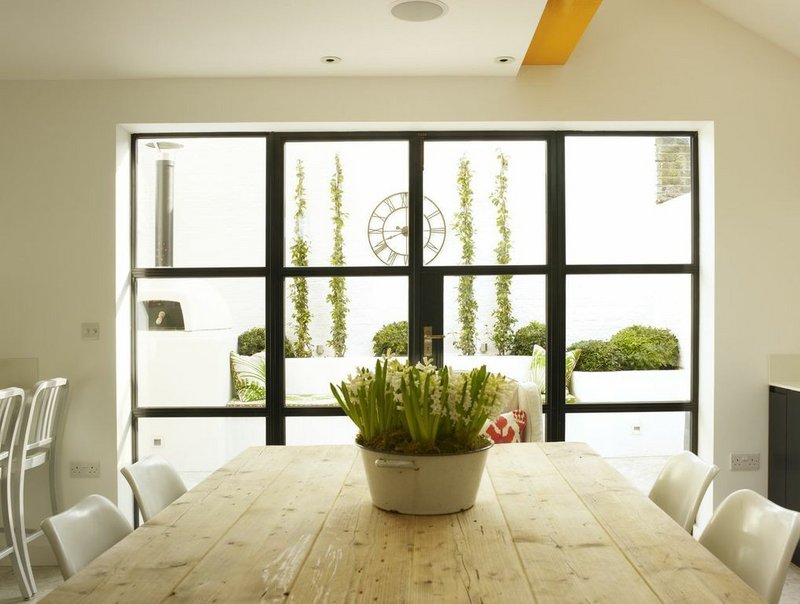 Metal windows have been part of our built heritage since medieval times. Over the years, both the materials and manufacturing techniques have evolved out of all recognition. Wrought iron, cast iron and, most recently, steel have been the materials of choice for high quality metal windows and, over the last century, constant innovation has seen the birth of the modern hot rolled steel window which now combines outstanding aesthetics with excellent thermal performance.
With its earliest beginnings in the blacksmith forge, metal window manufacture long remained a cottage industry with small foundries making windows for a local area. Steel was first used to produce windows in the 1920s but it was the arrival of the cost-efficient, mass produced steel window in the 1930s that was to change the way windows are viewed forever.
Characterised by large areas of glass and slender glazing bars that offer the narrowest possible sightlines without compromising performance, steel windows became popular at a time when timber windows were the only, and relatively chunky, alternative. The modernist movement embraced the clean lines offered by steel windows and the light-filled interiors that they enabled. Equally, steel windows were popular in larger rural properties where their fine lines provided a wonderful counterbalance to the substantial oak sub frames or stone mullions within which they sat.
Architects and local authorities charged with creating mass housing, new offices and institutional buildings, such as schools and hospitals, quickly adopted steel windows, not only because of the virtues of their appearance but due to their strength and durability.
Importantly, the introduction of hot-dip galvanizing from the 1940s helped set new standards for the durability of steel windows. This process, which can involve a dozen stages, is now complemented by the ability to factory-apply a polyester powder coat to the steel to produce a high quality finish in any RAL colour.
The advent of the W20 section in the 1960s consolidated the various steel window ranges then available and allowed hinged casements to be hung at top, bottom or side, and swing windows to pivot horizontally or vertically. With all options constructed from the same kit of profiles, it proved immensely popular for office and commercial buildings.
Steel windows have never gone out of fashion. Search Pinterest and the thousands of steel window images give a catalogue of modern day inspiration that no single manufacture could aspire to. It is not just steel windows and doors that are evident though. Today, the steel window industry is manufacturing an increasingly diverse range of 'must have' architectural elements.
Bespoke floor to ceiling internal glazed partitions, shower screens and shower enclosures are key items being produced for high end domestic and commercial schemes. Traditional steel components are being configured for walk in showers and wet rooms: three quarter height and full height panels with 90 degree returns or curves, large and small glass panes. All are conceived to suit the requirements of the client and designer and, in every case, become the key architectural element of the room.
The common theme with all these applications is the slenderness and the robustness of the steel sections. A steel T-bar or glazing bar - a mere 25mm wide - is enough to ensure maximum strength while providing the greatest possible area for glass. Visually, it offers innate solidity, a look no other material can replicate.
For further information on the Steel Window Association, please visit www.steel-window-association.co.uk