A front door that pivots can create an impressive entrance, but specifiers need to consider 7 questions before choosing one for an individual project, says manufacturer Urban Front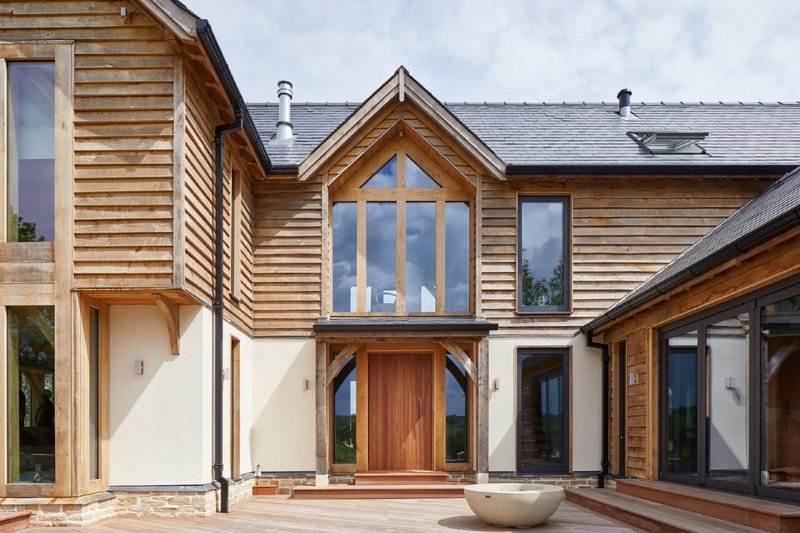 Urban Front Rondo V pivot doorset in Iroko at 1.2x2.4m with Option BZ3 handle.
Pivot doors are attached to the top and bottom of a door frame rather than being hinged at one side in the conventional way. Their design and opening mechanism can create a lasting first impression to the entrance of a property.
Designer and manufacturer Urban Front makes one of the most airtight pivot doors available. Site, environment and building design are all key factors in deciding if a pivot front door is suitable for a particular project.
1. Is there a benefit to having a pivot door instead of a hinged door? Pivot doors add no extra practical benefit to a standard hinged doorset, but their aesthetics and the pleasing way they open and close make them popular options. While in the past pivot hinges were used for oversized doors, Urban Front now specially designs 3D heavy-duty hinges for doors measuring up to 1500mm wide.

2. Is a pivot door fully weather sealed? No. There is an area of 2mm around the top and bottom hinge of the door that the drop down seals don't cover. This means the door could have some water ingress in driving rain or a little draft in very windy weather. Urban Front recommends pivot doors are installed in a semi or fully protected location.

3. So, is a pivot door unsuitable for an exposed area? In general, yes. However, if the doorway has a porch, is set back or has an overhang of a minimum of half the doorway size then a pivot door would be suitable.
4. Can a pivot door be specified for a new-build that requires air testing? Yes. Urban Front doors are regularly tested for air leakage. While there will be some air leakage in the door area, this is usually not taken into consideration because of the relatively small area in comparison to the size of the house. For best air test results though, try the Urban Front E80Hinged or E98Passiv ranges. Hinged doorsets can be made up to 1500mm wide.
5. Will space be lost in the walkthrough area? Yes. The pivot hinge needs to be placed at least 200 to 350mm in from the door frame depending on the width of the door. This means that, on a standard doorset of 1200mm wide, the walkthrough opening will be 930mm. This compares to a 1113mm walkthrough on a conventionally hinged doorset of the same width.
6. Does a pivot door cost more? All Urban Front doors over 1200mm wide are the same price for pivot or hinged options. However, a pivot door has to be a minimum width of 1200mm. A narrower but non-pivot doorset would be less expensive.
7. How does an architect or specifier know that a pivot door is right for his or her project? Contact Urban Front. Its expert design team are happy to answer any questions about specifying pivot doors for individual projects.
For more information and technical support, visit urbanfront.com/pivot-doors
Contact:
01494 778787
---