Broombank is a RIBA award winning new build house designed by SOUP architects, situated on the banks of the River Alde in Suffolk.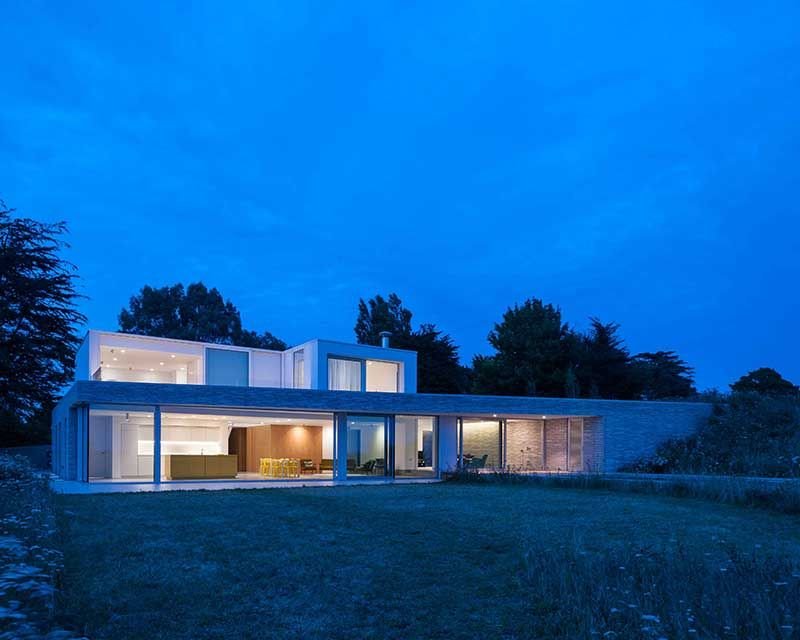 The balance between nature and architecture
The brief, as stated by SOUP, was to 'create a relaxed contemporary house within a reconsidered, "natural" landscape that blurred the site boundaries to its neighbours and adjoining marshland'. The location therefore remained a strong focal point throughout the entire project, with each aspect of the build designed to accentuate the stunning views of 'outstanding natural beauty'.
The central motif was to 'try and control the sense of arrival and movement through the house by creating an entrance courtyard to the front which didn't give a direct view through to the River Alde' says SOUP'S Patrick Walls.'The view is kept and created by the front entrance; you move through into the main living space which then opens out onto the wide landscape'.
The property itself has been kept minimalist in style; large open space and concrete floors remain neutral in colour to further highlight the surrounding greenery.
The unfolding relationship between nature and architecture is maintained throughout the property via the carefully positioned rooflights, allowing sunlight to pervade the building.
Using rooflights to make the most of natural light
As part of the architects vision to incorporate as much outdoor space as possible, Glazing Vision were delighted to supply a range of bespoke rooflights to make the most of this natural source of light.
The central feature Glazing Vision supplied was a Bespoke 'Eaves' Flushglaze Rooflight.
Glazing Vision's ethos of 'minimal framework' made them the natural choice when it came to the roof glazing on this building. In order to achieve the goals of the design brief, the reduction of visible framework was critical to the overall aesthetic.
---
Watch the video at www.glazingvision.co.uk/broombank