A worksheet calculator with integrated modelling and carbon-assessment workflow is allowing designers to measure the impact of their material and product choices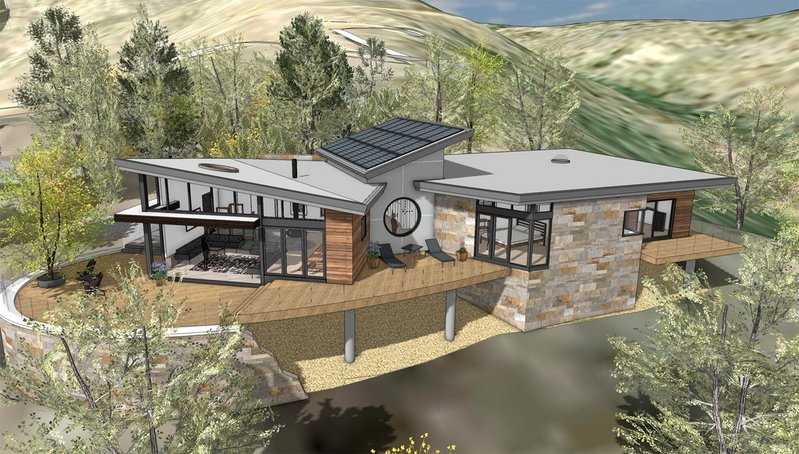 Net zero residential project in Boulder County, Colorado, US.

Credit: Image by ©2022 Kipnis Architecture + Planning
Governments and legislative bodies are targeting net zero carbon emissions in building operation and construction. For architects, this means that analysing a project's environmental footprint is more important than ever.
Nate Kipnis of US practice Kipnis Architecture + Planning is a leading activist in sustainable architecture. Along with coining the term 'high design, low carbon', many of his projects demonstrate carbon reduction strategies and a decades-long commitment to environmental sustainability.
Embodied carbon is the carbon emitted through the creation and transportation of a building's materials and construction processes throughout the project's entire lifecycle. It is responsible for about 11 per cent of global CO2 emissions and this number is expected to rise. To reach true net zero carbon emissions, designers need a way to calculate it.
Operational carbon refers to emissions during a building's in-use phase, which includes emissions from heating, cooling, lighting and ventilation. Operational carbon is responsible for about 28 per cent of global CO2 emissions.
According to Kipnis, embodied carbon is where the AEC industry needs to do the most work. Even though it's a smaller portion of the total than operational carbon, it requires a much larger commitment.
Reducing embodied carbon can't be done after a building is constructed. It must be done in the planning stages, indicating that designers must evolve their methods of thinking about planning buildings. This is why architects have a unique opportunity to shift the world towards a carbon-neutral future.
5 reasons to use VECC: the Vectorworks Embodied Carbon Calculator in Vectorworks Architect
A sophisticated, robust tool designed to help with climate strategies and reduce the world's carbon footprint of building projects.
Provides built-in integrated modelling and carbon-assessment workflow, allowing designers to measure the impact of their material and product choices on the carbon footprint of their project.
Pre-formatted worksheet with built-in formulas to calculate material embodied carbon emissions based on inputs.
Organised into columns corresponding to stages of a project's lifecycle, such as product, transportation, construction, replacement, deconstruction and demolition, recovery/recycling and disposal.
Use alongside other embodied-carbon reduction strategies, such as re-using buildings instead of constructing new ones, limiting the use of high-carbon materials such as plastic, concrete and metal, using recycled, sustainable materials, sourcing materials locally and creating modular systems where possible.
Discover more about the VECC tool in Vectorworks Architect at the Vectorworks Design Day at events venue 30 Euston Square, London NW1 2FB on Wednesday, 5 October, 2022.
For more information and technical support, visit vectorworks.net/uk
Contact:
01635 580318
This article is adapted from blogs written by Vectorworks content marketing writer Alex Altieri. Read the full blog posts at Planet Vectorworks
---