These key components helped Bowmer + Kirkland hit the climate-based daylight modelling targets for its refurbishment of Glenbrook Primary School in Clapham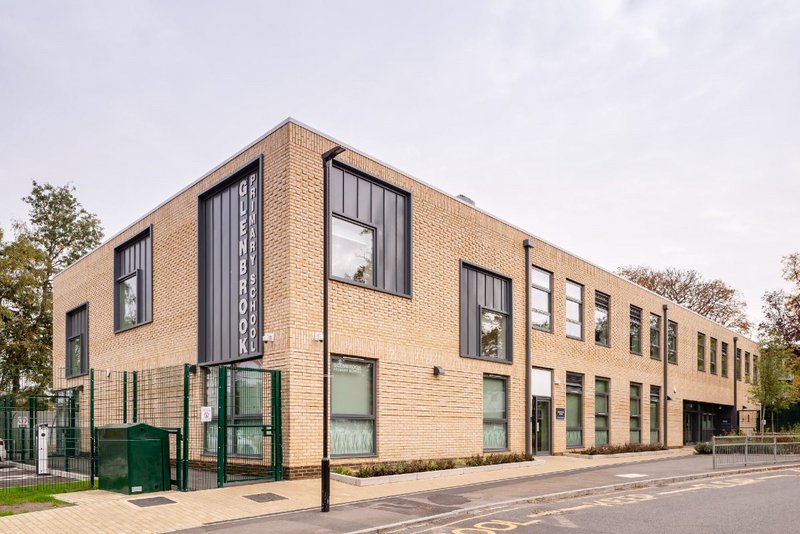 Glenbrook Primary School in the London Borough of Lambeth has stimulating classroom and learning spaces thanks to its high levels of daylight.
In October 2017 Lambeth Council granted planning permission for the redevelopment of Glenbrook Primary School in south-west London's Clapham Gardens.
The £6.7 million project's 52-week build programme was completed under the Priority School Building Programme (PSBP) in early 2019 by Bowmer + Kirkland.
Daylight specification in schools
The PSBP's technical requirements are designed to ensure learning spaces have functional light and are well balanced and visually comfortable.
Roof glazing can help achieve this in a way that facade glazing alone cannot.
On this project, daylighting analysis was carried out on the initial design to highlight any areas that might be failing and where skylights should be located.
'The school was designed to be ventilated without windows opening,' explains Dan Rackham, pre-construction manager at Bowmer + Kirkland.
'Because of the inner-city location, the ventilation needed to be right without risking one of the facades failing acoustically.'
Specifying Velux Commercial glazing at Glenbrook Primary School, Clapham
Velux Commercial Modular Skylights were chosen to provide quality daylight for stimulating learning spaces.
Velux Commercial Ridgelight and Velux Commercial Longlight solutions helped meet the project's climate-based daylight modelling targets set by the PSBP Generic Design Brief (including Technical Annexes).
The 45 skylight modules installed at Glenbrook were all fixed.
Several corridor and circulation spaces were designed with the Velux Commercial Longlight solution: one with four modules, one with a row of five modules, and four areas with a six-module row. The modules were all 1000x1200mm, installed at a 15-degree angle.
12 Velux Commercial Ridgelight solution modules were used over the library and small group room, each 1000x3000mm, installed at five degrees with an integral beam to create an overall clear opening of 6x6m.
The design created a mini atrium. Diffused glazing was another factor in distributing daylight around the school.
Easy-to-install products keep projects to schedule
Velux Commercial Modular Skylights work as a single system making them easy to install. On-site, the modules fit together perfectly to create a seamless, watertight glass roof.
'Modular skylights are a key component for achieving daylight modelling targets,' says Chris Allen, design manager at Bowmer + Kirkland. 'Velux Commercial's solutions help us deliver project certainty in the early phases and then during the construction phase with speed of installation.'
Velux Commercial and Bowmer + Kirkland: an award-winning combination
Working on a confined inner-city site is always challenging, but 'Velux Commercial helped everything run smoothly,' says Allen. 'Their customer service is always focused on project delivery and we were able to utilise in-time deliveries to avoid delays.'
Velux Commercial products have been specified on all Bowmer + Kirkland's school projects and this year the firm won a 'Contractor of the Year' award from the Department of Education.
Find more on this case study at commercial.velux/case-studies/glenbrook
For more information and technical support, visit commercial.velux.co.uk
Contact:
01592 778916
---