A residential property in Porto Rotondo, Sardinia showcases the sintered stone that combines the physical properties of porcelain with the colours and finishes of natural stone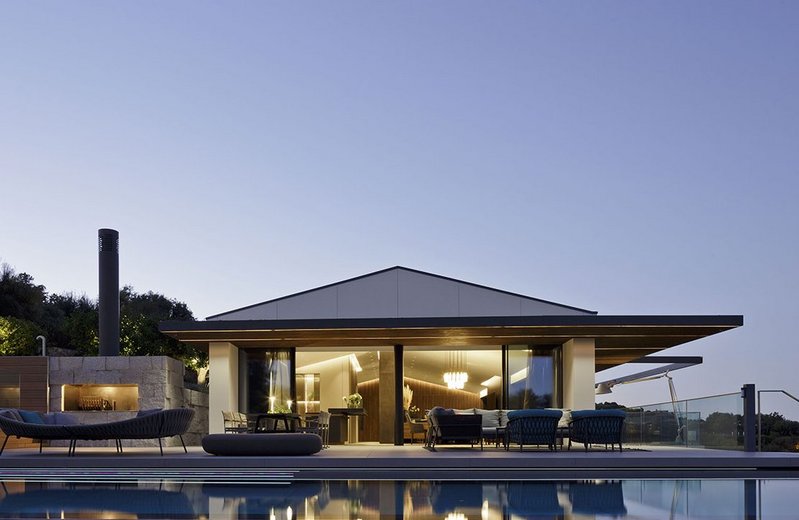 Villa Emma melds the modern house principles of open floorplans and indoor-outdoor connections with the warm layers of a welcoming home.
Villa Emma isn't an everyday new-build. It overlooks the sea on the Costa Smeralda in north-east Sardinia and its architects, Mario Mazzer, were keen to respect the context and culture of its surroundings.
Introducing a new-build in a region with deep architectural roots - the Gallura - was a challenge but, despite many constraints, the design brings a modern sensibility to the traditional form of the Sardinian cottage.
The design took the rectangular footprint and pitched roof of the 'stazzi' dwellings used by the shepherds and farmers of the region and updated them for modern living. The lower floor is grafted into the body of the mountain and is built with hand-cut granite blocks. The upper floor is detached from the solid beauty of the stone through large windows that reflect the external light.
An extended overhang runs across the facade of the villa, serving as an element of discontinuity that cleaves the pitched roof from the rest of the structure. Extending over the perimeter of the walls, this architectural element becomes a beautifully elegant structure. The result is a low-energy villa with indoor and outdoor spaces distributed to be livable all year round, not only for the summer season.
At Villa Emma sintered stone has been used for the floors, interior walls, stairs, facade and for the swimming pool, in both large and small formats. Its resistance to acids, alkalis, fire, frost UV rays and sea salt meant it could be used without limitations both inside and outside.
The peculiar workability of stone allowed details such as the bullnose-edge profiles for the swimming pool and steps backlit by LEDs on the internal staircase. The colours echo the warmth and brightness of the Sardinian coast: Avana in Dune for the flooring and interior cladding and Vesuvio in Bianco Polare for the front facade. The swimming pool features Grigio Cemento in Dune and the external walkway Nero Antracite Vesuvio, giving depth to the water and creating impressive nocturnal lighting.
The interiors have been designed with wall panels in oxidised metal with wax finishes and brushed brass edging. Natural materials, including marble, teak, granite and leather, have been used in innovative ways on ceilings and walls. Tones are dark and warm, with calibrated touches of colour that create an elegant and welcoming atmosphere.
For more on this case study, visit lapitec.com/villa-emma
Lapitec is a full-bodied sintered stone that combines the mechancial and physical properties of porcelain with the workability, colours and finishes of natural stone. It is available in the largest slab sizes on the market and is easy to work with.
For more information and technical support, visit lapitec.com and lapitec.com/bim
Contact:
01895 820883
---