The new Washroom Architecture range puts simple, harmonious designs centre stage - as part of the architecture, not the furniture - for an improved user experience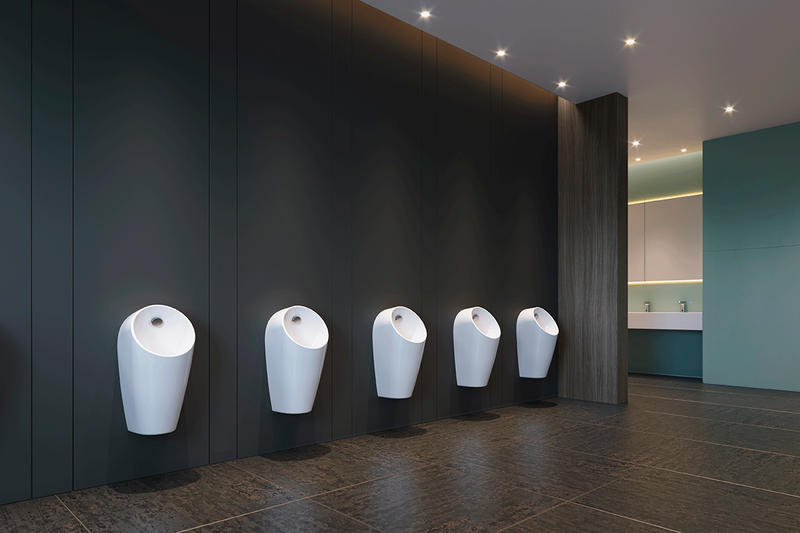 The Sphero urinal from the Washroom Architecture range was designed in partnership with the award-winning Studio Levien and combines the latest water-saving innovations with timeless good looks.
There was a time when washrooms were hardly considered when designing and specifying a building. Now the washroom is receiving more attention than ever as building owners realise that the look and feel of the washroom reflects the values of the organisation and a bad user experience or impression may affect whether they even use the building again.
As one of the leading manufacturers of washroom solutions, Armitage Shanks commissioned Creating Better Washrooms, a survey that looked into interior designer, architect, client and user attitudes to washroom design. The findings highlighted that, in the UK, around 73 per cent of designers agreed that washrooms were the most difficult rooms to design and plan in commercial projects. The study also revealed that designers believed wellbeing would be the number one social factor to impact washroom design over the next five years.
The survey found that nine in 10 office washroom designers believe this space can have an impact on end users' wellbeing - a view shared by three quarters of office workers themselves. Sixty-four per cent of office workers surveyed said that workplace washrooms affect their general job satisfaction.
The findings of the survey demonstrate a strong link between commercial washrooms and employee health and wellbeing - an increasingly vital asset for organisations looking to attract and retain the best employees and improve their brand image.
In response to the survey results, Armitage Shanks has launched its new Washroom Architecture collection. Each washroom has been created for the sole purpose of realising specific design visions. Every fitting, every basin, every curve contributes to a sense of harmony and offers the simplest, most complete solution for any space.
Part of the range includes the new intelligent Sphero urinal with built-in electronics that detect user patterns and adjust water usage for optimum performance, saving water and costs at the same time.
For more information about the Creating Better Washrooms survey report, the Washroom Architecture range and Sphero urinal, visit idealspec.co.uk/washrooms
Contact:
01543 413204
---