A meaningful place with a generous public realm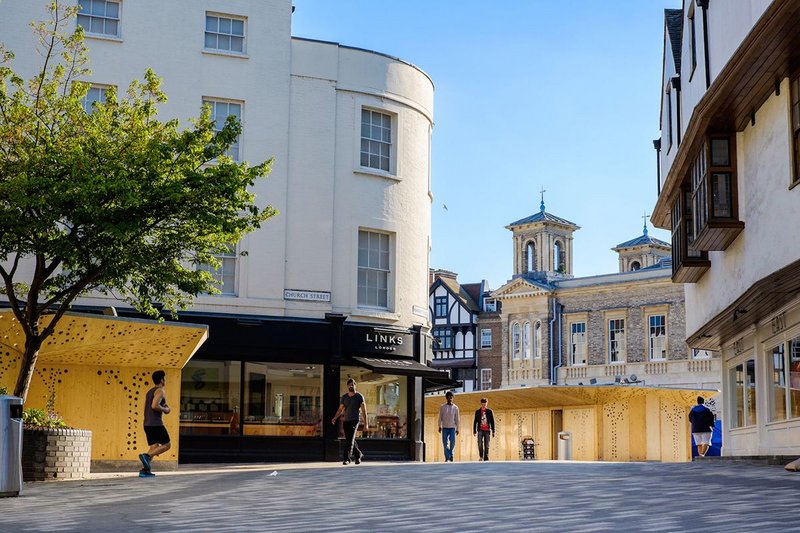 Credit: Olivier Favrel
Tonkin Liu for The Royal Borough of Kingston upon Thames
Contract value: Undisclosed
GIA: 7,000m²
The rejuvenation has transformed this part of Kingston, reviving the memory of the ancient centre and referencing its medieval streets, alleys and market square- in contrast to the '90s mall of Bentall's and the mad gyratory system.

Tonkin Liu came up with a design strategy that diversified the use of the Kingston Ancient Market Place for evening dining and performances; proposing perforate, CLT market stalls that are transformed into lanterns at night. Stalls are positioned to open up vistas, from All Saint's Church to the Guild Hall and to the historic alleys. In addition to delivering the public realm and market stalls, the architect proposed a strategy to regenerate the larger market area.
Market House is a beautiful building in the centre of the square, now framed with market stalls that can be adapted for different events; effortlessly addressing the often conflicting demands of shared spaces. The square is now seen as a stage-set for many uses and activities, bringing an important but tired part of the town back to being a meaningful place with a generous public realm and leading the way for future private investment.
---
See more London Commercial entries here
---
Back to RIBA Regional London Awards
---