A robust yet sensitive approach to repairing London's lost streets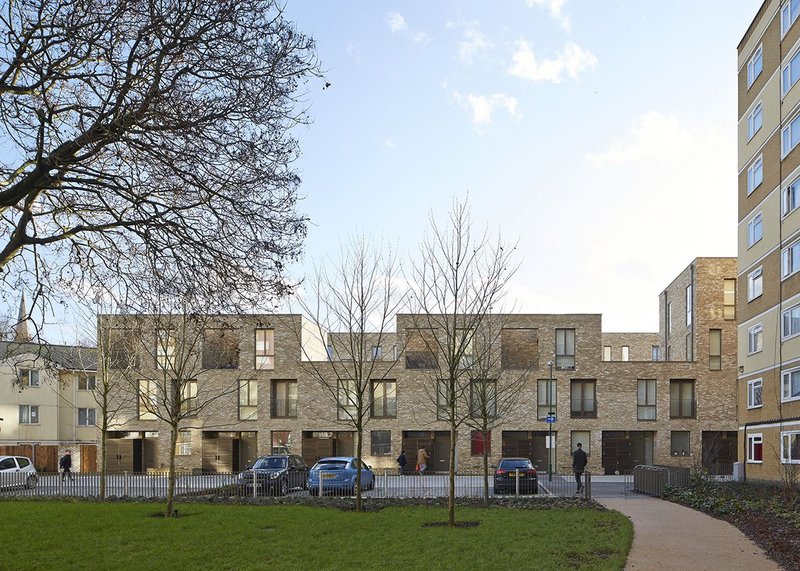 Credit: Paul Riddle
Alison Brooks Architects with Hester Architects for Catalyst Housing
Contract value: Undisclosed
GIA: 6,509m2
The 44-dwelling scheme aims to integrate architecture, urban design, existing and new residents to restore and reinvigorate a South Kilburn neighbourhood in three mixed tenure blocks. This is an accomplished, stylish scheme that far exceeds the request that it be 'tenancy blind'.
The arrangement of buildings makes sense of the disparate spaces of the South Kilburn post-war estate, recreating animated street frontage, public green space and a mews street. On Chichester Road, flats and two storey houses are combined within four storey blocks to recreate the formal former streetscape of the 19th century villas.
Distinctive two storey metallic bronze elements define individual entrances and provide canopies and balconies to the houses. The devices give the modest houses a street presence and provide privacy. Inside the flats and houses are carefully considered and generously proportioned. A simple palette of materials and restrained colour allows the syncopated elegance of the facades to speak clearly. This is a robust yet sensitive approach to repairing London's lost streets.
See more London House and Housing entries here
Back to RIBA Regional London Awards
---