Grafton Architects adds the Stirling Prize to its trophy cabinet with Kingston University's dramatic volumes and spatial sequences that sing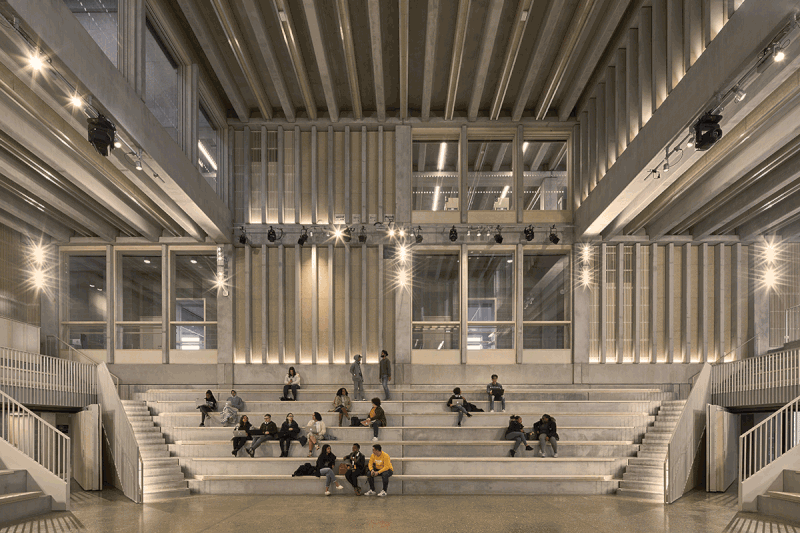 The covered courtyard of Kingston University London Town House by Grafton Architects, 2021 RIBA Stirling Prize winner.

Credit: Ed Reeve
Kingston University London's Town House has won the 2021 RIBA Stirling Prize. The dramatic volumes of Grafton Architects' university building have surprised critics and the bookies coming in above the favourite of the Cambridge Central Mosque which won the public vote and seemed to capture the moment with its timber vaulting structure and strong message of inclusion. Town House, on the other hand, has a concrete structure, which is fundamental to its architectonic expression, but will concern those urging architects to give up their love affair with concrete and concentrate on reducing carbon now.
The Town House has its own story of the moment: a welcoming back of students after more than a year of Covid 19 into a super-social space with a centrepiece of a covered courtyard (cum auditorium) where tutors and students alike perch on the outsize steps and have moments of happy meeting on the composition of staircases that crisscross the atrium. It is a confirmation of the value of the live university experience where dance studio, library, group working and coffee come together. And the public is welcome too.
Unusually, the civic colonnade of the frontage continues up the building, planted up as green loggias for protected outdoor working while also providing shading and alternative means of escape. This is a building that subverts many norms to create spatial sequences that sing as they flow from one to another. As they accepted the prize in the echoing Cathedral Gerard Carty said: 'Every component had to work really hard to deliver what we wanted.'
The University of Kingston has been on a drive to improve its facilities with a project by Haworth Tompkins also appearing in the RIBA Awards this year. The Town House is not just about cementing its offer in a competitive world of higher education, it is also about serving those students from less advantaged backgrounds, giving study space to those who would struggle to work at home. This is an important mission for a university which serves many local students.
Dublin-based Grafton Architects is no newcomer to awards. In 2020 it was awarded both the RIBA Royal Gold Medal and the Pritzker Prize for Architecture. It has become known for a series of remarkable university buildings from Bocconi University in Milan to the campus in Lima's UTEC, in Peru, and the Toulouse School of Economics in France. In the pipeline in the UK is the Marshall Building for the London School of Economics, due to open in early 2022. And it will be interesting to see if the practice can also work its spatial and material magic on the refurbishment and extension of a 1950s building in Oxford Street, now nearing completion.
The Town House was chosen from a strong Stirling shortlist, not just Marks Barfield's Cambridge Central Mosque but also Groupwork's 15 Clerkenwell Close that did unexpected and beautiful things both structurally and aesthetically with its limestone exoskeleton. Also on the list was the vertiginous Tintagel Castle Footbridge in Cornwall, by Ney & Partners and William Matthews Associates, Carmody Groarke's Windermere Jetty Museum in Cumbria, and Key Worker Housing, Eddington, Cambridge by Stanton Williams, that commentators labelled as the outside choice.
The shortlist is drawn from all the RIBA Award entries from 2020, delayed by the pandemic. 15 Clerkenwell Close was actually submitted earlier but only put through when it was released from the threat of demolition from Islington Council. Once buildings have got through to the RIBA National Awards and been shortlisted for Stirling, a new round of judges takes over. This year the panel, chaired by Norman Foster, was Annalie Riches, co-founder of Mikhail Riches and 2019 Stirling Prize winner, the artist Dame Phyllida Barlow and Simon Allford, co-founder of AHMM and RIBA president.
Speaking on behalf of the 2021 RIBA Stirling Prize jury, Norman Foster, said: 'Kingston University Town House is a theatre for life – a warehouse of ideas. It seamlessly brings together student and town communities, creating a progressive new model for higher education, well deserving of international acclaim and attention.
'In this highly original work of architecture, quiet reading, loud performance, research and learning, can delightfully co-exist. That is no mean feat. Education must be our future – and this must be the future of education.'
Also accepting awards at the Cathedral were Tonkin Liu, Peter Barber Architects and Cambridge Mosque Trust.
The Neave Brown Award for Housing shortlisted two housing projects by Barber, who has achieved a certain superstar status with his recent full house lecture at the Barbican - and got a big cheer in the Cathedral as it was announced. Barber's McGrath Road in Forest Gate, East London, which was awarded this prize, was commended by chair of the jury David Mikhail for its 'sheer inventiveness... It demonstrates how imaginative street-based architecture can be socially progressive and architecturally engaging – a combination that endears Peter Barber Architects' work to so many people (see below).' The 26 houses, some reinterpreting the back to back form, work on both street and courtyard and are marked out by their recessed brick arches.
The Stephen Lawrence Prize for projects of less than £1 million went to The Water Tower by Tonkin Liu, a major retrofitting project to make a new home.
Cambridge Mosque Trust was named Client of the Year for Cambridge Central Mosque. Chair of the judges Jo Bacon commended the trust which 'demonstrated personal commitment and tenacity to deliver a highly sustainable work of contemporary architecture.'
---
Five minutes with Grafton director Gerard Carty
What will you do to celebrate?
It's stunning news. We are a bit behind in Ireland on opening up, so it will be a Zoom celebration…
How do you rate Kingston's Town House against your other major international projects?
Individuals might have a favourite but we try to figure out what is special about each, their unique characteristics. Kingston was very interesting, quite an anonymous place. The university wanted a showcase. So the building pushes itself forward, it doesn't retreat back and that makes it welcoming.
Will we see you up here again in the next few years, maybe for the Marshall Building at LSE?
That would be tempting fate, but it would a dream.
What is the most exciting thing you are working on now?
Crawford Art Gallery in Cork, we are just starting on the existing building and adding something that we think will unlock the project.
What do you say to those who are surprised that such a concrete building has won the Stirling, just ahead of COP26?
We won the competition in 2013 when there was little on embodied carbon, or wellness. Concrete at the moment is in a difficult position, it will get better as we push at and replace the components that are doing damage. We have to remember timber is also a resource and subject to scarcity.
The best conversation is about what has already been built, how we make minor modifications and extend their life. And when we do build new then it must last longer.
It has not been a good week or year for Anglo-Irish relations. Do you see Grafton continuing to design in the UK?
Architecture is above politics. The environment that architects create will have a bigger impact on the individual and allow us to be our best selves. Architecture doesn't need to be part of the political game, we admire all our fellow shortlisted architects, any of the buildings could have won. And practically speaking we have a common travel environment between UK and Ireland which should remain. We will continue to work in the UK and would invite UK architects to do the same in Ireland.
Peter Barber, 'vocal socialist'
By Georgina Day
It is not a big surprise that Peter Barber is outspoken and political – 'vocally socialist', he is architecture's flag bearer for social housing. He sees his work as a proud rebuttal to the history of decline in social housing in the UK.
Woven throughout his schemes are traditional architectural tropes that have often not only fallen out of fashion, but are in some cases virtually prohibited by legislation and design guidance. Front doors that open directly on to the street, for example, without any defensible space, that encourage residents to occupy the space outside their front doors (see Donnybrook Quarter). Back-to-back houses that achieve densities that would otherwise be impossible at a mid-rise scale (see McGrath Road). Cottage flats that give every home a front door on the street and a private outdoor space, in spite of being a flat. Narrow alley-like mews streets that necessitate social interaction (see Ilchester Road). Condensed terraces that challenge the assumption enshrined in land law that gardens must create islands of space between neighbours.
These are humane architectural and urban ideas that promote social integration and an engaged relationship between the domestic and the public. His layering of different spaces creates a dynamism which is intended to both promote street life and create a kind of permeability that culture can take hold of. His work carries a strong sense of a golden age of social integration such as might have been found on pre-war East End streets – a quality of street life swept away along the slum clearances of the modernist period.