A low budget tour de force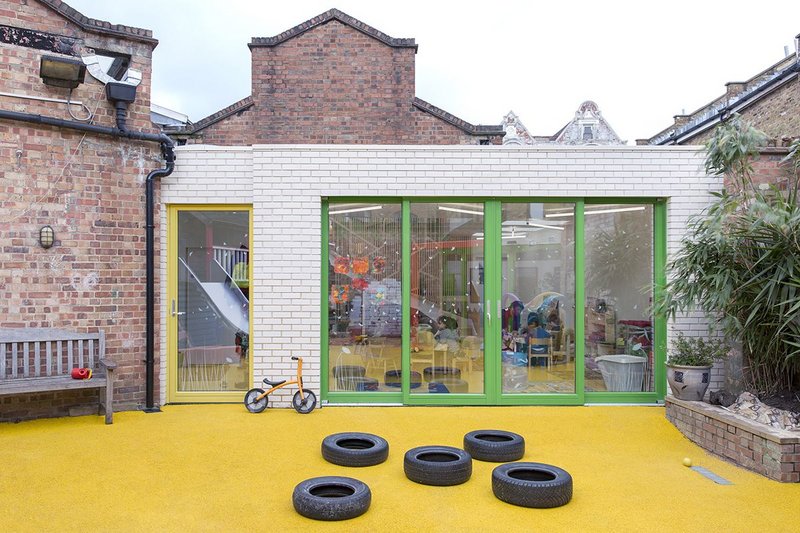 Credit: David Vintiner
Lipton Plant Architects for Bath House Children's Community Centre
Contract value: £115,000
GIA: 80m²
Refurbishment work at The Bath House Children's Community Centre, is a low budget tour de force. The architect's intervention has provided something special, a poetic intervention into a cramped and dark children's nursery. The scope of the refurbishment work was small and limited, involving a new circulation route for the children's safe arrival and departure; and a new multi-purpose space which opens out on to an outdoor play space.
A new stair connects the multi-purpose space, with a high-level platform for quiet play, reading, and sleeping. A delicate timber slatted 'tree', fabricated on-site from untreated softwood slats from a local builders' merchant, forms the side guarding to a simple pine staircase. On the other side of the stair the wall continues with branch and slat panelling and has a green stained ply wall above. The tree forms interesting places for creative play and work. It was inspired by the tree house in Robinson Crusoe written by the local-born author Daniel Defoe. This is beyond doubt a labour of love, it's a delightful piece of design that has become the focal point in centre of the children's play area.
This project demonstrates how a simple creative design intervention has the ability to not only radically transform a space; but also to have a profound effect on the well-being of the children and staff who use the nursery. The Bath House was recently awarded and recognised as an outstanding nursery by Ofsted. The jury was impressed with how a small budget has gone such a long way.
---
See more London Education entries here
---
Back to RIBA Regional London Awards
---