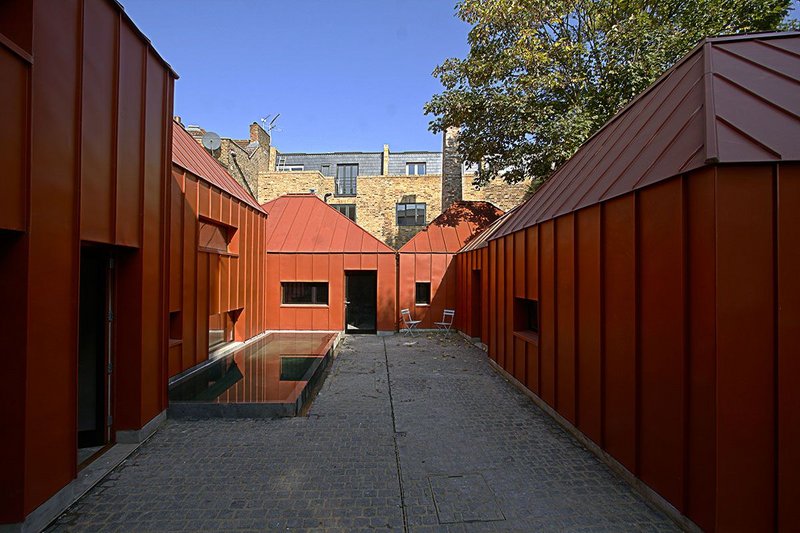 Credit: Luke Caufield
Henning Stummel Architects for Henning Stummel Architects
Contract value: £733,620
GIA: 216m2

This back-land site is entered from a modest London street through a 'massive' Soanian double-height brick arch – gateway to a remarkable domestic inner world. In search of seclusion the architect designed a low, inward looking, tranquil courtyard that is open to the south. It is a composition of pavilions: six earth-coloured metal-clad pyramidal top-lit forms. A calm pool of water allows for cooling and the reflections from the water bring the facades to life.
Each super-insulated pavilion accommodates a room. The roof shape has a low contour and maximises spatial volume and light from above brings the spaces to life. As one moves through the building the layout gives a changing enfilade of vistas and views, the geometric forms accentuated by the simple utilitarian finishes. The brick fireplace mirrors the entrance gateway in its scale and texture and acts as a 'touchstone' at the heart of the composition, grounding the house around a hearth.
Full of inventiveness, the cleverly detailed thick walls contain the services. The house has a beautiful balance of delight and is obviously an uplifting and practical place to live.
See more London House and Housing entries here
Back to RIBA Regional London Awards
---